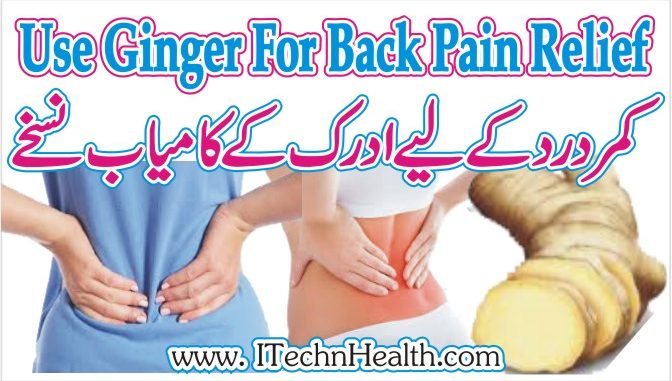 How to Use Ginger for Back Pain Relief
Back pain is one of the most common orthopedic problems of today's lifestyle. Some researchers say that 80 percent of all Americans older than 30 suffer from chronic lower back pain. Sitting for long hours, muscular problem, nerve problems, incorrect lifting and poor posture or wrong postures should generally be main reason for back pain. Most people take painkillers to get rid of this bud these medicines have long term side effects. Here in this article I am sharing some effective natural remedies for pain relief. If you take these natural remedies you will not require to use any pain killer for get rid of back pain relief.
Symptoms of Back Pain
The symptoms of Back Pain accompanied with other symptoms like high fever, difficulties in urinating or excessive weight loss. Taking the following precautions you can avoid or reduce your back pain.
Do not lift heavy weights

Give your back a break

Band your knees and keep your back straight while lifting any weight

Practice good posture while sitting and standing

Use firm mattresses to sleep. Too soft or too hard both can give you backache

For inflamed muscles and intense pain, try applying ice the first day, then alternating the ginger compress with a cold or even icy compress (4 minutes of the hot to 1 minute of the cold) thereafter.

Maintain your weight. If you are overweight then try to lower your weight for relief in back pain.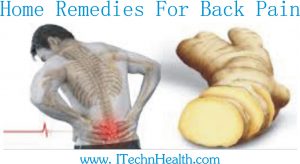 Health Benefits of Ginger
You can take ginger in any form to relieve back pain. Ginger is also a natural blood thinner like aspirin. The compounds contain in ginger such as "Shagol and zingerones" roots are natural muscle relaxant helping to relieve back pain and other joint and muscle pains by improving blood circulation. Ginger root contains 115 known helpful chemical components to provide multiple health benefits. Studies done on ginger extract have shown significant reduction of pain in osteoarthritis.
How to Use Ginger for Back Pain Relief
Ginger can be consumed fresh, dried, juiced or in the oil form alone or along with other natural ingredients for back pain relief.
Ginger Remedies For Back Pain Relief
Ginger Tea
Ginger tea is simple to make and is one if the best ways to get rid of back pain. You just need a piece of ginger root and water. Take a clean piece of ginger. It is also better to take ginger root. Add Ginger into boiling water for 5 minutes. Drink this Ginger Tea 2-3 times in day for back pain relief. You can also add one teaspoon of honey if you don't like taste of bland ginger root tea. Honey not only improves the taste but will also help in reducing inflammations and back pain.
Ginger Turmeric Tea
Turmeric also has high anti-inflammatory capabilities to reduce back pain Prepare ginger tea as above and Add ½ teaspoon of turmeric powder in it. Mix well and drink it. You can also add mint leaves to relieve back pain.
Massage For Back Pain With Olive Oil and Ginger Oil
Olive oil massage gives muscle pain relief. Take 2 Tablespoons of extra virgin olive oil. Add 3-4 drops of ginger essential oil. Mix it well. Massage the back with this mix oil for 30 minutes. Wipe the oil with a clean cloth or tissue papers. Do it 3-4 times a day to get complete relief from back pain.
Note:
Ginger is a natural blood thinner so if you are already taking blood thinning medicines likes Aspirin then discuss with your doctors before use of ginger. Pregnant women should be aware that ginger influences hormonal balances which may cause miscarriage. Ginger also increases insulin levels in the blood so if you are taking medicines for diabetes then you may talk with your Doctor before use ginger.