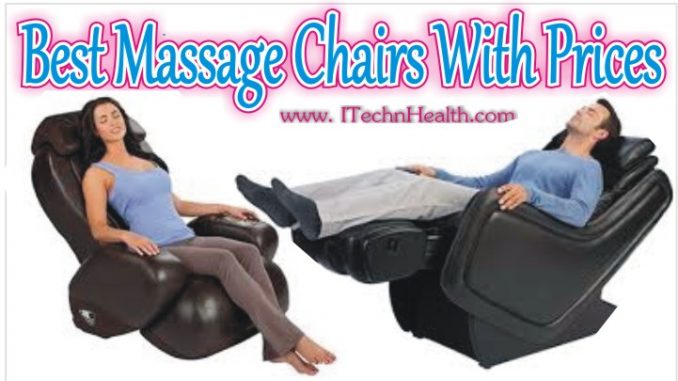 It is important to reduce our daily stress in order to maintain our sanity and physical health with the fast paced modern life, everyone needs some time to relax and take a break. A good way to do it is through massage. It helps to get relief from body pain, but beyond that, it has many other health benefits. It eases stress and anxiety and then helps to lower blood pressure. One of the best ways to cure our stiffness and stress after a hard day work is through a massage the industry offers a variety of chair massagers today, here in this article I share best massage chairs with top features and their prices. Massage chairs eliminate tense muscle tissue and knots. The technique used for warming and awakening the muscles. The massage chairs help to ease muscular pain. Normally massage chairs are used to massage at back, neck, shoulders and lower body part of body. If your goal is to soothe your back pain or simply to have some relaxation, you can find detail of the best quality massage chair.

"Massage is the manipulation of superficial and deeper layers of muscle and connective tissue using various techniques, to enhance function, aid in the healing process, decrease muscle reflex activity, inhibit motor-neuron excitability, promote relaxation and well-being, and as a recreational activity" (Massage, Wikipedia).
There are five massage styles
Swedish Massage

Shiatsu Massage

Pulse mode Massage

Vibration Massage

Air bag Massage.
Massage chairs are furniture products which are user-friendly and can give you a full body massage right at your homes. These chairs can be placed anywhere you want at your home or office.  Nothing is more comfortable than having your own Massage chair do the work for you. It reduces stress and tense muscles that were overused during your day's work. Not everyone has to money or time to get regular massages done by a professional. Electric massage chairs used to cost a fortune but that is no longer the case. Manufacturers have found ways to construct quality, affordable massage chairs. The massage chairs can able you to enjoy a massage while watching a movie or reading a good book.
Japan is one of the leaders in robotics and equipment such as massage chairs.Osaki is the company that makes the best massage chair in the world. Osaki has been around since 1937 and is headquartered in Tokyo. Their massage chairs start at a pretty high price point, but their models are definitely some of the best massage chairs on the market.  The Osaki 4000 Executive Zero Gravity massage chair is reasonably priced considering everything that it does. You get 6 auto-programs to customize your massage (smart, relax, circulation, healthcare, therapy, demo). On top of that you get 5 speeds and multiple intensity levels. 32 airbags do the work of many hands and fingers, kneading, rolling, clapping, Swedish, combo, or shiatsu style massaging your body to ultimate relaxation.
The Shiatsu Massage Chair Recliner is The Best Massage Chair in the market right now. Heavily cushioned, with soft faux leather material to ensure user comfort. High powered motor to ensure the ultimate vibrating massage experience. Comes with at least 1 year warranty, which includes all parts. Fully automatic massages for all areas of the body.
 
With the Comfort Products 8-Motor Massage Leisure Recliner with heat, you can now enjoy massages every day. The Relaxzen Recliner chair can give you a gentle massage while you sit and relax. The Relaxzen Chair is ideal for almost any location, whether that be in the home, or at the office. The chair has nine pre programmed massage modes which each target a different massage zone in the upper and lower back, as well as five different intensity levels, so, no matter what area you experience aches and pains in, and no matter how deep you want the massage to be, the Relaxzen Recliner chair can help you and your muscles it eight independent motors to massage upper back, mid back, thighs, and calves.
The Inada Sogno Dream wave may be the most advanced massage chair this is a luxury tier chair and looks like something out of a movie with a futuristic setting. It will actually do a full body scan before it does your massage. That helps it target the right pressure points and customizes the massage to your body type.
The Human Touch Active Chair may look a little like a dentist's chair, users can sit comfortably for as long as they wish. This chair is a great purchase for those looking for an easy to user massage chair that can help reduce muscle pain. The chair has three automatic programs that have been designed to emulate a therapeutic massage. Three different massage settings that focus on different areas of your body, designed to simulate real hand massage techniques.
The reclining iJoy 2580 has three massage presets: a back refresh, neck and shoulder relief, and a lower-back release setting. One arm rest has a built-in control panel for adjusting settings, while the other has a cup holder. On the chair's side, you'll find a power outlet for charging your phone or tablet. Just press a few buttons and the chair will ease away pain, tension, and fatigue in your muscles.
The Rock and Recline Shiatsu massage chair is a small footprint; this chair still fully reclines and is capable of delivering you a shiatsu massage. You can guarantee the chair will put your muscles at ease and make you relaxed, especially because it's heated. Best of all, its compact size makes it perfect for people who do not have room for a full sized large chair.
The iJoy Massage Chair is probably one of the best massage chairs in a reasonably priced. It has 3 simple and straightforward massage programs: back refresher, neck and shoulder relief, and lower back release. Each program runs for a 15 minute duration. You get percussion, kneading, and of course rolling. It reclines and the built in armrest controls are very efficient.
Natural Home Remedies To Get Rid Of Brown Spots And Warts From Face
Symptoms, Causes And Complications Of Pain In The Legs In Diabetes Disease