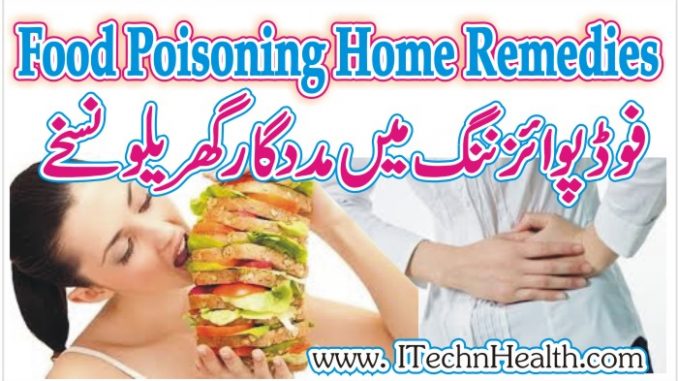 Food poisoning is a common and a serious threat to health. The reason of food poisoning is different bacteria that cause food poisoning in humans. Food poisoning and other stomach disorders are caused due to eating or drinking contaminated food, food contaminated by harmful organisms, such as bacteria, parasites and viruses and unhygienic food. Avoid eating food provided at restaurants, Cafes, snack bars and food stands is often stale and is cooked in slovenly atmosphere and can cause food poisoning. Food poisoning is hazardous disease that can cause many disorders with your stomach and can ruin your health. To avoid such hazardous diseases you need to follow the prevention steps mentioned in this article. Here are some easy remedies and natural cures which are very helpful in food poisoning problem.
The symptoms of food poisoning usually affect your stomach. The first symptom is usually diarrhea. Other symptoms include nausea, vomiting, abdominal pain and  belly cramps. The time it takes for symptoms to appear depend on the infecting organism, your age, and your overall health. You may become ill with food poisoning after you eat food that contains bacteria, viruses, or other harmful organisms. After you eat a contaminated food, there is an hours-to-days delay before you notice symptoms.  In the recent research prove that depression is a common disease. If we not go for the treatment than it can make the problem of food poisoning. Some other symptoms are as under when you see these symptoms it mean you infected with food poisoning virus.
Vomiting and inability. Bloody vomit or stools

Diarrhea for more than three days

Extreme pain or severe abdominal cramping

An oral temperature higher than 100.4 F (38 C)

Dehydration, excessive thirst, dry mouth, dizziness, or lightheadedness

Severe weakness, Muscle weakness and tingling in the arms
Ginger is an excellent home remedy for curing almost all types of digestive problems, including those caused by food poisoning. Ginger is a powerful remedy for most of the digestion issues. Take a cup of ginger tea after having lunch it will help resolve the food poisoning issues. Another option is to add a few drops of ginger juice to one teaspoon of honey and swallow it several times a day to reduce inflammation and pain. You can also eat raw ginger slices if you bear its smell.
Lemons are rich of antibacterial and antiviral properties. Using lemons during food poisoning can give you significant relief for the problem.  Take a pinch of sugar, add it with one teaspoon of lemon juice and drink it 2-3 times a day.
Garlic is also very helpful in food poisoning it gives relief in diarrhea and stomach pain. Swallow one garlic clove with water daily in the morning. You can also drink garlic juice.
Though acidic in nature apple cider vinegar has an alkaline effect due to the way it is metabolized in the body. Thus, it can alleviate various food poisoning symptoms. It can soothe the gastrointestinal lining and kill the bacteria, giving you instant relief.
Yogurt has antibacterial and antimicrobial properties that help fight the bacteria causing food poisoning. Plus, fenugreek seeds help treat abdominal discomfort. You can take one teaspoon fenugreek seeds along with a tablespoon of yogurt. You just need to swallow the seeds and need not chew them. The combining effect of fenugreek seeds and yogurt will give you an immediate relief from stomach pain as well as vomiting.
Always wash your hands with an antibacterial soap before eating.

Wash your hands after using the wash room.

If clean water is not available then try to drink mineral water.  If drinking mineral water is not possible, boil the water before you drink it,

Always eat fresh and hygienic food, unhygienic food can be a cause of liver Eat fresh fruits and vegetables always wash the fruit and vegetables before eating.

Do not freeze meat for more than two days. The meat frozen for more than  two days not only loses its proteins but is also main reason of food

Before eaten anything first test the freshness of the food is to smell the food and check its oiliness.

Do not eat these foods with the Yogurt. Pickle, Egg, Watermelon, Tea, Birds meat and Banana

Do not eat these foods with the Honey. Watermelon and Meat.

Do not eat these foods with milk. Fish, Lemon, Vinegar, Pickle, Watermelon.

Many harmful organisms that are commonly found in dirt, dust, and water can find their way into the foods we eat.

Dehydration is the most frequent complication of food poisoning. Older persons and children should take special precautions to prevent it.

Try sucking on ice chips or taking small sips of water