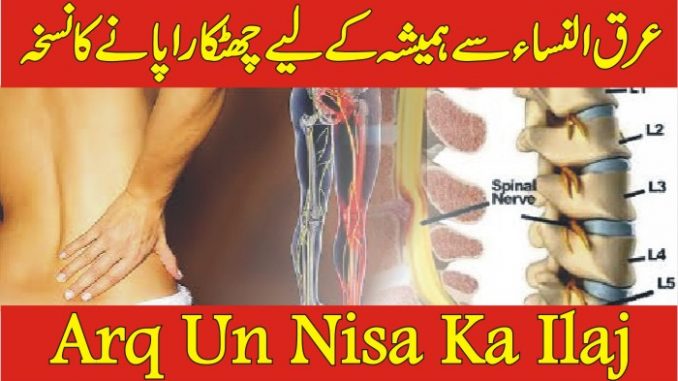 Sciatica is one of the most common pains that affect back parts of body like hip and outer side of the leg. People suffering in Sciatica pain may feel like a bad leg cramp, shooting pain which makes it nearly impossible to sit, stand or it can be excruciating.
Sciatica pain goes worse while coughing or sneezing. Sciatica or Arq un Nisa may occur suddenly however sometimes it takes root with time gradually. Some other name of sciatica is Arq un Nisa, Gathiya, langri ka dard. Arq un nisa pain occur at any age but mostly it affects people of 30 to 50 years age. If treated properly, almost 80% to 90% people completely recover from it.
Here are some useful home remedies which may be helpful for Arq-un-Nisa or Sciatica pain. Arq Nisa Ka desi ilaj agar aap pabandi se use Karen to arqunisa k dard se nijat mil jayege.
Suranjan Sheere , Aloeva , Aloe Vera Gel
Suraanjan sheeren aur aloeva hum wazan le kar barik pees kar powder bana lain. Is powder ko chaan kar is main Aloe Vera Gel itna shamil Karen ke garha paste ban jaye. Phir is ki choti choti chane ki daal ke barabar goliayan bana kar sookha lain.
1 goli subha aur 1 goli sham ko khayen, 14 din tak rozana pabandi se use kareain aur sath rice, curd, khatti, thandi aur badi ashya kaney se perhez karain. Insha Allah shifa mile ge.
دور جدید میں شیاٹیکا جس کو عرق النسا کا درد بھی کہتے ہیں عام ہو چکا ہے۔ اس درد میں زیادہ تر خواتین مبتلا ہوتی ہیں اسی نسبت سے اس کو عرق النسا بھی کہا جاتا ہے۔ بعض اوقات اس کا شکار مرد بھی ہو جاتے ہیں مگر خواتین کے مقابلے میں مردوں کی تعداد کم ہے۔
عرق النسا کو شیٹکا کا در د، رنیگن کا درد ار لنگڑی کا درد بھی کہتے ہیں۔ یہ ایک سخت اذیت ناک درد ہےعرق نسا بہت مشکل سے ٹھیک ہونے والا مرض ہے۔ یہ انسانی جسم میں ریڑھ کی ہڈی سے پیر کی ایڑی تک پھیل جاتا ہے۔درد کی شدت کم یا زیادہ ہوتی رہتی ہےاکثر مریض کی ٹانگیں سن ہو جاتی ہیں۔ بیٹھے اور کھڑے رہنے سے بھی درد کی شدت بڑھتی ہے۔
عرق انسا وہ مرض ہے جس میں انسان کے کولہے سے درد کی ابتدا ہوتی ہے اور گھٹنے تک درد کی کیفیت رہتی ہے اور کولھے سے لے کر پاوں تک انگوٹھے تک درد کی ٹیس محسوس ہوتی ہے۔ کولھے کے جوڑ سے شروع ہونے والے اس درد کو ران کی بیرونی جانب سے نیچے ٹخنے تک آپ محسوس کر سکتے ہیں۔عرق انسا کا درد عصبہ عریضہ چوڑے پٹھے میں ہوتا ہے۔ یہ ایک ضدری درد ہے جو کافی پریشانی کا باعث بنتا ہے۔ درد کا عرصہ زیادہ گرزنے کے ساتھ ساتھ اس کا درد نیچے اترتاجاتا ہے۔ اس درد سے پاوں اور ران مرض طویل ہونے کی صورت میں بہت کمزور ہو جاتے ہیں۔
عرق النسا کے مریضوں کے پاوں اس قدر کمزور ہو جاتے ہیں کہ ان کے لیے حرکت کرنا اور چلنا پھرنا دشوار ہو جاتا ہےبعض اوقات لنگڑے پن کی کیفیت پیدا ہو جاتی ہے۔
ایسا ورم جو سردی لگنے یا کسی چوٹ کے سبب ورم پیدا ہونے آتشک یا کسی زہریلے مادے کی وجہ سے پیدا ہوا ہو ۔ جسم کے کسی حصے کا دب جانا ، کمر کے مہروں میں خرابی ، گھٹیا، ہڈی کا بوسیدہ ہوجانا اکثر بڑی عمر کے افراد میں یہ درد موسم کی تبدیلی یا کسی تکلیف یا بیماری کی وجہ سے لاحق ہوتا ہے۔اس کے علاوہ کمر کو شدید جھٹکا لگنے، ریڑھ کی ہڈی کے مہرے ہل جانے، مہروں کے درمیان خؒا کم یا زیادہ ہونے ، بہت زیادہ بوجھ اٹھانے، اعصابی تناو اس درد کی وجہ بن سکتے ہیں۔
عمر کے ساتھ ہونے والی جسمانی توڑ پھوڑ ،اونچی ایڑی پہننے والی خواتین ، نرم گدوں پر سونے والے افراد بھی اس درد کا شکار آسانی سے ہو جاتے ہیں۔
یہ درد دورہ کی صورت میں ہوتا ہے جو عصب کی پوری لمبائی میں کسی حصے پر دباو پڑنے سے یا ران کی حرکت دینے سے اٹھ جاتا ہے اس وجہ سے مریض متاثرہ پاوں سے کام نہیں لے پاتا اور چلتے پھرتے وقت دوسرے پاوں پر بوجھ ڈالتا ہے اور ران کو پورے طور پر موڑنا مشکل ہوتا ہے۔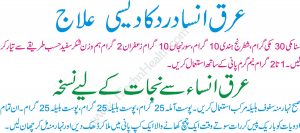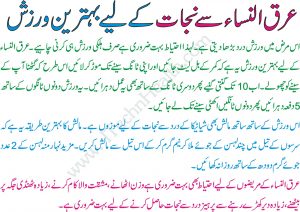 عرق النسا درد کی شدت کو روکنے کے لیے بروفین یا پیراسیٹا مول کی گولی کھا لیں۔ درد کی شدت میں اگر کمی نہ ہو تو بروفین کا انجکشن بھی لگوا سکتے ہیں۔ اس کے ساتھ نیورابیان کا انجکشن بھی فائدہ مند ہے۔ اس مرض سے نجات کے لیے یونانی معجون سورنجان کا استعمال بھی نہایت فائدہ مند ہے۔عرق النسا کے درد میں جس قدر دوا کی ضرورت ہوتی ہے اتنا ہی پرہیز اور احتیاط بھی درکا ہے۔ سب سے پہلے تو مریض کو اپنے اٹھنے ، بیٹھنے، چلنے اور سونے کے طریقے بدلنے چاہیں۔ زیادہ دیر کھڑے ہونے اور زیادہ دیر بیٹھنے سے گریز کرے۔
عرق النسا سے چھٹکارا پانے میں غذا کا کردار بھی بہت اہم ہے ۔ مریض کو چاہیے کہ وہ ایسی غذائیں کھائے جو غذائیت سے بھرپور ہوں ۔ کیلشیم  اور وٹامن سے بھرپور غذا اعصاب اور پٹھوں کو طاقت بخشتی ہے اور درد کی شدت میں کمی کا باعث بنتی ہے۔
دھی ، دلیہ ، مغزیات، ڈرائی فروٹ، پھل اور تازہ سبزیاں اپنی روز مرہ غذا میں شامل کریں۔ گاجر اور چقندر کر رس پئیں۔ پانی کا استعمال زیادہ کریں۔
عرق النسا کا درد ایک ٹانگ میں اور کبھی دونوں ٹانگوں میں بھی ہوتا ہے۔ یہ درد سرین کے نیچے ٹانگ کی پچھلی طرف سے شروع ہو کر گھٹنے کی پچھلی طرف اور ٹانگ میں ہوتا ہوا باہر ٹخنے کے پیچھے تک محسوس ہوتا ہے۔ عرق النسا کی تکلیف سے بچنے کے لیے اس نسخہ کو پابندی سے استعمال کریں تو اس درد سے ہمیشہ کے لیے چھٹکارا پایا جا سکتا ہے۔
Arq un Nisa Ka Ilaj Sciatica Treatment in Urdu-arq un nisa pain in English-arq un nisa symptoms in urdu-arqunisa ka ilaj in urdu-arqunisa symptoms-wazifa for sciatica pain-arqunisa ka dard ka ilaj in hindi-sciatica treatment-Arq Un Nisa-Gathiya-Langri Ke Dard Ka Ilaj-Uric Acid-sciatica best treatment in urdu-arqun nisa arq un nisa ka ilaj-Arq un Nisa Ka Ilaj Sciatica Treatment in Urdu-health care for sciatica causes-treatment arq un nisa ka ilaj-arq un nisa ka nuskha-Sciatica Causes & Treatment in Urdu- Sciatica Causes-sciatica pain exercises-Home Remedies Arq-un-Nisa ka Gharelu Ilaj- Arq Nisa Ka Desi Ilaj