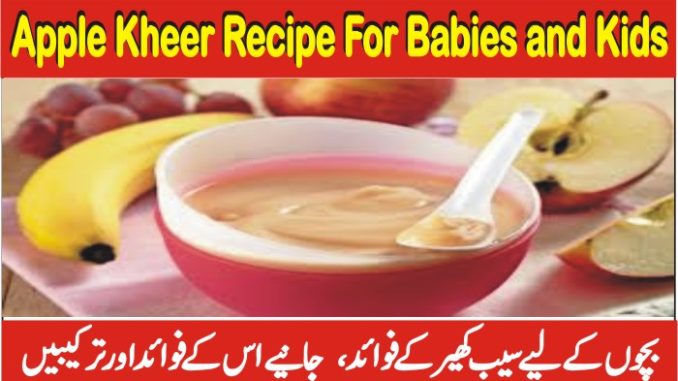 Apple pudding is very beneficial for children. For babies who do not like to eat apples or drink apple juice, you can feed them apple pudding. Apple pudding is rich in nutrients. Eating it helps in physical and mental development of children. Feed apple pudding to children above 6 months; know its benefits and recipes in this article.
Taking care of children's health is very important for every parent. Children should get adequate nutrition for their physical and mental development. Milk and fruits are very beneficial for children. Apples are among the most beneficial fruits for children. But many children start to wrinkle their noses and mouths at the sight of an apple.
If a child does not eat and drink properly, its nutrition may remain incomplete. In such a situation, you can also adopt the delicious method of feeding milk and apples to children. If your baby does not like milk and apples, you can make apple pudding and feed it. Most of the kids like pudding very much. You can also feed apple pudding to a baby above 6 months. Making apple pudding is very easy. Here we will tell you the recipe of apple pudding and its benefits for Babies, Toddlers and Kids.
Apple pudding is very beneficial for children. It has twice the nutrition of apples and milk. Eating apple pudding helps in the physical and mental development of the child. Apples are rich in nutrients like vitamin A, vitamin C, protein, fiber and antioxidants. Eating apples improves eyesight in children. It contains soluble fiber called pectin which prevents constipation and diarrhea in children. Eating apples improves brain development in children. Its anti-inflammatory properties reduce pain and swelling. Along with this, milk is also rich in protein, calcium, vitamins and minerals. Eating apple pudding gives children energy and strengthens their bones.
Ingredients:
1 large apple, peeled and chopped.
2 cups of milk
1 teaspoon of sugar
1 tbsp ghee
1/4 tsp cardamom powder
2-4 almonds
To make apple pudding, first wash and peel the apple and remove the seed part. Then grind the apple. Now heat ghee in a pan. After that add the grated apple in it. Cook the apple until all its water dries up. After that turn off the gas and keep it to cool.
Now boil the milk in a separate pot. When the milk starts to boil, add sugar and cardamom powder to it. When the milk boils to half, turn off the gas.
After the milk cools down a bit, add the apples to it. Cook it while stirring for 1 minute. Then turn off the gas and add chopped almonds. Feed the baby after the pudding cools down a bit.
Ingredients:
Apple ½ kg
Sugar 3-4 tbsp
Basmati Rice 1/4 Cup (Soaked for 2 hours)
Milk 1 & ½ Litre
Pista Crushed 2-3 tbsp
Kishmish (Raisins) 2 tbsp
Almonds Crushed 2-3 tbsp
Custard Powder 2 tbsp 
Elaichi Powder (Cardamom Powder) ½ tbsp
Method:
In frying pan, add apples (grated with the help of the garter), mix well and cook on low heat for 5 minutes. Add sugar, mix it well and cook until sugar is dissolved. Now add crushed pista and soaked rice, crush it well for few minutes. Then add milk and bring it to boil. Now add cooked apples mixture, sugar, mix continuously and cook on low flame for 10-15 minutes.Add pistachios,raisins,almonds and mix well.
In custard powder add milk and mix well. Now add dissolve custard, mix continuously and cook until custard is thick. Add Elaichi Powder (cardamom powder) and mix well. Chill in refrigerator & serve it to kids or any one.
Kheer is so delicious and everyone's favourite dish because of its creamy texture, here is Apple kheer recipe which is healthy and mouth watering as well.
Ingredients
1 Grated Apple Without Peeling
1 Litre milk
Sugar or honey as per taste
Dry Fruits
Cardamom powder
1/2 cup condensed milk
Method:
Put a pan on low flame, Put 1 Litre of milk and give it a boil. Now Add sugar and boil more until milk comes to half. When milk remains in half quantity add crushed apple in it and stir it well to give it a good mixture then add condensed milk.
Give it a boil under low flame, mix it well add cardamom powder and add any dry fruit of your kids choice in it. Give this kheer to your kids because it is very beneficial for their health and it is a good way to make a child to eat fruits otherwise they never eat on their own.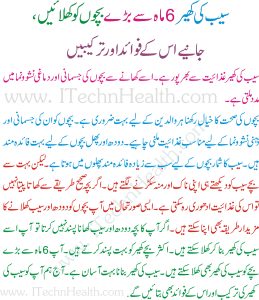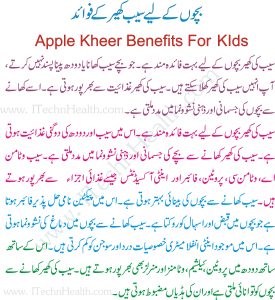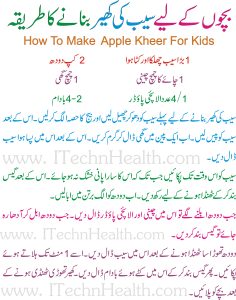 Apple kheer recipe for Babies, Toddlers and Kids-Apple kheer for kids-Apple kheer recipe-seb ki kheer -apple payasam-Apple kheer Recipe in Urdu-Apple Custard Kheer-Sabudana Kheer Recipe for Babies, Toddlers and Kids- Apple, Custard and Kheer For Babies, Toddlers and Kids- How To Make Apple Kheer For Kids
3 Year Old Toddler Not Talking But Understands, Speech Delay 3 Year Old
Winter Season Baby Care Tips to Avoid illness, Baby Care Tips in Winter
Math Tables And Math Quiz Games For Kids -Tables from 1 to 20 for Kids
How to Make a Baby Stop Crying, How To Calm A Crying Baby In 15 Seconds
Nafarman Aulad Ko Farmabardar Banane Ki Dua, Prayer for Children's Protection
Home Remedy to Increase Baby Weight, Bachon Ko Mota Karne Ka Nuskha
Benefits Of Dates With Milk For Skin, Date And Milk Benefits
How To Increase Vitamin D Quickly, Best Food Sources Of Vitamin D
How To Conceive A Baby Boy 100 Percent, Aulad e Narina Hone ka Wazifa Dua
Shadi ka Hisab By Name, Hisaab For Marriage Through ilmul adad
Dua For Baby Not Feeding Mother Milk, Bacchon Ke Amraz In Urdu