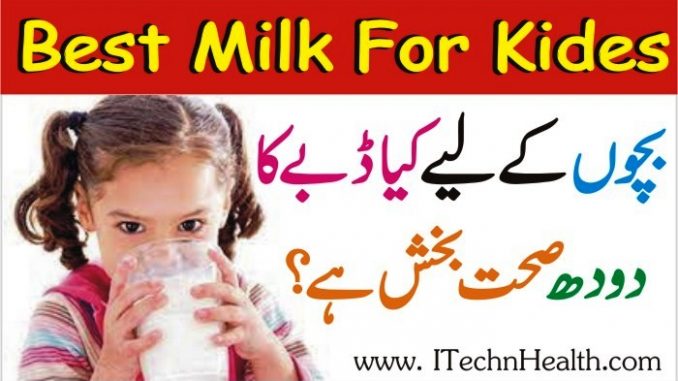 Which is the best milk to give to babies and children is a million dollar question. If you want to know the answer of this question so you are at right place we give you some detail about which is the best milk for your children.
Mother's milk is the best milk for a baby, as it developing immune system, easy to digest. The World Health Organisation (WHO) also recommends and promotes breast milk as the ultimate nutrition for a baby.

If for some reason breastfeeding is not possible or the baby's demand for milk cannot be met with breastfeeding then in this situation cow or buffalo milk can also be given after the baby turns one year.
We strongly recommend exclusive breastfeeding after 6 months of age along with solids we educate parents to continue giving breastfeeding in case there is a situation their breastfeeding is not possible or partial breastfeeding only is possible.  
Infants immune system is not strong as it developing at early age. Hence, they may find it difficult to digest animal milk. Both cow and buffalo milk contain minerals and proteins, they are not suited for infants at early age. As they can affect babies kidneys if introduced before the age of one year. We recommend introduction of cows milk is better than formula milk after the age of one year.
Reason for this is because cow milk has lower fat content than buffalo milk so 1-year-old infant would find it easier to digest cow milk than buffalo milk. Buffalo milk also has a higher percentage of protein content than cow milk.
Buffalo milk is better for children above one year of age as it is a rich source of calcium which is essential for the development of the bones.
Cow milk contains higher water percentage than in buffalo milk. Hence, consumption of cow milk can be beneficial as it can keep your kids hydrated.
Buffalo milk must not be given to children until 1 year of age after 1 year of age buffalo milk can be introduced but it is better carry with cow milk.
In case there is no availability of cow's milk then buffalo milk can be given. Cow's milk whether we should give direct cow's milk or pasteurized cow's milk or tetra pack milk is another question which is always questioned in the clinic by the parents.
Cow's milk which is available in packets can be given which is the pasteurized form and in the first two years whole cream milk must be given after two years of age three percent or 1 percent skim milk can be given to babies. Tetra Paks can be used when the baby has to be given milk during traveling because it does not require boiling.
There is no evidence that formula milk is a better option for children's. You choose to introduce your baby to cow milk after breastfeeding. Cow and buffalo milk can be used as substitutes after your baby completes a year.
While buffalo and cow milk for a newborn baby may have its benefits. However, it is always important to consult your doctor before you add it to your baby's diet.


Which Is The Best Milk For Children, Milk For Kids-milk for kids-best milk for 3 to 4 years old-baby pack milk-which milk is best for babies-milk for 7 years old and above-benefits of milk for kids-fresh milk for toddlers-best milk for 3 to 4 years old-best milk for 5 years old-what kind of milk for 2-year old-is milk good for kids-milk for 4 years old and above-Which Milk is best for Weight Loss-Which Milk is Best for Baby-Which Milk is Good for Health
How To Check Milk Purity At Home In Urdu, 04 Methods To Check Milk Purity
Bachon Ko Bhook Na Lagna Bhook Ki Kami Ka Ilaj In Urdu, Loss of Appetite
Kamzor Bachon Ko Mota Karne Ka Tariqa- Gain Weight Fast Tips In Urdu
3 Year Old Toddler Not Talking But Understands, Speech Delay 3 Year Old
Harmful Effects Of Microwaves, Prohibited Microwave Oven Meals
Disadvantages Of Bodybuilding Side Effects In Urdu- Bodybuilding Ke Nuksan