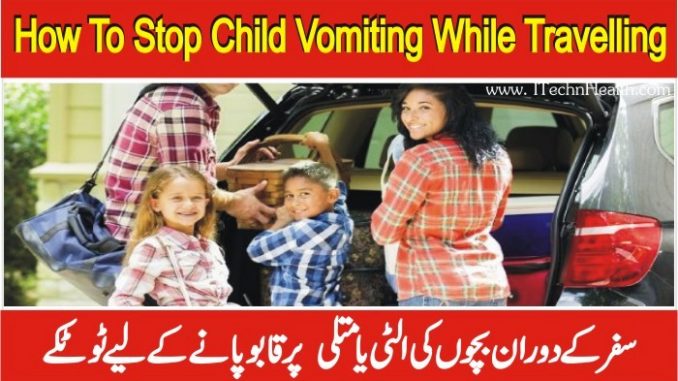 You may have noticed that many times when we are traveling, after a while we start feeling nauseous. In fact, it is called motion sickness. It can happen to anyone at any age. In fact, motion sickness is a very common disease of the inner ear. Due to the speed of the vehicle it feels like a problem while traveling. This causes stomach upset and nausea. In such cases, when children have motion sickness, they start vomiting during the journey. During this time many parents are worried about their children. So, today we are going to tell you some tips that can save you from vomiting while traveling.
To stop child from vomiting while traveling don't give your child a large meal before traveling. Encourage your child to look at things outside the vehicle rather than focusing on mobile, books and games. Try to provide air ventilation. Give them things such as yogurt, bananas, toast and sports drinks before traveling. Don't give them solid foods for about eight hours before traveling.
Road trips with the kids are a chance to make memories your children will never forget. No one wants their memories to include getting sick in the car, If you are bothered by vomiting or nausea of children while traveling, follow these 5 tips to overcome it.
During travel, people often start having problems like nausea and vomiting. In this case, if the children are facing this problem, then you can take the help of these tips.
Drinking water or carbonated beverages for nausea or vomiting while traveling is very beneficial. It can prevent nausea and vomiting. They also help restore hydration in the body. It also helps balance the electrolytes in the body. So when your child has vomiting and nausea, ask him to drink this drink. Also tell them to drink these liquids slowly. In the meantime, keep in mind to ask them to drink water first. Then ask for a carbonated drink.
Hang pill relaxes the stomach and also relieves nausea. In that case, you should take some hang pills with you while traveling. So when your children feel nauseous and vomiting, give them these pills to eat. Hang is very beneficial for the digestive system and it calms the gas formed in the stomach.
In case of nausea, give children a cup of hot ginger tea or let them chew fresh ginger with salt. In fact, ginger is safe and effective in preventing and treating vomiting. Ginger, in fact, has anti-acid properties that reduce acidity. It also soothes the lining of the stomach and reduces nausea. In this way, ginger can reduce motion sickness during travel.
Fennel seeds are thought to help calm the digestive system. But fennel works very effectively for vomiting. In this case, keep fennel with you while traveling. Then chew it as soon as you feel nauseous or vomit. It calms the stomach and acts as a mood freshener.
Clove and cardamom are excellent remedies for nausea and vomiting caused by motion sickness. It also contains clove oil, which acts as an antibacterial. Carry cloves and cardamom with you and feed your children when you feel nauseous along the way. Or give cardamom to chew at the beginning of the journey.
Also, sit your child close to the air coming from the window from the beginning. This will reduce the disease during the journey. Also, try to keep talking along the way or walk away while listening to the song. If your child feels more ill, take him on frequent trips during the trip. Try to stop every few kilometers and get out and enjoy the cool air. It keeps the mood and body relaxed.




How do I stop my child from vomiting while traveling- How To Stop Vomiting While Traveling-How can we solve vomiting problem while Travelling-Which medicine is used for vomiting in Travelling-What should be given to kids during vomiting-how i can prevent from vomiting during journey in car or bus-what to eat to stop vomiting while traveling-why do i vomit while traveling in car-motion sickness treatment for 1 year old-motion sickness medicine for kids-how to cure motion sickness permanently-dramamine for kids- Treatment of vomiting of children while traveling
Green Tea Side Effects & Green Tea Benefits, How To Drink Green Tea Without Side Effects,
What Can I Use To Treat Typhoid Naturally, Home Remedies For Typhoid Fever
How to Open Block Nose Instantly, Band Naak Ko Kholne Ka Tarika
Glycerin Benefits For Skin, Face, Dark Spot, Lip Softness and Hair Grow
Maday Ki Jalan Aur Maday Ki Tezabiat Ka Ilaj: Stomach Acidity
Hernia Treatment, Hernia Ka ilaj, Home Remedies To Get Relief from Hernia
Wazifa For Dengue Fever, Dengue Fever Ka Desi Ilaj, Dengue Fever Treatment In Urdu