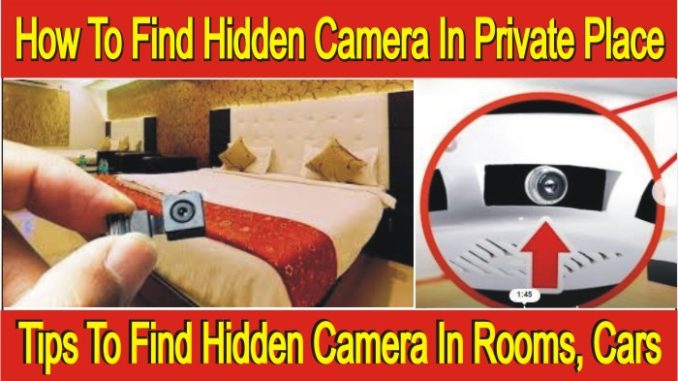 Hidden cameras also known as spy cameras are mostly used for an unfair and uncommon recording in private places. This is usually the illegal act of mounting cameras in a place about which no one is noticeable.
Many people have often found hidden cameras in bedrooms, washrooms, trail rooms, or any personal places. If you want to know is there a device that can detect a hidden camera in room, hotel or car. Then you are at right place here in this article we will share some tips to detect hidden cameras, microphones or other listening devices. However some hidden cameras emit infrared radiation light, which is very difficult to detect.
Almost all hidden security cameras have red or green LEDs. They use these LEDs to create enough light on the infrared spectrum so they can capture their surroundings; you can find hidden cameras in your room, hotel and car using light.
In some cases, you can even do without a flashlight. Many spy cameras use infrared illumination for filming in the dark. It is invisible to the human eye but not to a smartphone camera.
Most of the hidden cameras have night vision function to watch in a dark environment. To do that, hidden cameras usually equipped with red or green LED light.
The cases differ from camera to camera. If the cameras run on a power supply, then they may discontinue recording when unplugged while other cameras which have battery power will continue to record without a power supply till its capacity.
Hidden Cameras vary recording according to their storage. They are based on the type of camera about the quality of recording it is being recorded. In some cases, it might depend on its high storage capacity or low capacity storage. Therefore, it also depends on the capacity of motion for recording.
The non Wi-Fi hidden cameras have the longest battery life of any hidden security camera currently available on the market up to 36 hours battery timing. On standby mode, it can record for up to 270 days.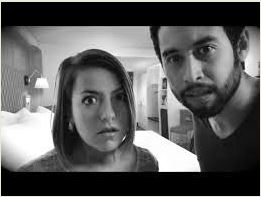 Here are some simple ways to detect hidden cameras.
First thing to do is to check for any unusual objects in the room.

Turn off all the lights of room and use a flashlight to detect hidden cameras.

Use WiFi detector apps which will give information about all the devices connected to the Wi-Fi Network. These app have simple interface and very easy-to-use. You just scan an area with your smartphone.

Use mobile phones to locate hidden cameras.

Use a professional camera detector devices or sensor to search hidden cameras.

A flashlight or a separate torch can detect a hidden camera. Shining a bright light helps reveal spy cameras. Using the flashlight on your smartphone can uncover hidden cameras that use infrared.

A hidden camera should be detected when you travel someplace. Before, staying in a room. Always keep these tips in mind to ensure your privacy is safe and secure.
Finding a hidden camera through mobile is very easy way if you know how to do all the important things. There are many applications made for detecting hidden cameras in room by mobile.
Many smartphones today are greatly manufactured and are capable of detecting hidden cameras. Therefore, with the help of an android application used to measure this radiation can be done.
Finding a hidden camera is difficult task when you don't know how to find it. Here, you will know how to find hidden cameras in rooms by mobile following the simple tips which are described below.
This type of camera is usually found in washrooms and dry rooms. For recording mostly glass is used which is known as two-way mirror glass.
It looks like simply normal glass and you cannot identify anything. This becomes difficult if you do not have a good method to detect the hidden camera. Two-way mirrors are directly mounted on the wall of a mirror with the camera. For detecting hidden cameras on normal glass you must follow methods given below.
You need to turn off the lights in the room and focus directly on the flashlight on the mirror. Then you need to see a mirror to detect the hidden camera.
Infrared cameras can easily record in dark rooms or rooms with low light. These types of cameras usually produce infrared lights. These infrared lights cannot be seen by naked eyes but you can detect it with the help of your mobile camera. 
For detecting an infrared Camera, you should close all the lights in the room to make sure it is completely dark. You need to use your front camera for scanning. If you find any other light than your mobile screen light it might be a hidden camera installed in room.
Night vision hidden cameras are mainly used as security cameras but these cameras can be used as hidden cameras. However, these cameras are mostly used in the military and law enforcement agencies. For detecting these cameras you should only find it if the room is dark. So you need to close all the lights. Now, check the room for a red light because night vision cameras use red light for recording. If you will find it with naked eyes as it may be visible through the normal eyes.
To detect hidden camera with mobile phone app you just need to make some installation on your smartphone. These application  are known as a hidden camera detector and can be easily downloaded from the Google play store. The hidden camera application has features like an infrared scanner and detects spy devices just with the application.
The hidden cameras can also be finding in physical materials such as fans, switchboards, clocks, paintings, flowers, and baby dolls. So, it is necessary to inspect everything before spending time on the unkonow room or place. For detecting such things, turn off the lights to make them visible. If you may find a light it can be a hidden camera.
When you find a hidden camera, you must take strict action regarding the issue. It is illegal to record the private things of a person and stalker might try to leak you private data and try to blackmail you and your family. So, in this case you mush to police stating and register a complain against the owner of the rooms.
how to find hidden camera in room by mobile-how to check camera in hotel room using mobile-how to detect hidden camera with mobile phone iphone-how to find hidden camera in hotel room-hidden camera detector-how to detect hidden cameras listening devices-how to detect hidden camera with mobile phone app-how to find hidden camera in car-Tips To Find Hidden Camera In Room By Mobile
Dual Screen Or Two Screen Foldable Phone – Microsoft Foldable Surface Duo Android Phone Detail
Some Important Samsung Codes Must Know Everybody, All Samsung Secret Codes List