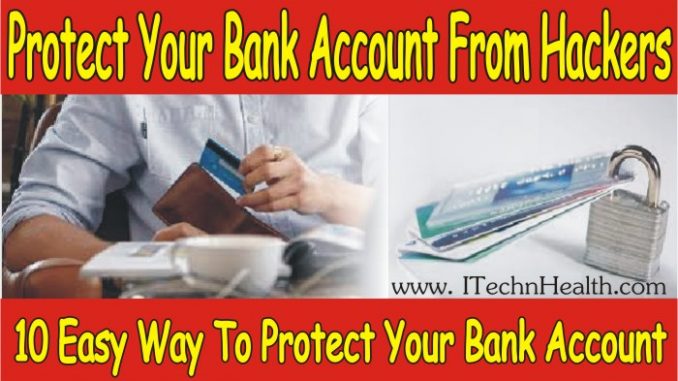 Banking Services have undoubtedly made our lives a lot easier than ever. Here in the 21st century, we can almost do every transaction on-the-go with our phone or at home on our desktop. While online banking is convenient, it doesn't come without its fair share of risks.
Your identity and bank account information can be compromised if you're not careful there are dozens of scammers hanging around while finding their next victim. The next time you decide to log in to your online bank account, keep these tips in mind.

1. Frequently Change your passwords. I get it, it's really irritating to change your passwords over and over again.
2. Never Use Public Wi-Fi it sometimes doesn't provide a secure internet connection. When a hacker taps into public Wi-Fi, they can see your bank account login.
3. Enable Two-Factor Authentication most banks will give you the option to enable two-factor authentication (2FA). it gives you extra protection for your bank account information.
4. Don't Open Any Suspicious Emails. Always remember that your bank will never ask you for personal information through email or text message. If you ever receive an email or text that seems a bit too nosey, immediately report it to your bank.
5. Avoid Using Automatic Login especially if you use your phone for online banking. If you have not disabled this feature on your phone and on your desktop do it right away.
6. Download your bank's mobile app, and Use the Mobile Banking App instead of any other app.
7. Secure your mobile device. Update Your Computer and Mobile Device. Make sure you can lock your phone with a pin code a pattern, or a fingerprint. It is highly recommended by the experts to use Firewall, Anti-Virus and Anti-Spyware Programs on your Laptops, Computers and Mobile Devices and keep updating them regularly to avoid becoming a fraud victim.
8. Bank ATM has better security so always use Bank ATM because Bank ATMs are always considered as a better option than others, that are installed at Shopping Malls, Bus Terminals, and Restaurants, etc.
9. Enable SMS Alerts, it will allow you to pounce on any suspicious activity in your bank account. If you receive a text that your balance has suddenly dropped, and you haven't made any transactions, you can contact your bank and quickly put a stop to any fraudsters.
10. In case, if you lose your Mobile Phone, Credit Card, Debit Card, etc. to a snatching/robbery or misplaced then you can easily become a victim of the hacker as they can make transactions with the help of a hold on the card. The card may not be used to make ATM Transactions due to PIN Code Security but still, the fraudsters can make online purchases as much as they can. In this case, immediately inform your bank through the bank's helpline and block your account.
These were the tips that may help you to secure your bank account or debit/credit cards. Always try to follow the precautions measurement that is mentioned above to avoid becoming a victim of any unpleasant situation in the future.
how to protect bank accounts from hackers-how to protect bank accounts from identity theft-how to protect your bank account from identity theft-how to keep your bank account safe-how to protect my bank account?-safest way to bank online-bank account safety-what is the safest way to protect your money
Ghar Milne Ka Wazifa In Urdu- Zati Ghar kay Ka Wazifa-Zati Makan k liye Wazifa
Simple Ways To Increase Monthly Income-Amadani Main Izafy K Lehe Wazifa-Rizq Main Izafa Ki Dua
Disadvantages Of Bodybuilding Side Effects In Urdu- Bodybuilding Ke Nuksan
Wedding Month Predictions, Everything You Need to Know About Getting Married Based On Knowledge Of Horoscopes, Astrology, Numerology
Apney Naam K Adad Maloom Karney Ka Tariqa Janiya Ilum ul Adad Ki Roshni Main