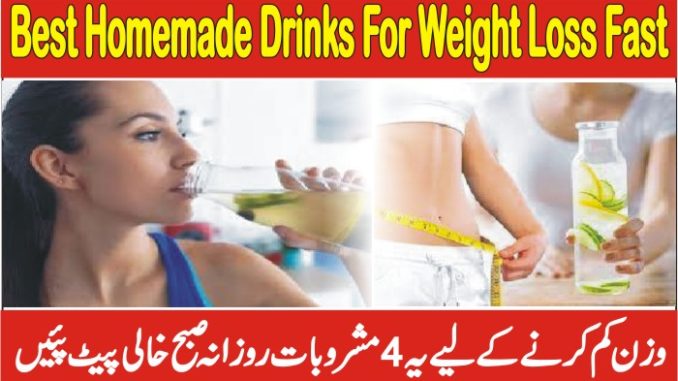 Nowadays most of the people are worried about their increasing weight. Obesity also causes many diseases ranging from simple to serious. In such a case, it is very important to keep the weight under control. People try a variety of diets and eating plans but there is no significant difference in weight. In such a situation, if you want, you can add some special weight loss drinks to your diet to lose weight. Drinking these drinks on an empty stomach in the morning improves metabolism, gives energy to the body and also reduces weight. Weight loss drinks help in burning the accumulated fat in the body slowly.
To control or lose weight, you must eat a low-calorie diet. These weight loss drinks will prevent you from consuming more calories. By drinking these drinks daily on an empty stomach, your weight will also start to decrease gradually. You will start looking slim and fit as before. Drink these drinks daily in the morning on an empty stomach to lose weight, gradually obesity and bloating will start to reduce.
If you are trying to lose weight, avoid high-calorie, sugary drinks such as soda and fruit juice because they may contain potentially harmful ingredients that can led to gain weight. It you want to weight loss fast there is no magic diet for it. You need to take exercise daily, drink water; use apple cider vinegar and also vegetable juices are helpful to loss weigh fast.
This article will help you to lose weight fast and naturally just by drinking some fat burning drinks. Drinking turmeric milk, chamomile tea, cinnamon tea, green tea, protein shake, green veg smoothies and fiber-rich juice helps you burn significant fat overnight.
Cumin water works as an excellent home remedy for weight loss. It improves metabolism, which helps in weight loss. Along with this, digestion is also strengthened. By drinking cumin, the toxins accumulated in the body are also easily removed. It is an excellent drink for weight loss. For this, soak a spoonful of cumin seeds in a glass of water at night. Drink this water in the morning on an empty stomach. Drinking it daily will keep you healthy and fit forever.
Coriander seeds are rich in many medicinal properties. Coriander water is also beneficial in weight loss. Drinking coriander water improves digestion, all the dirt accumulated in the body is also removed easily. Drinking this water detoxifies the body and burns fat. Also, coriander is a low-calorie food, which helps in weight loss. For this, put coriander in a glass of water at night. Drink this water in the morning on an empty stomach. By drinking this water daily for a few weeks, you will start losing weight gradually.
If you want, you can mix the curry leaves with coriander only. This drink will also reduce your weight fast. Coriander and curry leaves water is beneficial in detoxifying your system. Due to this, the dirt accumulated in the body is easily removed. Along with detoxifying the body, it also gets rid of excess body fat. You can also add this drink to your diet while losing weight. For this, add 1 teaspoon of coriander and 5-8 curry leaves in a glass of water at night. Drink this water after waking up in the morning.
Aloe vera and amla juice are beneficial in treating many health problems. Along with detoxifying the body, it is also helpful in weight loss. If you want to lose weight, mix one spoon of aloe vera juice and one spoon of amla juice in a glass of water and drink it every morning on an empty stomach. This drink is beneficial for your overall health.
Lemon water can support hydration, promote fullness, boost metabolism and increase weight loss process. It is tasty easy to make and can be used as a low-calorie replacement for high-calorie beverages so lemon water is better than regular water when it comes to losing fat.



Best Homemade Drinks for Weight Loss Fast-5 Best Weight Loss Drinks-Weight Loss Drink-Helps To Reduce 10 Kg In One Month-weight loss drinks at home-fast weight loss drinks-best morning drink for weight loss-weight loss drinks at home for night-miracle weight loss drink recipe-what to drink to lose belly fat in 1 week-drinks that help you lose weight in a week-home remedies for weight loss drinks
Sufaid Zeera Say Weight Loss Urdu Tips, Zeera Ke Istamal Ke Fawaid
Benefits of Carrots for Weight Loss, Eyes, Blood Sugar, Skin & Hair Growth
21 Day Diet Plan For Weight Loss, Motapa Kam Karne Ka Tarika
Motapa Khatam Karne Ka Tarika Taweez Ke Sath, How to Lose Weight Fast
Wazan Kam Karne K Tariqy -Pait Kam Karne K Totkay-Weight Lose Tips In Urdu
The Easiest Way To Lose Weight, Which Use Models and Actresses