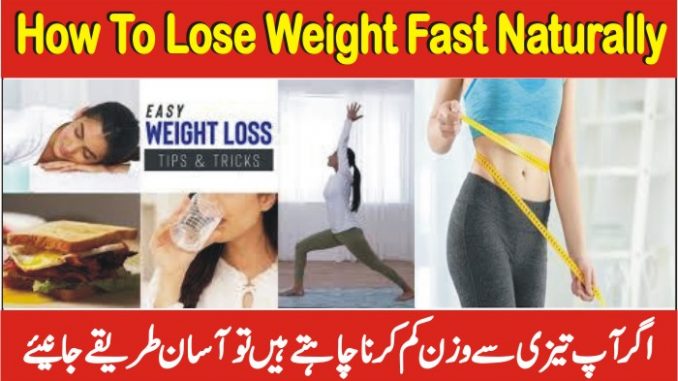 Your metabolism plays a very important role in weight loss. If you want to lose weight fast, increase your metabolism. Here in this article you can learn very simple ways to increase your metabolism for weight loss.
You may have heard a lot today that if you are losing or gaining weight slowly, it means that your metabolism is very low. When your metabolism slows down, your calories are burned very slowly and in small amounts. But do you know what metabolism really is?
Metabolism is a process involving your body whatever you eat or drink converts it into energy. During this process calories from food and drink combine with oxygen to form the energy your body needs to do everything.
Even when you are resting, your body needs energy for functions like breathing, blood circulation etc. The energy your body needs for these basic functions is called the basal metabolic rate, or metabolism.
Body: People who are slightly larger or have more muscle. They burn more calories while resting.
Sex: Men have less body fat and there are more muscles than women. As a result, they are able to burn more calories.
Age: With age, your muscles begin to shrink, which means you burn fewer calories.
Metabolism is a natural process. It does not affect the weight loss process or your weight. Weight loss will be followed by fatigue and constant tiredness. There are many other causes of weight gain such as hormonal control, genetics, stress, diet and your lifestyle. All of these factors cause an imbalance in the energy balance, which can help you burn fewer calories. To lose weight, you need to burn more calories by reducing the calories you eat.
If you do not control your metabolism, you can burn more calories by increasing your physical activity. The more active you are the more calories you will burn. It can also speed up your metabolism.
Exercise is the most effective way to burn calories. In it you can do walking, cycling, swimming. You can start by exercising for half an hour daily. If you want to speed up your weight loss, you need to increase your exercise and physical activity time.
You can also try strength training twice a week. If you are thinking of using supplements etc. to lose weight then all this is not so effective. If you want to lose weight in natural ways then focus on exercise and diet and you will soon see weight loss.
Diet and exercise may be key components of weight loss. Here are some easy ways to lose weight naturally at home.
1. Add protein to your diet.
2. Eat whole, single-ingredient foods.
3. Avoid processed foods.
4.  Always eat healthy foods.
5.  Stop consuming artificial sugar.
6.  Drink lot of water.
7.  Drink unsweetened coffee.
8.  Try To Eat Meals At Home.
9.  Eat Slowly.
10. Drink lemon water with honey at empty stomach.
11.  Drink Cinnamon and honey infused tea at morning.
12.  Chew raw garlic.
13.  Set a regular sleep schedule. Sleep at least for 8 hours.
14.  Eating diets high in whole grains help to maintain a healthy body weight.
1. Walking is considered one of the best weight loss exercises.
2. Skipping or Jumping Rope is also a very good exercise for weight lose.
3. Push-Ups and Pull-Ups help to weight lose quickly.
4. Performing Yoga is very good for weight lose.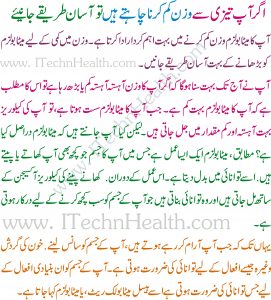 How To Lose Weight Fast Naturally And Permanently- Best Exercises to Lose Weight At Home- Tips To Lose Weight Quickly and Naturally at Home-7-day diet plan for weight loss-how to lose weight at home in 7 days-how to lose weight fast in 2 weeks-how to lose weight in 7 days-how to lose weight fast naturally and permanently-extreme weight loss methods-fastest way to lose weight for woman-how to lose weight fast without exercise
Motapa Khatam Karne Ka Tarika Taweez Ke Sath, How to Lose Weight Fast
Wazan Kam Karne K Tariqy -Pait Kam Karne K Totkay-Weight Lose Tips In Urdu
The Easiest Way To Lose Weight, Which Use Models and Actresses