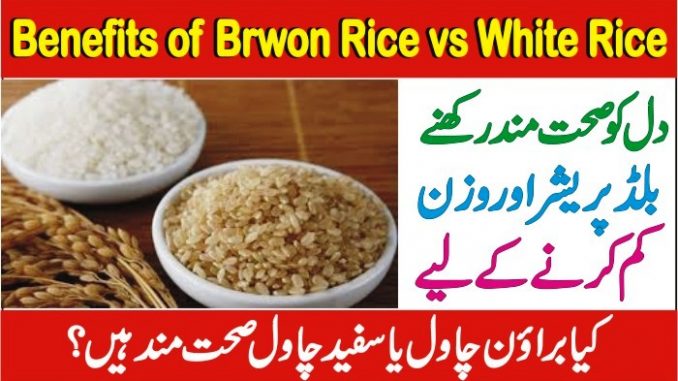 Eating brown rice is not only good for heart health but it can also help you lose weight and control blood sugar level. Brown rice will keep heart healthy, control cholesterol level and blood pressure so eating brown rice is very good for health. One cup of boiled brown rice contains about 200 calories, 40 grams of carbohydrates, about 3 grams of fiber, 5 grams of protein, 1.5 grams of fat, 12% thymine, vitamin B3 and iron. It also contains magnesium, phosphorus, zinc and copper. But the question on many people's minds is whether brown rice is also healthy for the heart, diabetes and weight loss. So let's learn answer of these questions in today's article.
Research shows that a diet high in fiber promotes a lower cholesterol and heart health. Brown rice is much heartier than white rice, both white and brown rice provides vital nutrients, brown rice contains more fiber, phosphorus, zinc, and vitamins B than white rice.
Researchers say they have discovered a component in brown rice that can prevent heart attacks. People worried about heart attacks get a lot of advice about what to eat less fat, eat more fruits and vegetables. New research suggests the most important thing they can do may be to simply eat brown rice for heart health. Brown rice can also prevent us from absorbing the good nutrients in the other foods we are eating.
Brown rice is considered healthier than white rice because brown rice does not harm the body. Brown and White rice have the same amount of calories but brown rice is less processed so it has more nutrients than white rice.
For better blood pressure control, brown rice is better than white rice because brown rice is a significantly better source of minerals such as potassium and magnesium. Many studies have shown that foods rich in these minerals help to control blood pressure.
Brown rice has the lowest Glycaemic Index of all rice types, which means once digested it releases its energy slowly keeping blood sugar levels more stable which play important rule to diabetes management.
Brown rice is perfectly safe to eat in control if you have diabetes. While brown rice is high in carbs, fiber, antioxidants, vitamins, and minerals may improve blood sugar control, thereby helping manage diabetes.
Brown rice can be beneficial for heart health. It is a heart healthy food because it contains many nutrients that help reduce the risk of heart disease. It also contains fiber. Fiber can reduce the risk of heart disease, cancer and other respiratory diseases. Brown rice contains the elements that are helpful in lowering cholesterol also keep blood pressure under control. Cholesterol and high blood pressure increase the risk of heart disease. So including brown rice in your diet can be controlled with brown rice. Brown rice is rich in magnesium. This element is also very beneficial for the heart. This greatly reduces the risk of death from stroke or heart attack.
Brown rice helps in weight loss in many ways if you eat brown rice instead of white rice it can help you lose weight. White rice not contains fiber so they can make you gain weight instead of losing it if you want to weight loss eat only brown rice to control your weight. Brown rice is also high in fiber. It keeps your stomach full for a long time. It can help you lose weight.
1. Brown rice is rich in nutrients, folate, potassium, calcium and riboflavin. It is very useful in improving metabolism, controlling blood sugar and improving nerve function.
2. Manganese deficiency can make it difficult for a woman to conceive and increase the risk of metabolic syndrome so brown rice can be very beneficial for keeping good health.
3. Brown rice also contains antioxidants such as flavonoids and phenols that help protect the body from oxidative stress.
4. It can prevent heart disease, cancer and the symptoms of premature aging.





Brown Rice Benefits For Heart-Diabetes-Weight Loss-brown rice benefits for heart -disadvantages of eating brown rice-brown rice benefits and side effects-benefits of brown rice-brown rice benefits for diabetes-white rice benefits-benefits of brown rice vs white rice-brown rice benefits for weight loss-red rice benefits-Is Brown Rice Good for You? brown rice benefits for Weight Loss
Used Rice Side Effects, Disadvantages Of Eating Rice On Health
How To Get Rid Of Heartburn Stomach Acidity, Badhazmi Ka Fori Ilaj
Remedy To Get Rid Stomach Acidity, Heartburn, Gastric Problem Quickly
Heart Attack Pain Relief Just In 50 Seconds, Heart Attack Se Bachne Ka Tarika
Heart Attack Causes, Symptoms and Heart Attack Treatment At Home
Wazifa For Heart Patient In Urdu Dil K Marizon K Lehe Nuska Shefa
How Can Diabetes Be Cured By Eating Clove, Clove Benefits For Diabetes
Main Causes, Symptoms And Complications In The Limbs In Diabetes
Sufaid Zeera Say Weight Loss Urdu Tips, Zeera Ke Istamal Ke Fawaid
Motapa Khatam Karne Ka Tarika Taweez Ke Sath, How to Lose Weight Fast