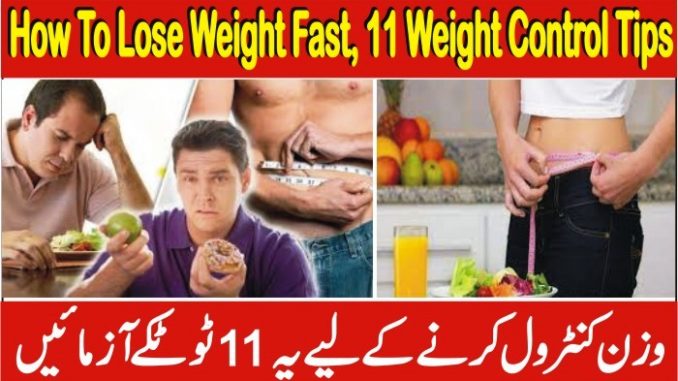 Losing weight and being fitter is all about the kind of lifestyle you lead. Here are some tips that will help you lose 2-3 Kgs in just few days. Methods of weight loss quickly include Trying intermittent fasting, Tracking your diet and exercise regularly, cutting back on sugar and refined carbohydrates, eating plenty of fiber in your daily diet and getting a good night's sleep.
Also drink lots of water it is essential for our system as around 70% of our body constitutes water, stay away from fad diets, eat slowly, walk daily, take up a de stressing activity. Don not serves sugary drinks, swap soda, juice and sports drinks for water and skim or low-fat milk.
Most people gain weight due to bad eating habits and lifestyle. Most people control their weight from avoiding bad eating habits. Some people eat less to lose their weight which makes them feel weak so eating less is not a healthy option for weight control. If you also want to control your weight, here are some tips to help you control your weight. This will keep your weight under control, allow you to eat plenty of food and stay healthy.If you want to control your weight, try these 11 tips to prevent weight gain, body fat will start to decrease slowly. Learn how to prevent weight gain?
Protein is essential for maintaining healthy muscles. Muscles help burn calories. It also boosts metabolism. This helps in burning calories and cause weight loss.
It is also important to keep yourself hydrated to control your weight. For this, keep drinking 3-4 liters of water throughout the day. Drink water every half hour. You can also take other liquid foods such as coconut water, homemade fruit juice.
People who are active can easily loss weight than those who are not active. It is important for you to be physically active in order to control your weight. For this you can do housework, exercise or exercise, do yoga. You can also run. Give importance to walking. This will keep your calories burning, help to not gain weight.
Like protein, fiber helps control weight so be sure to include fiber in your weight control diet. In fact, consuming fiber does not cause long-term hunger. With this you avoid overeating which leads to gradual weight loss. Weight also stays under control. Include fruits and vegetables in your diet for fiber. They contain a good amount of fiber.
Sugar and better carbohydrates can help you gain weight. Therefore, it is important to avoid them in order to control weight. They are high in calories, which can lead to weight gain. Minimize consumption of dairy products, ice cream, desserts, bread and pasta.
You also need to know how many calories you need to control your weight. You can find calories based on your age, sex and activity level. Take in as many calories as you need. Avoid taking more than that.
Intermittent fasting also helps control your weight. Most people resort to fasting from time to time to lose weight. This includes fasting for 16 hours. During this time you can drink water. Intermittent fasting helps raise blood sugar levels, burn fat and stabilize appetite.
To control your weight, you need to eat only home cooked food. Packed, processed and fried foods can make you gain weight. So these things should be avoided. Cook at home instead of eating hotel, restaurant food.
Getting enough sleep is important for staying healthy. Good sleep also helps control weight so you should get 7-8 hours of sleep if you want to control your weight.
Often we serve more food on our plate; this can lead to more food. In such a situation it is important that you serve less food on the plate and eat the same food.
Weight can also be controlled by eating fresh fruits and vegetables before other meals. Eat a bowl of salad before lunch and dinner. Lettuce is high in antioxidants, vitamins, minerals and fiber. It also helps you control your weight.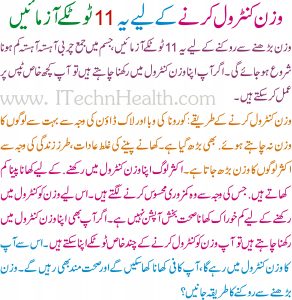 How to Lose Weight Fast-How to Lose Weight Fast-Easy Weight Loss Tips-Tips for Healthy Weight Management-Weight Loss & Diet Plans-Weight Loss Tips: How to lose weight effectively-The Best Weight Loss Tips
Motapa Khatam Karne Ka Tarika Taweez Ke Sath, How to Lose Weight Fast
Wazan Kam Karne K Tariqy -Pait Kam Karne K Totkay-Weight Lose Tips In Urdu
The Easiest Way To Lose Weight, Which Use Models and Actresses
Home Remedy to Increase Baby Weight, Bachon Ko Mota Karne Ka Nuskha
Sufaid Zeera Say Weight Loss Urdu Tips, Zeera Ke Istamal Ke Fawaid
Pait Ki Tond Kam Krne K Tarika-How to Lose Belly Fat Quickly in Urdu