Severe joint pain and knee pain from arthritis is due to breakdown of tissues around a joint in the body and pain that is not managed well. Mostly joint pain and knee joint pain occurs in adults with arthritis. Acute joint pain may go away after a few weeks or last for several weeks or months if chronic. However this pain and swelling in the joints can affect your quality of life. Whatever the cause of joint pain, must manage it with medication, physical therapy or home treatments. Most cases of mild joint pain can be successfully managed at home. 
A study involving people between the ages of 18 and 51 found that 41% of participants had calcium and vitamin D deficiencies and have consistent symptoms of back pain, knew pain and joint pain.
People who have low levels of vitamin D often have joint pain. Vitamin D supplements may treat joint pain in some people who have a vitamin D deficiency.
Not getting enough vitamin B12 to the point of a deficiency can cause a variety of serious symptoms including depression, joint pain, and fatigue. If you are facing joint pain you need some key supplements to consider adding to your health regimen to relieve joint pain. These vitamin include Vitamin C, Vitamin D,Vitamin B12,Fish oil, Calcium, Copper, Magnesium, Glucosamin and Chondroitin.
If joint pain is not chronic you can treat it at home. For natural relief from arthritis pain at home you need to control weight, take massage and use turmeric with milk. There is no treatment currently available that will completely eliminate the joint pain associated with arthritis or keep it from returning. However, there are some ways to manage the joint pain at home.
If you are facing joint pain in winter then use turmeric which is available in every home. Turmeric can relieve joint pain in winter, know 4 ways to use it to get rid from joint pain. Learn the correct way to use it.
People with diseases such as osteoarthritis and rheumatoid arthritis are more prone to obesity during winter season. This causes swelling in the joints. This increases the swelling and tension in the nerves and you feel pain.
Many times there is weakness in the bones due to genetic reasons and the joint pain is worse in the cold. Apart from this, eating stale food in cold days also leads to the problem of joint pain. In winter, the cells in our body shrink. This causes the bones near the joints to become stiff.
Stiffness reduces the flexibility of the joints due to narrowing of blood vessels. Blood and oxygen supply to different parts of the body is not done properly. To reduce joint pain in cold days turmeric can be used. It has anti-inflammatory properties and consumption of turmeric relieves joint pain.
Turmeric has antioxidant antifungal properties. It helps in eliminating free radicals from the body. It also contains protein, vitamin C, vitamin K, fiber, potassium, calcium, copper, iron, magnesium and zinc therefore it is an essential ingredient to relieve joint pain in winter.
If you need immediate treatment for joint pain, soak your feet and hands in turmeric water. Turmeric is a pain reliever. To prepare water, first heat it, then add turmeric to it according to the quantity of water. Dipping your feet and hands in this water provides relief. It also provides relief from joint pain and swelling.
Turmeric oil is an effective treatment for joint pain, this oil is easily available in the market. It is also easy to prepare at home. Roast turmeric to make turmeric oil. Boil the roasted powder in coconut or almond oil. If the turmeric extract gets mixed in the oil, switch off the gas and allow the oil to cool slightly. Massage with this oil morning and evening, you will get relief.
If you are worried about joint pain, you must drink turmeric milk in winter. To make turmeric milk, add 1 teaspoon of turmeric to about 120 ml of milk. Ginger, cinnamon and black pepper powder can also be added to it. Drinking this nutritious milk will help you sleep better and relieve joint pain.
To use turmeric, prepare turmeric paste. To make turmeric paste, mix eucalyptus oil with turmeric powder in a bowl. Both eucalyptus oil and turmeric have anti-inflammatory properties, which can reduce pain. Apply this paste on the joints and massage and after drying wash the feet with lukewarm water and you will get relief.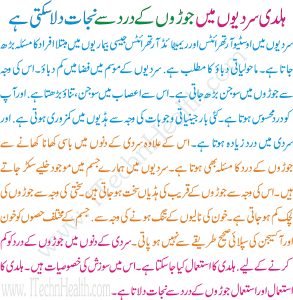 Treatment For Joint Pain, Knee pain And Stiffness-knee joint pain treatment-treatment for joint pain and stiffness-best medicine for joint pain-joint pain and weakness-joint pain all over-what causes joint pain all over the body-joint pain supplements-joint pain relief cream-Cause of Joint Pain-Joint Pain: Causes, Home Remedies, and Complications-Joint pain: Causes, symptoms, and treatment-Tips to Ease Joint Pain-Arthritis and Joint Pain Management
Arthritis Knee Pain Treatment at Home, 100% Effective Remedy
Kamar Dard Ka Ilaj Back Pain Treatment- Kamar Dard Ka Desi Totkay
Kamar Dard Ka Ilaj Sirf 1 Din Mein Kamar Dard Say Nijat-Back Pain Home Remedies
Joint Pain Home Remedies, Ghutno Ke Dard Ka Desi Ilaj In Urdu
Joron k dard ka ilaj, pathon ki kamzori ka ilaj In Urdu, Joints Pain Treatment
How to Cure Back Pain Fast at Home, Cure Back Pain Naturally