Neck pain is a common pain occurs at center in our necks the most common cause of neck pain is muscle tension. As with other body joints, neck joints tend to wear and tear with age, in response to this wear and tear, the body often forms bone spurs that can affect joint motion and cause pain. Unbalance neck posture and muscle weakness are also the reason of neck pain
We face the problem of neck pain every day. Nerve inflammation is a major cause of neck pain. Neck pain is caused by muscle tension or nerve inflammation. In case of muscle pain, you can easily get relief with a balm, compress or a pain reliever. But when there is pain in the neck nerve, people have to face severe pain, discomfort. Pain in the nerves causes great pain from the neck to the head. In which even taking painkillers does not give relief. On the other hand, if you take more painkillers to relieve the pain, it can be even more harmful to your health.
Most of the people have this question in their mind, what are the causes of neck nerve pain? In this article, we are going to tell you causes of neck pain and best home remedies to treat neck pain.
Neck pain can have many causes. Sitting in the same posture for a long time also causes nerve pain. In addition, the muscles and bones around the neck also put pressure on the nerves.
A major cause of neck pain is blocked veins or poor blood circulation. Because when the blood flow in your veins is not good and there are blockages in the veins, it causes the blood to stop in one place. Due to which there is a problem of swelling in the veins. It causes severe nerve pain that affects from the shoulders to the neck and head.
Neck pain can also be caused by muscle stiffness that also affects your nerves. Stretching helps stretch both nerves and muscles and improves blood circulation. You should try to stretch the neck back and forth, right and left in all four directions. It will be very helpful in nerve pain.
This super spice is loaded with many health benefits, including helping to relieve nerve pain. Because of its anti-inflammatory properties, turmeric can be added to your diet to help improve your pain. Its anti-inflammatory properties make it very beneficial in fighting inflammation. Along with this, it also helps in improving blood flow in the body. This helps in unblocking the blockage and reduces the pain. You can eat turmeric with milk, turmeric in vegetables and half a teaspoon of turmeric in lukewarm water.
If you eat foods that increase blood flow, it helps in unclogging the veins and the circulation of blood in the veins is unhindered. This relieves the problem of nerve pain. Apart from turmeric, the use of pomegranate, onion, garlic, ginger, etc. is also very beneficial in increasing blood flow. Fish oil has been found to restore the condition of damaged nerves due to the omega-3 found in it. Omega-3 foods such as salmon, tuna, cod, herring, sardines, mackerel, flaxseeds, and chia seeds help improve blood sugar regulation and control inflammation.
If there is one most effective home remedy for reducing inflammation, it is compressing. Especially if you apply warm compresses, it helps to reduce swelling and provide quick relief from pain. For this you can use a hot pack or you can compress the nerves and muscles of the neck with a warm cotton cloth. This causes blood to flow in the veins.
There are many desi oils available in the market, which are formulated with the help of several Ayurvedic pain relievers. However, you can also make pain relief oil at home by adding turmeric, garlic etc. to the oil and heating it. Mustard oil is best for this. Massage the neck muscles thoroughly with this oil. This will reduce nerve and muscle tension, reduce swelling and relieve pain.
Vitamins B, vitamin B1, vitamin B6 and vitamin B12 play crucial roles to the maintenance of a healthy nervous system.
Add green and leafy vegetables such as Broccoli, spinach and asparagus to your daily diet because all contain vitamin B, a nutrient important for nerve regeneration and nerve function. Spinach, broccoli and kale also contain a micronutrient called alpha-lipoic acid that prevents nerve damage and improves nerve function.
Exercise releases natural painkillers called endorphins. Exercise also promotes blood flow to the nerves in the legs and feet. Researchers believe that regular exercise may create a long-lasting expansion in blood vessels in the feet, nourishing damaged nerves back to health.
Ice and heat compress method relaxes tight muscles around a pinched nerve and increases blood flow, which is vital in the healing process. You can also apply ice packs to reduce swelling and inflammation. Just hold the cold compress wrapped in a cloth directly onto the pinched nerve for 10-15 minutes.
If you are not getting relief from your neck nerve pain problem with the help of these medicines, you should contact your doctor as soon as possible as it could be a sign of a medical condition.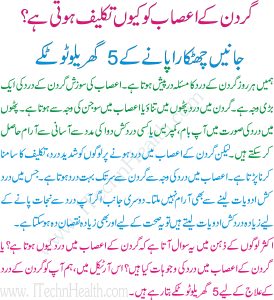 Gardan Ka Dard Neck Pain Treatment In Urdu-Nerves pain symptoms, causes and treatment in urdu-Gardan ka dard – Neck & Arm Pain Causes, Symptoms-Neck Pain Treatment In Urdu-cervical pain treatment-neck pain ka ilaj-neuropathic pain treatment-cervical pain meaning in urdu-Gardan ka dard, Neck Pain Treatment In Urdu-gardan ki naso me dard ka ilaj- Gardan K Dard Ka Ilaj
How To Cured Occipital Neuralgia, Treatment of Nerve Pain in Head, Sir Ki Naso Me Dard Ka Ilaj
Aloe Vera for Thyroid Health, Aloe Vera Juice May Reduce Thyroid Antibodies
How To Cured Occipital Neuralgia, Treatment of Nerve Pain in Head, Sir Ki Naso Me Dard Ka Ilaj
Treatment for Allergies, Ear Pain In Urdu- Kaan K Dard Ka Ilaj
Powerful Dua For Evil Eye Protection, Evil Eye Necklace & Evil Eye Bracelet, Nazar E Bad Ka Ilaj
How Can Remove Dark Spots On Face Naturally, Neem And Turmeric Face Pack For Skin
How To Remove Pimple Marks, Face Marks & Remove Acne Scars Naturally