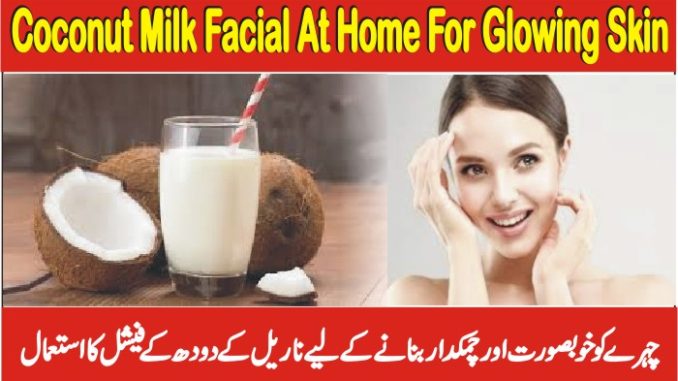 To make the face beautiful and glowing, many people spend hours in the parlor for a facial. But sometimes due to lack of time they are not able to go to the parlor. In such a situation, a coconut milk facial can be easily done at home to achieve a parlour-like glow. This facial is completely natural and makes the skin glow.
Like coconut oil, coconut milk has a high fat content which can have an excellent moisturizing effect when applied topically to dry skin and it also acts as a sealant to lock in moisture and hydrate. It's easily absorbed, smoothes skin cells, and the fats help maintain your skin's elasticity. It can also works as an effective cleanser for removing dirt and debris from your pores while nourishing your complexion in the process.
Take a bowl, add 2-3 tbsp of coconut milk and 1/2 tsp of turmeric powder. Mix it well. Also, add some rice flour and mix again. Apply this face pack all over your face and neck
Coconut oil and milk helps the skin retain its elasticity and glow because it is a natural anti-aging product that can repair damaged skin cells and rejuvenate your face. Coconut milk face mask is used as a skin brightening home remedy. It simply makes your skin brighter as it is rich in vitamin C and E. It's uses can be beneficial in many ways such as face pack, as a scrub, cleanser and as a toner. This mask helps to make your skin more stunning with glowing and smooth.
Mix coconut milk and olive oil in a 2:1 ratio. Apply the mixture to your face with a cotton pad. It is an excellent natural alternative to costly chemical makeup removers. It may contribute to reduce acne breakouts, remove blackheads and pimples from your face.
By doing a coconut milk facial. The skin is nourished and many skin problems are also easily cured. Ingredients like lauric acid and decanoic acid are found in coconut milk. which help in keeping the skin healthy. Let's know how to make coconut milk facial for skin glow.
Facial cleansing is the first step. Cleansing cleans the face properly and prepares the face for the facial. For facial cleansing, mix 2 teaspoons of coconut milk with 1 teaspoon of aloe vera gel to make a thick mixture. Now apply this mixture on the face and massage with light hands. After doing this for 2 to 3 minutes, wash your face with normal water.
For coconut milk scrubbing, make a thick mixture by mixing oats, honey and coconut milk. Now gently massage your face with this mixture. After that, wash your face with normal water. Doing this regularly cleans all the dirt on the face and also unclogs the skin pores.
Facial massage is essential to make the face glow. Massaging the face improves the blood circulation of the skin and makes the skin glow. To massage with coconut milk, add 1 tablespoon of olive oil and massage with light hands. Doing this will reduce the blemishes on the face and make the skin glow.
The most important step of the facial is the pack. Applying this pack on the face removes the dryness of the skin and also removes the problem of dark circles easily. Make a thick paste by mixing 1 teaspoon of sandalwood powder, 1 teaspoon of gram flour and 2 to 3 teaspoons of coconut milk to brighten the face. Now leave this mixture on the face for 15 minutes. After that, wash your face with normal water. Doing this will make the skin glow.
Coconut milk is very beneficial for facial skin. But remember to do a patch test before applying coconut milk on the skin. If any skin treatment has been done, do this facial only on the advice of a beautician.



Coconut Milk Facial At Home For Glowing Skin-Is coconut milk good for your face-Does coconut milk clog pores-Is coconut milk good for clear skin-How do you use coconut milk as a face mask-Simple Coconut Milk Face Pack Recipes for Beautiful Skin-Best Ever Coconut Milk Face Mask For Glowing Skin Beauty benefits of coconut milk for skin and hair-how to apply coconut milk on face-coconut milk on face overnight-drinking coconut milk for skin-coconut milk for skin whitening-coconut milk for face pigmentation-how to use coconut milk for skin whitening-coconut milk for hair-coconut milk benefits- Benefits Of Coconut Milk For Skin
Alum Benefits For Skin, Fitkari k Faidy, Home Remedies For Glowing Skin
Beauty Tips For Glowing Skin-9 Magical Face Masks Tips for All Types of Skins
How To Make Your Skin Glow Overnight, Beauty Tips For Face At Home
12 Best Naturally Method Of Skin Care, Best Skin Care Routine
Glycerin Benefits For Skin, Face, Dark Spot, Lip Softness and Hair Grow
Orange K Chilke Ka Fiady, Orange Peel Powder For Skin Whitening In Urdu