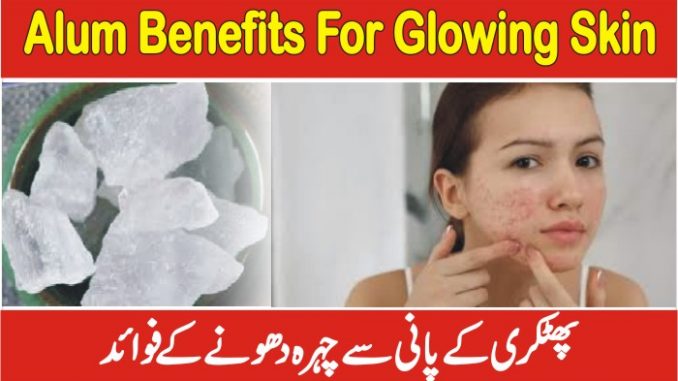 Mostly people use an alum block after shaving to soothe the skin, prevent the spread of bacteria and reduce bleeding of minor nicks and cuts. You can use Alum on your face once or twice daily for cleansing the skin from bacteria and some other harmful germs. Research shows that the use of alum to treat drinking water is safe.
1. Alum can be effectively used for wrinkles. Take a piece of solid Alum, wet it and rub it on your face slowly for some time. Wash your face with rose water and use a moisturizer for glowing skin.
2. Alum powder mixed with rose water if applied on face and washed after 5-10 minutes makes the skin tight by closing the pores.
3. Alum helps in skin whitening because of its astringent property. It removes excess oil from the skin. This helps to lighten the color of the skin and make skin white.
4. Alum is often useful for treating acne and pimples on face. Make a face pack with alum powdered and Multani Mitti and apply it to hands and face to remove pimples and acne.
5. The Alum Block will dry the skin and spots leading to a better appearance. Alternatively, apply to spots and pimples last thing at night. Don't use the Alum stone on the face more than twice daily as it could lead to the skin over-compensating by producing more oil.
6. A mixture of alum powder and rosewater can be applied all over the face and body. This paste when rubbed on the skin acts a mild abrasive and helps get rid of facial hair permanently.
7. Charcoal is an ancient remedy to whiten teeth. Mix some charcoal powder, preferably of babul wood, mixed with some roasted alum and rock salt. Rub this on your teeth instead of your regular toothpaste will whiten your teeth.
8. Alum can also be helpful in controlling sweat. If you sweat excessively, bathe in alum water and you will notice the difference soon after. It has anti-bacterial properties that can help get rid of bacteria that causes bad smell.
9. When you apply alum face packs regularly, it does few amazing things for your skin. It treats skin problems like acne as it has anti bacterial properties.
10. Alum also lightens acne scars, dark spots
and prevents blackheads too. It also heals minor cuts and scrapes along with tightening our skin.
Alum have lots of benefits but it has some side effects too such as it can dry skin, make skin irritation, A feeling of throat tightness, Hypersensitivity reaction and in some case allergic reaction are side effects of Alum.
If you want natural skin whitening and brightening effects over skin, you can make your own special ice cubes at home. Adding some drops of lemon to the water and then freezing them together can prove beneficial for your skin. You can massage your face with these ice cubes once during the day, and once during night.
Washing the face with alum water can get rid of many skin problems. Here are the benefits of using alum for the skin.
We all want a clean, supple and glowing skin. But with age, skin allergies, climate change, pollution and many other causes, we face skin problems every day, which affects our skin. To get rid of skin problems and get glowing skin, we try many different things from various skin care products to home remedies (Home Remedies For Glowing Skin) but nothing much. Now the question is what are your options in such a situation?
What if we tell you how to use Fitkari Benefits For Skin? Can it work wonders for your skin? Yes, you read that right! Not only applying alum on the skin, washing the skin with alum water can also help you to get rid of skin problems and at the same time help to get beautiful and glowing skin (Alum Benefits For Skin). If you also suffer from skin problems, use alum. In this article, we are going to tell you about the benefits of Alum Benefits For Skin and its use.
Washing the skin with alum water removes skin blemishes and brightens the skin. All you have to do is add a little alum to the water and mix until it dissolves well. Then wash the skin with this water. If you want, you can also mix alum in this water while bathing.
Also, if you have more spots on your skin, you need to take 1 teaspoon of alum and 1 teaspoon of olive oil and mix well. Apply this mixture on your skin and leave it on for 10 minutes. Then wash the skin with fresh water. This will help to get rid of blemishes on the face.
If your face is loose or sagging, wash your face with alum water, it will help to tighten the skin. Alternatively, you can use alum powder mixed with rose water on the skin. All you have to do is take a little rose water and add a pinch of alum and egg white. Apply this mixture on the skin and leave it for a while, then wash off. You can use this prescription 2 to 3 times a week.
Acne is one of the most common skin problems. Most of us have a problem with acne on our face. In this case, rinsing your face with alum water can help you get rid of acne. You can also make an alum paste and apply it directly on your skin, and wash off after 10-15 minutes. You can try this prescription until you get rid of acne.
Nowadays, people start experiencing the signs of aging at an early age, the most common of which is wrinkles on the skin. It is true that you cannot stop aging, but you can delay it. Alum is very useful in this. All you have to do is add some alum to the water and mix well. Then massage your face with this water. Leave it on the skin for a while and then wash your face with plain water. Doing this regularly will help reduce wrinkles on the face.
Unnecessary facial hair can embarrass someone. Alum is believed to have been used in ancient medicine as a prescription for removing unwanted hair. This prescription is still useful today. All you have to do is take half a teaspoon of alum and mix rose liqueur in it. Then apply it on the parts of your face where there is more unwanted hair and leave it on for 20 minutes. Then wash your face with rose water and apply moisturizer on the skin. Avoid applying this mixture on the area around the eyes. You will notice that the unwanted facial hair is slowly decreasing.
Eating a healthy diet can give you a healthy-looking glow. Pomegranate oil is rich in omega it keep moisturize your skin. Cucumber, Oranges and grapefruits aren't just tasty but they are also a good source of vitamin C that can make your skin glowing.  Drinking plenty of water, it is very important that you drink 10-12 glasses of water daily, cut back on the caffeine and proper sleep is also important for glowing skin.
By eating some of the following nutritious fruits, you can flaunt a glowing and healthy skin. Make lemon, orange, watermelon, pineapple, apricot, pomegranate and apple a part of your daily diet




Alum Benefits For Skin-Fitkari k Faidy-Home Remedies For Glowing Skin-Fitkari Benefits For Skin-how to use alum for skin whitening-alum benefits for skin whitening-how to use alum for skin tightening-alum on face overnight-side effects of alum on face-how to use alum for acne scars-how to use alum for skin pigmentation-how to use alum for pimples-how to get fair and glowing skin at home in 7 days-home remedy for skin whitening in 3 days-home remedies for glowing skin in 10 days-night skin care routine home remedies-home remedies for glowing skin in one day-glowing skin secrets-daily skin care routine home remedies-how to get spotless skin naturally at home
Beauty Tips For Face At Home In Urdu, Glowing Skin, Face Whitening
How To Make Your Skin Glow Overnight, Beauty Tips For Face At Home
12 Best Naturally Method Of Skin Care, Best Skin Care Routine
Glycerin Benefits For Skin, Face, Dark Spot, Lip Softness and Hair Grow
Orange K Chilke Ka Fiady, Orange Peel Powder For Skin Whitening In Urdu