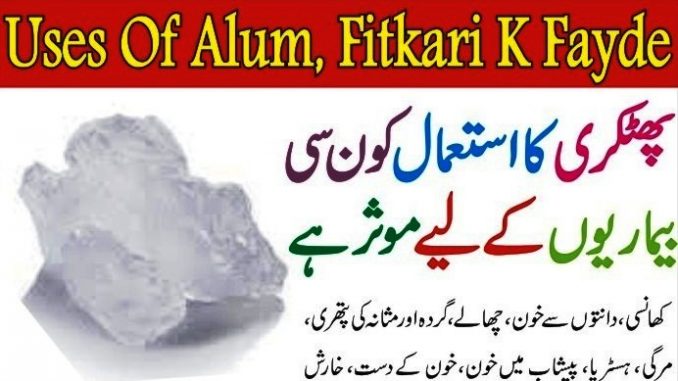 Alum is a transparent salt that is used in cooking as well as for medicinal purposes. There are many types of Alum such as Potassium Alum, Ammonium, Chrome, Selenate. In Ayurveda, Alum is used in the form of Bhasma named Sphatika bhasma which can be taken orally to manage various diseases. Alum is safe to use externally and internally.
Alum is also called Fitkari in Hindi is a mineral made of Potassium. It is a compound that has antiseptic and astringent properties. The antiseptic properties of the alum offer protection against many disease while its astringent properties help reduce inflammation and bleeding immediately.
Alum is used to treat dysentery and diarrhea due to its drying property. It helps to control bleeding and accelerates the healing process.
Alum kills or lowers the total bacterial content of the water. For bleeding gums, weak teeth, and dental caries. Make a paste of one gram of alum, a pinch of cinnamon and some rock salt can help to get rid from these health problem.
Alum powder soothes the burning skin and brings relief. It also helps in diminishing hair growth if you use it for a long time then it is good for hair growth.
Alum has amazing skin lightening benefits that can help to fade acne scars and dark spots. It can reduce blemishes; improve texture and evens out fine lines. It is often recommended for treating acne and pimples treatment. Make a paste of Alum powder with rose water. Apply it on your blackheads. Leave it on until it dries and wash off. Don't rub as that will irritate your skin. 
Alum block is best used as an aftershave treatment.  It is an astringent, styptic and antiseptic. It has cosmetic uses as a deodorant and as an aftershave treatment. Wet the alum block by running under a cold tap, ensuring the surface is wet.
Taking Alum Bhasma 2 times a day provide relief from Dysentery and Diarrhea due to its drying property.
Alum along with honey is used to manage whooping cough by reducing the accumulation of mucus in the lungs.
Alum is also beneficial for whitening of the skin due to its astringent property. It removes excess oil from the skin making it effective for the reduction of acne scars and pigmentation marks.
Alum (Sphatika Bhama) helps to control piles bleeding. Take 1-2 pinch of it. Mix with one teaspoon honey. Take it twice a day to manage piles.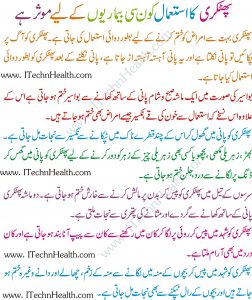 Uses of Alum For Skin, Hair & Teeth  Fitkari Ke Fayde-alum uses for tightening-how to use alum for skin whitening-benefits of alum for teeth-benefits of alum for skin-side effects of alum-benefits of alum gargle-alum benefits for hair-potassium alum side effects-Phitkari-fitkari ke fayde- Fitkari Ke Desi Nuskhe-Health Benefits Of Fitkari-phitkari k faidy
Badi Elaichi Ke Fayde, Elaichi Benefits And Side Effects In Urdu
Sonf Ke Fawaid – Saunf Ke Fayde – Health Benefits of Fennel Seeds