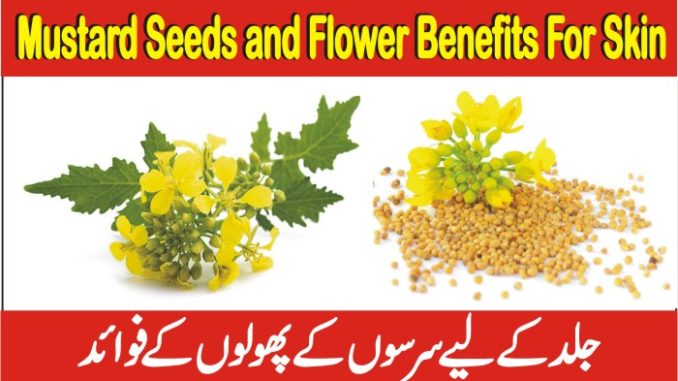 Mustard is used in many ways its leaves are eaten. Its seeds are used as food and oil is also made from these seeds. You must know all these benefits, but do you know about mustard flowers? Do you know what are the benefits of mustard flower? In fact, yellow mustard flowers have many medicinal properties. For example, first it acts as an antibacterial and helps reduce infection. Second, its anti-inflammatory properties are also helpful in reducing inflammation. Apart from this, it is also antiseptic and works as a detoxifying agent. So you can use mustard flowers for all these benefits.
Mustard is not generally known to be beneficial for the skin. In fact, applying mustard to the skin can be irritating and may cause redness, itching, or even burns.
Mustard contains compounds that can be irritating to the skin, including allyl isothiocyanate and sinigrin. These compounds can cause a burning or stinging sensation when applied to the skin, especially in higher concentrations.
If you're looking to improve the appearance or health of your skin, there are many other ingredients that are known to be more beneficial and less irritating. Some examples include aloe vera, honey, jojoba oil, coconut oil, and green tea. However, it's always a good idea to consult with a dermatologist or skincare professional before trying any new skincare product or ingredient.
Mustard flowers, also known as mustard blooms or mustard greens, are the edible flowers of the mustard plant. They are typically yellow in color and have a mild, slightly peppery flavor. Here are some potential benefits of consuming mustard flowers:
Mustard flowers are rich in vitamins and minerals, including vitamins A and C, calcium, and iron. Consuming nutrient-dense foods like mustard flowers can help support overall health and wellness.
Mustard flowers contain antioxidants that may help protect against damage caused by free radicals in the body. Antioxidants are important for maintaining healthy cells and may help reduce the risk of chronic diseases.
The mildly spicy flavor of mustard flowers can help stimulate digestive juices, which can aid in digestion. Additionally, some studies suggest that mustard greens may have anti-inflammatory properties that can help reduce inflammation in the digestive tract.
Some research suggests that the compounds found in mustard greens, including glucosinolates, may have cancer-fighting properties. However, more research is needed to fully understand the potential health benefits of consuming mustard flowers.
Here we will tell you about the use of mustard flowers for skin. We will tell you how you can make a face pack with mustard flowers and how it can be used for skin. So let's know about it in detail.
First, take fresh mustard flowers and wash them after putting them in clean water.

Now mix gram flour in these flowers and grind them coarsely.

Now take it out in a bowl and add aloe vera gel in it.

Then apply it on your face.

Leave it on the face for 10 minutes.

Then wash your face with cold water.
This face pack made from mustard flowers when mixed with aloe vera gel can help hydrate your skin. It not only removes all the dirt and impurities from the skin but also moisturizes your skin.
The pores get clogged due to the oil and dirt accumulated on the skin. It can lead to acne and blackheads. Such skin problems can be easily cured with the help of flowers. This face pack made from mustard flowers works as an effective exfoliator. Like any other scrub, you can use this face pack made with mustard flowers. It removes all the excess oil from the skin and leaves your skin refreshed.
With the passage of time, our skin becomes very weak and due to poor diet and lifestyle, wrinkles start to appear on the skin. In such a situation, this face pack made with mustard flowers restores skin hydration and reduces wrinkles. Mustard seeds are a great source of carotene and lutein, which reduce fine lines and wrinkles.
As winter approaches, tanning starts to appear on the skin. In fact, tanning of the skin increases due to sitting in the sun in winter. This face pack made with mustard flowers helps reduce pigmentation and reduce tanning. Also, its vitamin C content cleanses the skin from within.
Mustard flower face pack is rich in anti-fungal properties. It helps with sagging skin. Also, its antiseptic properties soothe skin wounds and help them heal. So you can use mustard flower for all these benefits. It is beneficial for the skin in many ways. They can relieve your skin inflammation and enhance the beauty of your skin.




Mustard Seeds and Flower Benefits For Skin-Mustard Seeds and Flower Benefits In Urdu-Mustard seeds benefits in Urdu-Mustard Seeds Benefits In Urdu-Rai Dana Ke Aehm Fawaid-Does mustard help your skin?What is the benefit of mustard flower?What is the benefits of mustard on face?Is mustard seed good for face?Sarson Ke Tel Ke Fayde In Urdu-Health Benefits Of Mustard Oil-Skin Infections- Reduces -rinkles- Removes Blackheads
Sarson Ka Tail Ke Fayde in Urdu, Mustard Oil Benefits For Skin, Hair, Teeth and Heart
Why You Should Avoid Plucking White Hair, Does Plucking White Hair Increase Them?