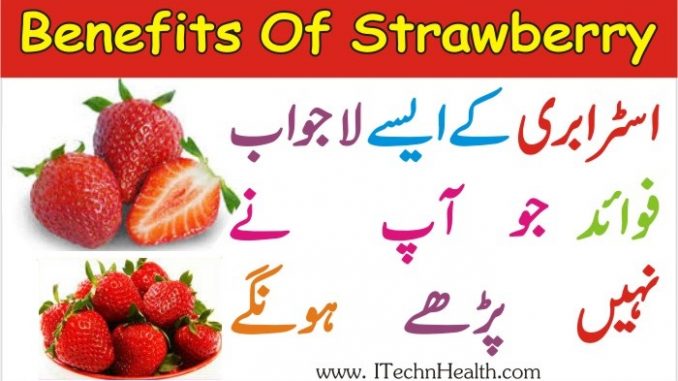 Strawberries are good energy boosting fruit. It can provide carbs, fiber, and sugars that can enhance body energy levels very quickly. One cup of strawberries provides 13 grams of carbs, 3 grams of fiber, and 100% of the RDI for vitamin C.
Strawberry is very beneficial for health. It provides plenty of vitamin C, fiber, potassium and antioxidants. They are sodium-free, fat-free, cholesterol-free, low-calorie food. It has a wide range of nutrients and that can help reduce the risk of heart disease, increase HDL (good) cholesterol, lower your blood pressure, reduces the risk of sudden heart stroke, reduced risk of some cancers and help for better management of type 2 diabetes.
People with type diabetes often aim to eat foods with a low glycemic load.  Strawberries fall into this category, as it doesn't quickly raise glucose levels in blood. Diabetes patients can eat them without worrying about a blood sugar spike.
Eating strawberries with meals has been shown to help stabilize blood sugar and insulin levels and decrease markers of inflammation and LDL cholesterol.
Strawberries are great for your immune system because they're a great source of vitamin C. It contains enough fiber that prevents weight gain and helps improve digestion system.
It is recommended that individuals eat a serving of 8 strawberries a day. But people with kidney problems should be careful about eating too many strawberries.
Strawberries can help you to get rid of dead skin cells. Those who have acne on their face can use it to get rid of the skin problem very quickly. They have strong astringent,  anti-inflammatory, and anti-oxidants properties that treat burns, protect your skin from UV rays, and also work as anti ageing. 
It is a great source of antioxidants and other nutrients. Eat more strawberries, blueberries, and blackberries to help with anti–aging and longevity.
The high amount of vitamin C found in strawberries also helps to lighten the skin reduce the appearance of dark spots while also helping to make dull skin look more fresh and radiant.
Strawberry milkshake provide sweetness for fewer calories and also offer lots of healthy fiber, vitamins and minerals including zinc, copper, magnesium, manganese, vitamin B6, niacin, calcium, iron and vitamin K.
There is some evidence that using strawberry in larger amounts might prolong bleeding time and increase the risk of bruising and bleeding in some people with bleeding disorders.



benefits of strawberry for skin-4 uses for strawberries-blueberry benefits-strawberry advantages and disadvantages-benefits of strawberry tea-benefits of strawberry for male-how to eat strawberry-benefits of strawberry shake
Benefits Of Taking Warm Water In The Morning On Empty Stomach
Sarson Ka Tail Ke Fayde in Urdu, Mustard Oil Benefits For Skin, Hair, Teeth and Heart
Glycerin Benefits For Skin, Face, Dark Spot, Lip Softness and Hair Grow