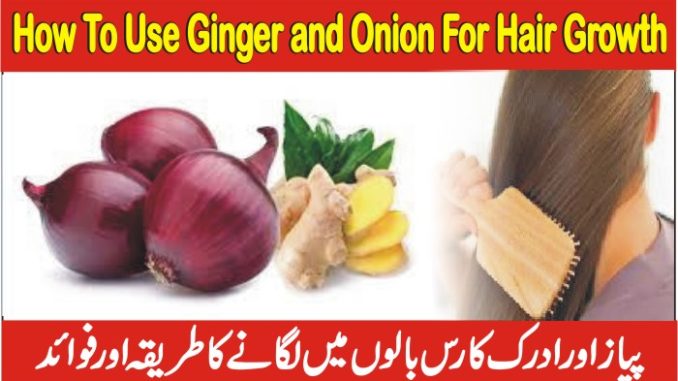 Ginger and onion are necessary ingredients of our kitchen. We eat them as a spice in food as well as in salads. It is also consumed in the form of juice, extract or herbal tea. In any form it is very beneficial for health. They also help reduce the risk of many serious diseases. But did you know that they can also be used to treat many hair problems? Yes, both ginger and onion can be very beneficial for hair. Many people ask how ginger and onion can be used for hair. For this you can take the juice or extract of both and apply it on your hair. This will get rid of many hair problems.
Having anti-inflammatory properties, Ginger is an amazing ingredient that improves scalp health, stimulates blood circulation, minimizes hair fall, and improves the overall quality of your hair. You can mix onion juice with ginger juice to get healthy hair. Now the question arises. How to apply ginger and onion juice in hair? In this article we are telling you ginger and onion juice benefits for hair in detail.
The simplest way is to just apply the juice of raw onion and ginger on your whole scalp leave it for minimum 20 minutes and then wash it off with a shampoo.
You can also take equal amounts of onion and ginger juice as needed in a bowl. Apply the mixture to your scalp. Leave it on the hair for at least 2-3 hours before washing it off, then wash it off with a mild shampoo.
You can mix onion and ginger juice with mustard or coconut oil and apply it on your hair. You can leave it on your hair overnight, or you can leave it on for at least 4 hours before washing your hair.
First of all, pour the honey, ginger and red onion juice into a bowl and mix them well. Apply this mixture to your scalp and hair. Put on a shower cap to avoid dripping and wait for at least 5–10 minutes. Rinse it off using lukewarm water and mild shampoo. Use this mask 1–2 times per week for maximum hair growth.
Ginger contains silicon compounds which are considered very beneficial for hair. Along with this, ginger also has antioxidant, anti-inflammatory and antibacterial properties. On the other hand, let's talk about onion juice. It is rich in flavonoids, antioxidants, enzymes called catalase as well as vitamins C, B etc. which help in hair growth. Using a mixture of ginger and onion juice can provide many benefits to hair, here are some common benefits of ginger and onion juice for hair.
1. Premature graying of hair does not happen, just as hair turns dark naturally.
2. Treats scalp infections, allergies, itching etc. that cause hair fall.
3. It is very effective in curing the problem of dryness.
4. Reduces hair loss and promotes new hair growth. Improves blood circulation in the scalp and nourishes the hair follicles. This
5. Helps to achieve strong thick hair.
6. Onion juice stimulates the scalp and improves the circulation of blood, resulting in its follicles that are well-nourished. 
7. Ginger prevents hair loss; it contains magnesium, potassium, phosphorous, and vitamins that provides hair follicles with nourishment, making them strong and preventing hair loss.



How To Use Ginger And Onion For Hair Growth-Ginger And Onion Juice Benefits For Hair-side effects of onion juice on hair-how to use ginger and onion for hair growth-how to make ginger and onion juice for hair growth-which one is best ginger or onion for hair growth-onion and ginger for hair growth reviews-why did my hair fall increase after using onion juice-onion and ginger juice for hair overnight
Why You Should Avoid Plucking White Hair, Does Plucking White Hair Increase Them?
How To Stop Hair Fall Immediately Which Food Can Stop Hair Fall
Benefits Of Sea Salt For Hair, Is Sea Salt Good For Hair Loss
Sarson Ka Tail Ke Fayde in Urdu, Mustard Oil Benefits For Skin, Hair, Teeth and Heart
Benefits of Carrots for Weight Loss, Eyes, Blood Sugar, Skin & Hair Growth
Cinnamon Oil Benefits for Hair Growth, Hair Falling and Increase the Length of Hair