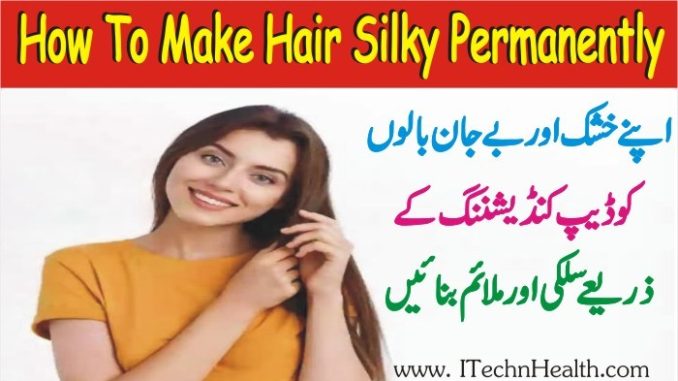 The signs of healthy hair include silky, long, thick, soft and shiny hair. Having silky hair is something not every one is born with. Our hair may become dry and weak if our diet is not healthy. When our hair fails to retain the moisture from the natural oils secreted by the scalp they also become dry and rough. If you are facing hair problem and wants silky and shiny hair then you are at right please, here are a few home remedies to get soft and silky hair at home.
You can use home remedies to treat dry hair if it becomes dry day by day. Below are some home remedies that can be tried to get rid from dry hair problem.
Use of olive oil, almond oil, castor oil, jojoba oil and corn oil are the most popular home oils for treatment of dry hair. All of these oils are rich in vitamin E, antioxidants and can help to close up the outer hair layer with moisture to repairing the damage. Follow the steps given below to get strengthen and shine to dry hair.
1. Warm half a cup of olive oil or castor oil.
2. Gently massage it into the hair for 5-10 minutes.
3. Cover the hair with a warm towel.
4. Leave for 40−45 minutes.
5. After this shampoo and rinse the hair.
6. Coconut Oil Mask For Hair
You can prepare a simple hair mask by boiling curry leaves with coconut oil for 3–5 minutes and leaving it to rest in a cool place for a few days. When it has cooled, it can be gently rubbed into the hair and scalp with the fingertips and covered with a warm towel. It should then be left on for a few minutes before being rinsed.
1. Mix One tablespoon of gelatin with 1 cup of warm water.
2. Leave it for 5 minutes to partially set the gelatin.
3. Add One  teaspoon of apple cider vinegar in it.
4. Add Six drops of an essential oil such as jasmine or lavender.
5. Apply this mixture to clean hair.
6. Leave it for 10 minutes and rinse with tepid water.
Eggs and mayonnaise contain lots of protein, which helps to fortify and strengthen the hair and restore moisture to dry hair. You can prepare this mixture at home in the following ways:
1. Mix Three Eeggs in a bowl.
2. Add Two tablespoons of olive oil and 1 tablespoon of honey.
3. Apply the mixture to hair and scalp.
4. Cover the head with a plastic covering or shower cap for about 35 minutes.
5. Rinse the hair with cool water and shampoo.
6. Yogurt And Oil Mask
To prepare this home remedy follow these steps.
1. Add half a cup of yogurt to 2 tablespoons of olive oil and 6 drops of an essential oil.
2. Mix together thoroughly.
3. Apply the mixture to shampooed hair.
4. Cover with plastic or a shower cap and leave for 15-20 minutes.
5. Rinse the hair thoroughly with warm water.
1. You can make hair silky permanently by taking the right supplements to restore shine to hair. Helpful supplements include Omega-3 you can get omega-3 by taking one to three 250-milligrams (mg) capsules of borage oil, flaxseed oil, or evening primrose oil, one to three times a day.
2. Taking vitamin A, vitamin C vitamin H and iron supplements can help make hair look healthier and shinier.
3. Avoid overuse of hair styling products, including hair dye and heated styling tools, such as a blow dryer, curling iron, and flat iron.
4. Avoid excessive sun exposure.
5. Avoid excessive contact with chlorinated water in swimming pools.
6. Wear loose hairstyles instead of tight ponytails.
7. Do not sleep with accessories in the hair.
8. Apply a weekly moisturizing hair mask.
9. Avoid washing hair too often, only washing it every few days instead.
10. Use herbal or sulfate-free shampoos.
11. Choose hair care products as per your hair type.
12. Do not shampoo your hair daily shampooing hair daily strips away oil from your hair.
13. Do not wash your hair with hot water. Hot hair dries your hair out. You can either wash with lukewarm water or cold water.
14. Try hot oil treatments. Warm any of the oils like coconut oil, olive oil, or castor oil, and gently massage it into your hair for a few minutes.
15. Drink plenty of water and follow a healthful, balanced diet.
16. Protect your hair from the sun. Cover your hair with a scarf whenever you go outdoors in the sun.
17. Minimize the use of hair colors or dyes.
18. Trimming the hair once in 3-4 months helps in reducing the split ends and gives you healthy looking hair.
19. Eat iron-rich foods, such as beetroot, dates, beans, egg yolk, mushrooms, fish, lentils, oranges almonds and spinach.
20. Get Vitamin D naturally by exposing yourself to the sunlight in the early hours of the morning for a few minutes.




How Can You Get Silky Hair In 10 Minutes-How To Make Your Hair Silky, Long, And Soft-How To Make Hair Silky Permanently-how to make hair silky permanently-how to make hair silky and shiny at home-how to make your hair soft in 5 minutes-how to make coarse hair soft and silky-how to make hair silky permanently at home-how to make your hair soft for guys-home remedies for dry and frizzy hair-how to get silky hair in 10 minutes
How To Stop Hair Fall Immediately Which Food Can Stop Hair Fall
Benefits Of Sea Salt For Hair, Is Sea Salt Good For Hair Loss
Sarson Ka Tail Ke Fayde in Urdu, Mustard Oil Benefits For Skin, Hair, Teeth and Heart
Glycerin Benefits For Skin, Face, Dark Spot, Lip Softness and Hair Grow