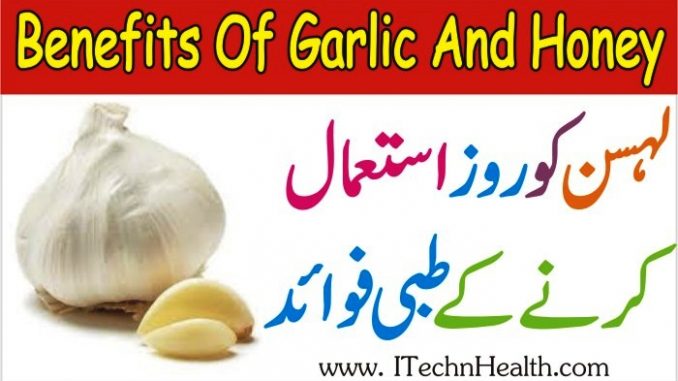 Garlic is traditionally used to treat colds and coughs, boost the immune system and help ease asthma symptoms. In some countries of central Asia it is used in medicine to help treat heart disease, high blood pressure, arthritis, toothache, constipation, stabilize blood sugar levels, support heart, improve brain health and protect from all types of infections.
Garlic contains a component called Allicin, which helps to reduce the cholesterol levels in body. The best way to use garlic is by eating raw garlic on an empty stomach.  Because fresh garlic contains Allicin and this component gets weaker during the process of cooking.
Garlic on empty stomach is very effective for preventing and curing different diseases due to its powerful antibiotic properties. It is more effective when you eat it before breakfast because bacteria is exposed and cannot survive itself from succumbing to its power.
Always be careful while eating raw garlic on empty stomach. Don't take large amount of raw garlic on an empty stomach.  In some studies it is found that raw garlic is loaded with a compound called Allicin, which can cause liver toxicity if taken in large quantities. Dosages generally recommended in the literature for adults are one to two cloves of raw garlic per day. Eating more than that may cause upset stomach, diarrhea, bloating, or bad breath, a large amount of raw garlic at once may give you a burning sensation inside the mouth,
Garlic contains high amount of Zinc and high concentrations of Sulfurous compounds like Allicin which naturally promote relaxation, helping you fall asleep faster at night.
Garlic has been used as an antiseptic, antibacterial, and anti fungal agent. It can help the body to destroy viruses and other microorganisms by boosting the immune system.
A mineral present in Garlic called selenium can cleanse the liver. It can trigger liver enzymes, and naturally flush out the toxins from your body.
Garlic is known to enhance energy in men because it contains all types of vitamins and other healthy nutrients in large amounts, which are vital for a healthy cardiovascular system. The Allicin also makes sure that the sperm count in the male body remains healthy and active.
The compounds in garlic are known to stimulate the fat burning process. So it can helps keep you fuller for longer, further preventing you from overeating and over weighting. 
Garlic can help fight inflammation and may even help prevent cartilage damage from arthritis. Garlic can also do wonders for your digestion system and it is also useful in flushing out toxins.
Use of Garlic is beneficial to get rid from skin problem, it allow the skin to receive more nutrients. It has antibacterial and antiseptic properties.  It helps to kill the bacteria causing acne on skin. It also helps to reduce swelling and inflammation, improve blood circulation.
Garlic is an excellent seasoning choice for people who have kidney problem. Because it can give other foods a more satisfying, full flavor, which may reduce the need for extra salt and beneficial for kidney patients.
Use of Garlic may have positive effects on heart health by preventing cell damage, regulating cholesterol level in blood and lowering blood pressure. Its supplements may also reduce plaque buildup in the arteries. It can keep the blood pressure level normal to reduce systolic and diastolic blood pressure levels.
If you face difficulty eating raw garlic by mouth, you can also make garlic drink. The smell of garlic makes it difficult to be consumed raw, but when you use other ingredients with an equally powerful taste, it's easier to consume. Take a large saucepan and add three cups of water in it. Grate five cloves of garlic and add it to the water. Drink this water in small session.
1.  It is excellent for your heart health due to its heart healthy properties.
2.  It can boost your immune system.
3.  It has also has anti-cancer properties.
4.  It improves the functioning of your respiratory system.
5.  Garlic
water can help with weight loss.
You can also make garlic tea using this method just boil the water with 5 cloves of garlic init. Garlic tea is a great way to regulate your health especially if you start your day with it. Although it may not sound like the most delicious drink but the fact that it's loaded with vitamins A, B, and C, antioxidants, fiber, manganese, and sulfur make it worth for your good health.
Ginger, Garlic tea is a best remedy for quick weight loss. You can make ginger garlic tea for weight lose at home very easily by following step by step instruction given below. 
1.  Take a cup of hot water in a pot.
2.  Add a small large piece of Ginger in it.
3.  Then add 1 teaspoon of crushed garlic in it.
4.  Add half a teaspoon of black pepper and let it steep for 5 minutes.
5.  After 5 minutes remove pot from heat.
6.  Now strain in cup, add half a teaspoon of honey for taste and enjoy.
Garlic is generally safe to ingest but large doses might cause internal bleeding. Up to two cloves per day is considered an acceptable dosage without any side effects.
The side effects are often worse with over dose raw garlic when taken by mouth, garlic can cause bad smell in breath, a burning sensation in the mouth or stomach, heartburn, gas, nausea and diarrhea.



Benefits Of Garlic And Honey-Garlic And Cholesterol-Lahsun Ke Fayde-Ginger Garlic Tea For Weight Lose Quickly-Lahsun Ke Fayde Aur Nuksan In Urdu-Khali Pait Lehsan Khane Ke Fayde-Lahsun Ke Fayde In Urdu-lehsan se mardana taqat-lehsan k nuqsanat-garlic benefits in urdu pdf-benefits of garlic in urdu-health benefits of garlic- Lehsan Ke Faide-garlic and Cholesterol-Health benefits of garlic and honey Lehsan aur shehad ko mila kar khane ke fayde