With the change of weather, people are facing the problems of cold and flu. In such a situation, if one has a cough problem then he should avoid certain things such as cream milk and fried foods. In fact, both of these things can increase phlegm, which constricts the chest and increases coughing and congestion.
In such a situation we have brought some such drinks for you which you can drink with phlegm during cough. The special feature of these drinks is that they have antibacterial, antiviral and some antioxidant properties, and some features are also found in them which helps to dissolve the Phlegm in the chest and expel it out. Along with this, they also help to soothe a sore throat after a cough. So read this article to the end and learn about 5 such drinks which you can drink in case of cough with Phlegm.
The four main types of coughs are: wet, dry, paroxysmal and croup. The two important types of cough are wet cough a kind of cough sounds wet because it brings up Phlegm and Dry cough which sound dry sore throat after a cough.
Pneumonia can often be diagnosed with a thorough history and physical exam. Some symptoms include fever, shaking chills, shortness of breath, low energy, and extreme tiredness. However, a cough that produces green, yellow, or bloody Phlegm is the most common symptom of pneumonia.
People with bacterial pneumonia usually experience a higher temperature and a wet cough, whereas people with viral pneumonia tend to experience a lower temperature and a dry cough.
When you are lying down, mucus will start pooling in the back of your throat another reason why coughs get worse at night is acid reflux. Don't forget that acid is an irritant to the throat, much like mucus, germs, or dust.
The sinuses, throat, and nose all produce Phlegm that a person usually swallows unconsciously. When Phlegm starts to build up or trickle down the back of the throat, this is known as postnasal drip. Some main causes of Phlegm include infections, allergies, and acid reflux. Sometimes serious, underlying condition such as stomach acid reflux, lung disease, or heart disease causes phlegm n throat.
Most coughs clear up after few weeks and don't require any treatment. Mostly cough occur temporary and last around 2-3 weeks or less. Sometimes, a cough may last longer than 3 weeks, becoming chronic disease. This can be due to a postnasal drip, the effects of an infection, lung disease, heart disease or an underlying health condition.
A sample of your Phlegm may need to be tested to see what's causing your chest infection. Antibiotics are only used to treat bacterial chest infections; they are not used for treating viral chest infections such as flu or viral bronchitis because antibiotics do not work for viral infections.
Drinking enough liquids, especially hot drinks can help with mucus flow. Water and other liquids can loosen your congestion by helping your mucus move. Try sipping liquids such as juice, clear broths, and soup. Other good liquid choices include decaffeinated tea, warm fruit juice, and lemon water.
Based on scientific evidence, the following seven hot drinks may be especially helpful for easing your cough.
1. Honey Tea
2. Licorice Root Tea
3. Ginger Tea
4. Marshmallow Root Tea
5. Green Tea
6. Thyme Tea
7. Peppermint Tea
Try to quit smoking because tobacco smoke is the most common cause of chronic cough. Manage allergens, reducing dust, keep windows closed, use an air filter and raise the head of the bed at night before going to sleep.
If you are suffering from cough with phlegm, drink these 5 drinks to get rid from it.
In case of cough, you can take this special drink made from Tulsi and Golloy roots. As you know, Tulsi has always been known to treat cough. Its antibacterial and antiviral properties reduce the effects of seasonal infections and relieve cough. Along with this, Galloy root is also rich in antibiotic properties which help in melting the Phlegm by raising the temperature in the body. Apart from this, both of them help in reducing seasonal flu and fever. To make this drink follow these steps.
i.   Grind the Basil Leaves and Galloy Roots together.
ii.  Then put this paste in a pan.
iii. Crush the cinnamon and add its powder.
iv.  Add honey and a pinch of salt.
v.   Mix half a glass of water. After boiling, pour it into a glass.
vi.  Now drink it twice a day.
Clove is very useful for cough with phlegm. Cloves have many properties like antibacterial, antifungal, antioxidant and antiseptic. While it relieves a sore throat, it also helps in expelling phlegm. Apart from this, jaggery is especially beneficial in colds, coughs and colds due to its warming effect. Jaggery regulates body temperature and its anti-allergic factor helps prevent respiratory diseases. To make this syrup follow these steps.
i.    Add a glass of water to boil.
ii.   Now add crushed cloves and ginger to it.
iii.  Add jaggery and let it cook completely.
iv.  Now when the syrup is completely ready, eat it.
Bromelain is an enzyme that comes from pineapples. Bromelain has anti-inflammatory properties and it can break down Phlegm and remove it from the body. Some people drink pineapple juice daily to reduce Phlegm in the throat and suppress coughs. But keep in mind that people who take blood thinners or certain antibiotics should not take bromelain. But a healthy person who has a cough with phlegm can take it.
Both lemon and honey are antibacterial and can help reduce a cough with mucus. In fact, lemon contains vitamin C and taking it with honey also helps to get rid of mucus in the throat. Because lemon contains citric acid that breaks up mucus and honey soothes the throat. To make this drink follow these steps.
i.    Heat 1 glass of water.
ii.   Add some lemon juice, ginger and cinnamon to it.
iii.  Now strain it after boiling it.
iv. Eat it mixed with honey.
The spices in coffee boost your immunity and ward off seasonal infections. Reduces phlegm and its heat melts the mucus and starts coming out. For this, mix green tea leaves with cinnamon and saffron. Then add chopped almonds and eat it.
Thus, these 5 drinks help you cure cough and flu. Apart from this, they are also immune boosters that help protect the body from seasonal diseases. So, follow these tips and consume the drinks.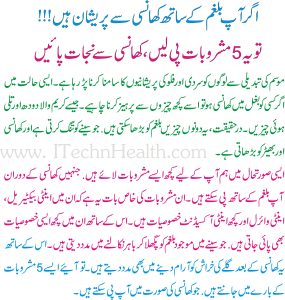 Home Remedy For Cough With Phlegm-cough with phlegm is it sign of covid-cough with phlegm no fever-cough with phlegm remedy-home remedy for cough with phlegm-dry cough with phlegm-2 weeks cough with phlegm-coughing up phlegm but not sick-cough with phlegm medicine for adults-how to make green tea for cough with phlegm-tulsi tea benefits-disadvantages of drinking tulsi water-how to make tulsi tea-how to make tulsi tea from fresh leaves-benefits of drinking tulsi water in morning-how to use giloy leaves-giloy leaves benefits-how to make tulsi tea for weight loss
100% Working Remedy To Get Rid Of A Cough And Chest Pain In One Night
Turmeric Milk Benefits In Urdu, 5 Amazing Turmeric Milk (Haldi-Doodh) Benefits
Acacia Powder Benefits For Men, Women & Acacia Powder Side Effects
Subah Khali Pait Kalonji Khane Ke Fayde, Kalonji Khane Ka Tarika
How to Improve Eye Vision 100%, Remedies To Improve Eye Vision