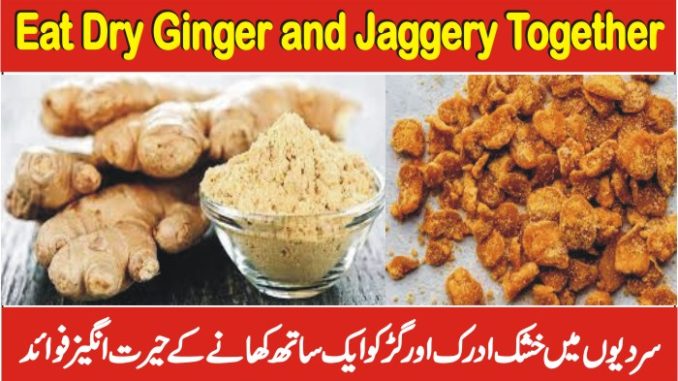 Jaggery is a traditional non-centrifugal cane sugar consumed in the subcontinent, Southeast Asia, and Africa. In winter season people eat many things to keep the body warm. These include jaggery and sugarcane in the winter diet. Many people eat jaggery and dry ginger Laddoos in winters with great enthusiasm. Laddu or laddoo is a round shape sweet originating from India and spread through the Indian subcontinent and all over the world. Laddus are mostly made from flour, fat and sugar or jaggery. Apart from lado you can add dry ginger and jaggery in your diet in other ways both of them have warming effect and give you amazing health benefits. Here we will tell you best witner diet tips with dry ginger and Jaggery together.
Since time immemorial, consumption of Jaggery in winter season is considered beneficial. It contains many types of nutrients. 100 grams of jaggery contains 290 grams of calories, 0.1 grams of fat, 37 grams of sodium. Apart from this, jaggery is very good in potassium, carbohydrates, fiber, sugar, calcium and iron. Jaggery is also a good source of vitamin B6 and magnesium.
Some of the ingredients for ginger are easily found in your kitchen and are also great remedies for many diseases such as fighting cough and cold. Jaggery helps warm up the every cell in your body.
Ginger when combined with jaggery will help to improve immunity and keep you away from the common cold, cough, flu, sore throat, treat nausea and cure allergies. Its therapeutic properties help stimulate blood circulation, cleanse the bowels and kidneys, remove toxins from the body and nourish the skin. Ginger is also rich in antioxidants that help in preventing free radicals damage in the body.
Jaggery and dry ginger can be easily eaten together. Eating jaggery and dry ginger in winter has many benefits. You can eat both of them together if you want to get health benefits. You can just crush a piece of jaggery, ½ teaspoon of shredded ginger and 1 tsp of ghee together and have it after meals. You can also spread this mixture on a piece of roti and enjoy it. This will not only satiate the post-meal sweet cravings but will also aid digestion. Here are some benefits and methods of using dry ginger and jaggery together.
Ginger is an amazing weight loss tonic that can prove to be very effective when combined with Jaggery. Also, ginger contains many antioxidants such as gingerols, which have an anti-obesity effect on the body. Gingerols support faster digestion of food and even regular bowel movements. Thus they will help to lose weight quickly.
Ginger has antibacterial properties, which work to boost immunity also it contains iron, calcium, magnesium, fiber, sodium, vitamin A, vitamin C, zinc, folate, fatty acids, so ginger is considered very beneficial for your health to improve immune system.
Dry ginger and jaggery are considered very beneficial for health and women are advised to use them in winter after delivery. Both these substances help in keeping the body warm in winter.
Dry ginger and jaggery have a warming effect. If used in winters, you can be protected from seasonal diseases. Along with this, dry ginger and jaggery are also rich in nutrients. Due to this, the immunity of the body increases and protects against many diseases.
Consuming dry ginger and jaggery together is very beneficial during pregnancy. Eating dry ginger and jaggery ladoos to women after childbirth is considered beneficial for health. The nutrients in them are very beneficial for the new mother. Its laddus are beneficial in relieving weakness and increasing the production of breast milk. Women who breastfeed in winter they must use it. Eating dry ginger during pregnancy solves many problems.
Anemia means lack of blood in the body. Dry ginger and jaggery are rich in iron. Many women are worried about the problem of anemia. In this case, if dry ginger and jaggery are used together, it is very beneficial.
In the winter season, many people face the problem of joint, bone pain. The main reason for this is the lack of calcium in the body. If you also have joint pain, you can eat dry ginger and jaggery together. Both of these foods contain good amounts of calcium. This is a good way to strengthen bones.
Dry ginger and jaggery are considered very beneficial for the stomach. Many people use dry ginger and jaggery in winter season, it cures all kinds of stomach ailments. It strengthens the digestive system. Jaggery also contains fiber which relieves the problem of constipation.
Dry ginger and jaggery help to relieve problems like cough and cold. Dry ginger and jaggery can be taken if there is frequent cough and cold in colds.
In winter, it is important to use warm things to keep the body warm. Now that the weather has turned cold, you can add dry ginger and jaggery to your diet. Add dry ginger and jaggery to your diet in these ways to get maximum health benefits of both of them.
Many people eat dry ginger and jaggery in the form of Laddoos. In the winter season, many people mix these two together to make laddoos and eat them daily. Sonth and jaggery laddus are nutritious. Learn how to make dry ginger and jaggery laddoos
To make Ladoos you will need dry ginger, jaggery, gum, coconut, poppy seeds, pistachios, cashews, almonds and ghee. First grind the gum and almonds together.Now heat ghee in a pan and fry the ghee on low flame.
After that add jaggery and stir continuously. Let the jaggery melt completely. Then heat ghee in a pan and fry cashews, pistachios and cut them into small pieces. Add poppy seeds and dry ginger to it. When the paste cools, take it on a plate and grind it with a rolling pin.
Add almond powder, grated coconut, pistachios, cashews, poppy seeds and ghee to the melted jaggery and mix well. Turn off the gas. Now shape them into laddoos. Then store in an airtight container and keep eating throughout the winter.
As you all know the benefits of Cheon Prash, it is made from several types of herbs. Eating Chiwan Prash in winter increases the immunity of the body. It is also delicious. Children also easily eat ants. You can also prepare chivan parash by mixing dry ginger and jaggery in winter. You can also add black pepper, cinnamon and cloves if you like. This will increase the benefits of Chivan Prash.
You can also drink dry ginger and jaggery tea along with laddoos and chivan prash. People like to drink tea in winter season. Tea is known to be harmful to health. But if you make healthy tea, it also has many health benefits. For this you can also add dry ginger and jaggery to the tea.
Apart from tea, you can also make a decoction of dried ginger and jaggery. The decoction helps to boost your immunity, protecting you from seasonal diseases. Mix dry ginger, jaggery, black pepper, cloves, cinnamon, basil etc. in water. Boil the water until it reduces by half, then drink it.
You can also add dry ginger and jaggery to your diet in these 4 ways. Both dry ginger and molasses are warming in nature, people with hot temperament should avoid its excessive consumption.




Best Winter Diet Tips Eat Dry Ginger And Jaggery Together-best winter diet tips-eat dry ginger and jaggery together in urdu-nutrients in jaggery-nutrients in sonth or dry ginger-jaggery and sonth ke fayde-sonth good boost immunity-Ways to eat sonth and jaggery together-Can we eat jaggery and dry ginger together-dry ginger benefits-sonth in english-sonth in urdu-zanjabeel benefits-garlic powder in urdu-ginger powder-ginger powder in hindi-winter weight loss diet plan-what to eat in winter to keep warm-winter aespa diet-healthiest winter foods-winter season food list-top 10 winter foods-avoid food in winter season-winter energy foods
Winter Season Baby Care Tips to Avoid illness, Baby Care Tips in Winter
Home Remedies For Quick Relief From Gum Pain, Swollen Gums Treatment With Ginger