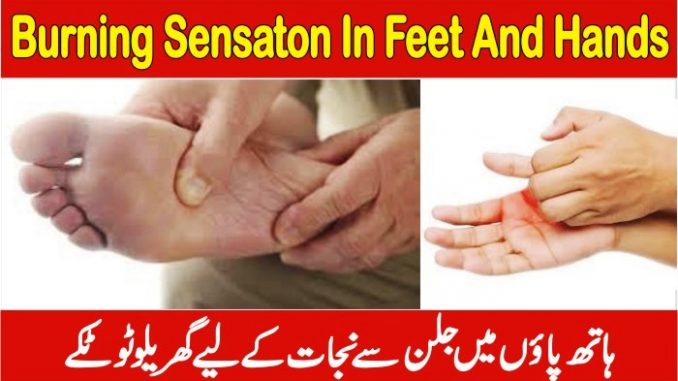 There can be many causes for foot and hands irritation. In this article we will learn why feet and hands burn and how it can be treated.  Irritation in the feet can be a problem for many reasons such as kidney damage. Fungal infections. Vitamin deficiency, alcohol consumption, etc.
This problem is small in appearance. But it is not right to ignore it. If the burning sensation in the legs disappears in two to three days then there is nothing to worry about but if this problem persists then consult a doctor. Even serious illnesses, such as nerve damage, can cause burning sensation in the legs. Look. So do not delay treatment. In this article we will look at the causes of heartburn and we will talk about its treatment with home remedies.
When the nerve damage is in your legs and feet, it's known as peripheral neuropathy. It is the most common type of diabetic neuropathy. It can cause a burning feeling in your feet and hands.
Burning feet has many different causes, including diabetes, chronic alcohol use, exposure to certain toxins, certain B vitamin deficiencies or HIV infection. Additionally, deficiency of Vitamin B-12 in individuals who practice unbalanced and poor dietary habits may be responsible for burning feet.
Some medical research shows that vitamin D deficient usually one of cause of burning feet and hands which is resolved by vitamin D supplementation.
Due to high blood pressure your kidneys slowly stop working the right way. That makes waste fluids build up in your body, which can damage nerves like feet and hands and cause a burning feeling.
If you have diabetes and have experienced a burning sensation in your hands or feet, you may be suffering from diabetic nerve pain. Diabetic can damaged nerves and cause a burning feeling.
In many cases, burning sensation can be cured with diabetic neuropathy, controlling blood sugar through medication and lifestyle changes is likely to relieve the burning sensation.
The burning feet and hands can be controlled with anti-inflammatory medications, prescription painkillers or pain relievers. You can also cure burning sensation with home remedies that may help treat your condition.
People whose kidneys are not healthy. They may also have a burning sensation in their feet. Contamination of the blood due to kidney failure. This can cause burning or itching in the feet. If there is irritation in the legs due to kidney failure. Symptoms such as difficulty breathing, decreased urination, feeling of vomiting, fatigue, etc. may appear. If these symptoms appear. Contact a doctor right away.
Malnutrition is also a cause of foot burns. Lack of vitamin B in the body can also cause burning sensation in the legs. Vitamin B deficiency can lead to many diseases in the body. For example, anemia is caused by a lack of red blood cells in the body. This is due to a lack of vitamin B. Fatigue in other problems caused by vitamin deficiency. These include dizziness and difficulty breathing.
Many types of infections such as shingles, lymphatic disease, etc. Can cause burning sensation in the legs. The infection can spread to the legs. Therefore, if symptoms appear, see a doctor immediately. Burns to the feet can be a sign of neurological damage, most often associated with diabetes. If there is pain with burning. So treatment should not be delayed.
Athlete's foot can also cause burns. Athlete's foot is a type of fungal infection. Which is mostly seen at the feet of athletes. That's why we call it athlete's foot. Athlete's foot may be irritated or itchy. If you have dry skin. cracked skin, foot rash with burning sensation in the feet. Understand that this is the athlete's foot. And get it treated by your doctor.
People who consume too much alcohol. They may also have a burning sensation in their legs. Alcohol affects the nerves. This causes a burning sensation in the legs. Alcohol use is harmful to the body anyway. So you should avoid using it.
Here are some simple home remedies for foot irritation. But it is only useful for temporary pain if there is more pain then sees a doctor.
1. Drink turmeric milk to get rid of foot irritation. Turmeric contains curcumin which helps in relaxing the nerves. Curcumin is an antioxidant, antimicrobial. This will relieve the burning sensation in the feet.
2. If there is irritation in the legs due to infection. Then apply Neem Oil or Neem paste on the feet to remove the irritation. Neem has antibacterial properties.
3. Dip feet in cold water to relieve burning sensation. You can also put ice cubes in the water if you want. Cold water will relieve foot irritation. Soak your feet in water for 15 minutes. Then wipe the feet with a clean towel. And give the feet a little rest and apply a good moisturizer or coconut oil on the feet.
4. You can also soak your feet in a mixture of apple cider vinegar and water to relieve foot irritation. But this method diabetes. Not for patients.
5. Massage the feet to relieve foot irritation. This will improve blood circulation and reduce irritation. Anyone to massage your feet. Carrier oils such as almond oil or coconut oil can be used. You can also add a few drops of essential oil like lavender oil.
6. Your doctor may prescribe you an antifungal cream or you may have to change your shoes to burn your feet.
7. If there is irritation in the legs due to vitamin B deficiency. So the doctor can give you a vitamin B supplement.
8. You can also eat foods rich in vitamin B. Vitamin B is found in eggs, chicken, spinach, etc.
9. If the irritation is high. So you can take magnet therapy with the advice of a doctor.
Soak your feet in cool water for at least 15 minutes. This may provide temporary relief also avoid exposing your feet to heat. Apply topical creams and ointments on hanks and feet.
Coconut Oil is known to have anti-inflammatory and antimicrobial effects and is very effective in treating different skin allergies. You can either apply the paste of turmeric and coconut oil to your feet or you can also have a glass of milk with a teaspoon of turmeric powder in it. This remedy is very good for cure burning feet.
If the burning sensation in the feet subsides in two to three days then worry. No matter if the burning sensation in the legs persists for a long time. See a doctor right away. Sometimes commonly seen. Symptoms can also cause a major illness. So don't be careless.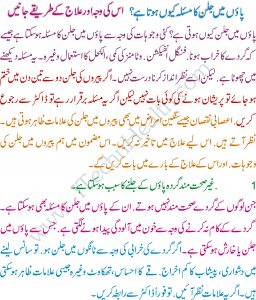 Burning Sensation In Feet And Hands-Burning Sensation In Feet Home Remedies-burning feet syndrome is caused by the deficiency-burning sensation in feet home remedies-burning sensation in feet and hands-why are my feet hot at night-burning feet causes-which doctor to consult for burning feet-what medicine is good for burning feet?warm sensation in foot no pain-Treatment of Burning feet-paon ki jalan kyon hoti hai-foot jalan treatment-hath paon ka garam rehna-paon ke talwe me jalan-feet burning causes-paon kyon jalte hain-paon ki jalan ka ilaaj-foot burning treatment in urdu- Hath Paon Ki Jalan Kyon Hoti Hai-Foot And Hands Jalan Treatment-Hath Paon Ki Jalan Ka Ilaaj
Remedy For Burning Feet And Hands, Hath Paon Mein Jalan Ka Ilaj
Maday Ki Jalan Aur Maday Ki Tezabiat Ka Ilaj: Stomach Acidity
Demak ke Khatmay ka Asan Tarika, How to Kill Termites Effectively
Acacia Powder Benefits For Men, Women & Acacia Powder Side Effects
Ankhon ke Motiya ka Qurani ilaj Aur Ankh k Motia ka Desi Fori ilaj
How To Get Rid Of Heartburn Stomach Acidity, Badhazmi Ka Fori Ilaj
Remedy To Get Rid Stomach Acidity, Heartburn, Gastric Problem Quickly