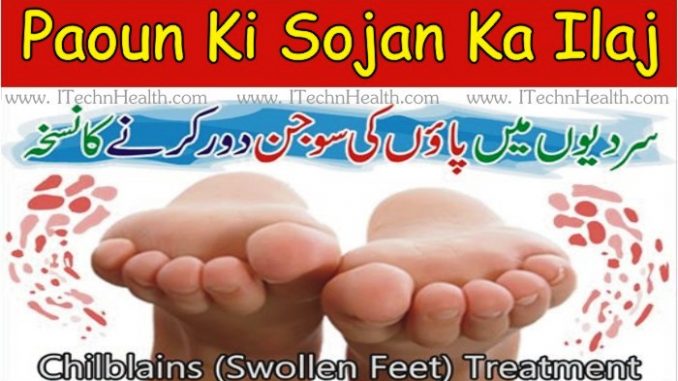 Chilblain is a condition in which finger joints got swollen in winter. Here we are sharing healing remedies are listed below to get rid swollen feet (chilblains) in quick way. Swollen Feet (Chilblains) problem arises especially in winter season. Exposure of body in atmosphere where temperature is low leads the issue of Swollen Feet (Chilblains). Peoples who are living in low level temperature countries have experienced Swollen Feet issue. In order to cure of chilblains, must care while leaving the one place which has different temperature with respect to second place.
How much time requires healing swollen feet (chilblains)? Normally, Chilblain (Swollen Feet) issue takes 7 to 14 days to heal itself without and remedial action. However, with effective care and remedies, it will be cure within 3 to 5 days.
Fingers of our feet get swelled and itchy in case of chilblains. Especially, you may badly affect due to itchy swollen toes at night. Sometimes only fingers get swelled. However, swelled feet (chilblains) may not be declared as "disease". In following you may view a short note on its causes and symptoms of chilblains.
As stated earlier that chilblains itself is not a disease. The effected person treats it with some of useful home remedies. First you have to know its cause. In most of the cases, the condition of swollen feet will comes in a result of sudden change of temperature. For example, while leaving bed in morning, feet touch the cold place of floor surface. Our feet get warm whereas the floor place has low temperature on its surface. Sudden different in temperature will effect in shape of swollen feet (Chilblains).
Low blood Pressure is also a cause of swollen of skin. Low circulation of blood in veins failed to provide essential warming in body parts. Hands and feet affect firstly in such kind of cases.  The leakage from the blood vessels gives rise to symptoms like intense itching, a burning sensation, pain, redness and swelling in the affected area.
Feet, toes, fingers, hands, ears, earlobes and nose are mostly affects in chilblains. Anyone at any stage of age, may face the condition. However, children as well as elderly peoples are mostly affect with swollen feet (Chilblains).
It was noticed that some of people will warm-up when they leaving hot atmospheric place. What is behind this warm-up? Actually they increased blood circulation by doing some exercise prior to leave hot atmospheric place. Resultantly, in cold atmosphere chilblains may not attack due to high blood circulation and warming. The most important and effective treatment for swollen feet is to improve the blood circulation in the area. However, follow the following remedy in order to reduce the intense discomfort;
Take 2 Litter of Semi-hot water in big vessel. Next you require is natural salt. Mix one big tablespoon in the warm water. Dip your feet completely in that water. Now, rub both of feet with each other and water till next 30 minutes. Repeat the process twice a day till next 03 to 05 days continuously.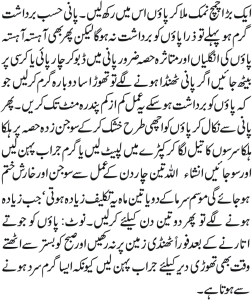 paon mein sujan ki wajohat-sujan ki wajah- Hath Paon ki sujan ka ilaj-paon ki sozish ka ilaj-tango ki sujan ka ilaj-pair ki sujan ka ilaj-sujan ki dua-pet ki sujan ka ilaj in urdu-foot ki sujan-paon ki sujan ka ilaj in urdu-Paon Ki Sujan ka Ilaj in Urdu- Home Remedies for Swelling-Paon ki sujan ka ilaj-Numbness treatment-Hath paon sun-Treatment of Swollen Feet- Causes & Symptoms of Swollen Feet- Home Remedies for Swelling Paon Ki Sujan Ka Ilaj In Urdu
Qad Lamba Karne Ka Tarika Aur Hathon Ko Khubsurat Banane Ka Tarika
Health Benefits of Sohanjna Tree, Moringa, Surajna Or Sahjan Tree
Wazifa For Dengue Fever, Dengue Fever Ka Desi Ilaj, Dengue Fever Treatment In Urdu