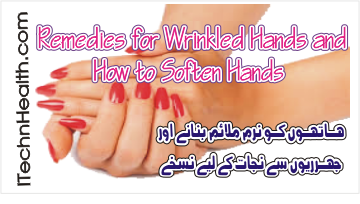 Everyone must care for his skin especially for hands and face as these are the most exposed area of our body. Like your face hands function as bridges to the world. You shake hands when you meet or greet someone for the first time and when you seal a deal. Your hands express your  affection to those you love. Your hands are essential tools. In the course of a day your hands are exposed to all sorts of germs, dirt, harsh substances, sunlight and more. To make matters worse, the frequent washing that is designed to keep your hands sanitary also can make them dry, cracked and wrinkled. Most often we give importance to our face and take good care of it, however we tend to neglect our hands. Hands are equally exposed to damage as much as the face is and it is important to take good care of it to avoid early signs of ageing. Are you suffering from wrinkled hands which are a result of age, excessive stress or sun damage? Here are a few  effective and useful tips to keep your hands soft, smooth and youthful for years to come.
If you make it a practice to wash your hands the right way, their look and feel should not be a casualty of your healthy habits. You want to remove germs and grime from your hands, but you do not want to strip all the natural oils. Avoid harsh soaps, antibacterial soaps are not necessary and may even dry skin more. They also can kill good bacteria on the hands and encourage bad bacteria that resist antibiotics. Rinse hands well and dry by patting of blotting gently.
Dry skin leads to dehydration and ultimate death of skin cells. Skin needs constant moisture to look fresh and young. Good moisturisers can help prevent of treat dry skin on your hands. They hold that needed water in the outer layer of skin, making your hands smoother and softer. They also help your outer skin act as a temporary protective shield. Creams are thicker and longer lasting than lotions. Most creams are water based, but folks with extremely dry skin may want to use an oil based cream. Oil will hold water inside your skin longer, but the cream will leave a residue on your hands.
A manicure may e a mood elevating treat or preparation for a special occasion. Most of us won't get a manicure every day, but we can give ourselves a manicure or the little things that help keep nails healthy and attractive. Do not bite your fingernails and always file nails to a rounded points to preserve their strength. Use moisturizer on your nails as well as on your skin. For an extra treat at night, warm a favorite essential oil and give your nails a therapeutic soak.
 Olive oil is an age old therapy and excellent cure of wrinkled hands, apply olive oil daily either before bed or before a bath and massage it well on your hands. The oil will penetrate deep into the skin and remove the existing wrinkles.
Drop little amount of olive oil on your hands and massage for around 10 minutes. Doing this two times a day would help you to get a soft and moisturizing skin for your hands. Use warm olive oil if possible as it would be better for the purpose.
Honey is a very effective moisturizer with lots of anti-aging skin benefits. Drop some amount of honey on your palm and apply it on both on your hands and leave for 10 minutes. Then wash your hands with warm water. Do this 2 times a day
 Mash the bananas along with milk to make a pulp and apply it hands. Allow to dry and wash with warm water. You can also combine bananas with honey and avocado for best results on wrinkled hands.
Mash the pineapple into a pulp and apply on hands. Keep it on for 20 minutes until dry. Rinse with cold water and follow with a moisturizer. Regular usage helps remove wrinkles
Take lemon juice, honey and baking soda in equal amount and mix them all. Rub the mixture on your hands gently for 2 minutes and then leave for 5 minutes. Then wash hands with warm water. You can repeat the process two times a week, you should do this regularly to turn your dry hands into super soft ones.