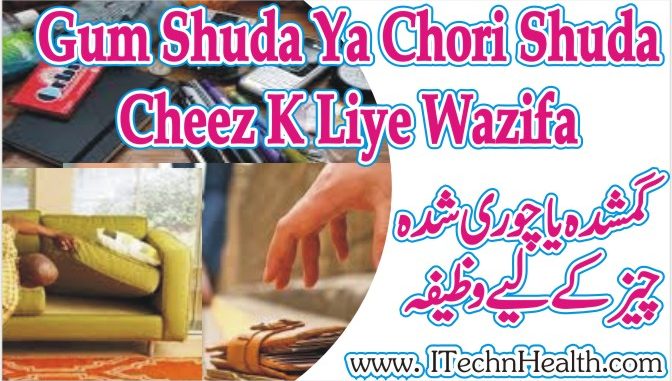 Agar kisi ki koi cheez gum ho jaye ya chori ho jaye to 119 martaba "Ya Hafeezu" or 119 martaba ye dua parh kar us cheez ki wapsi k liye dua karay to Inshal Allah wo cheez mil yaje gi. Gumshuda Shaks k lehe b ye wazifa kar saktain hain.

Agar koi cheez gum ho jaye or bawajood kosshish k na mil rahi ho to 40 baar Surah Yaseen 7 din tak parhay Insha Allah gumshaud cheez jalid he mil jaye gi.
Sorah Nor ki ayat # 40 ki tilawat kerne se gumshuda ya gaib cheez chand dino k andar mil jaey.
Ghumshuda shaks k liay Para # 30 ki surah abasa Sorah # 80 aur surah aadiyaat sorah#100 ko perne se ghumshada shaks mil jaye ga Inshallah.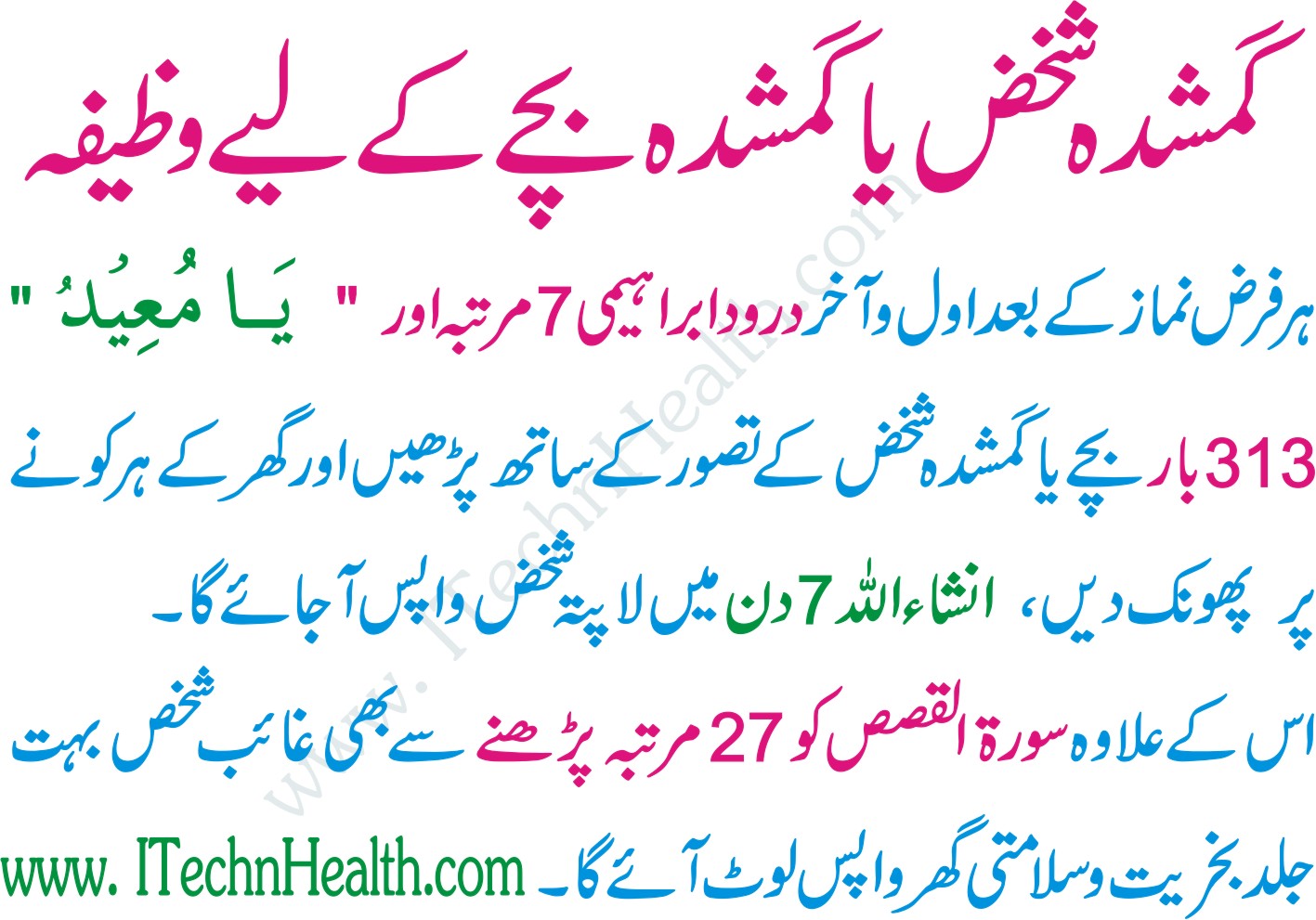 Ye ayat parh kar gumshuda cheez o talash kia jae to jald mil jae gi aur agar na milay to Allah is sai behtr cheez ata karay ga. Shab e Jumaraat ko 201 martaba Sura e Haj  ki ayat # 70 ko pharain.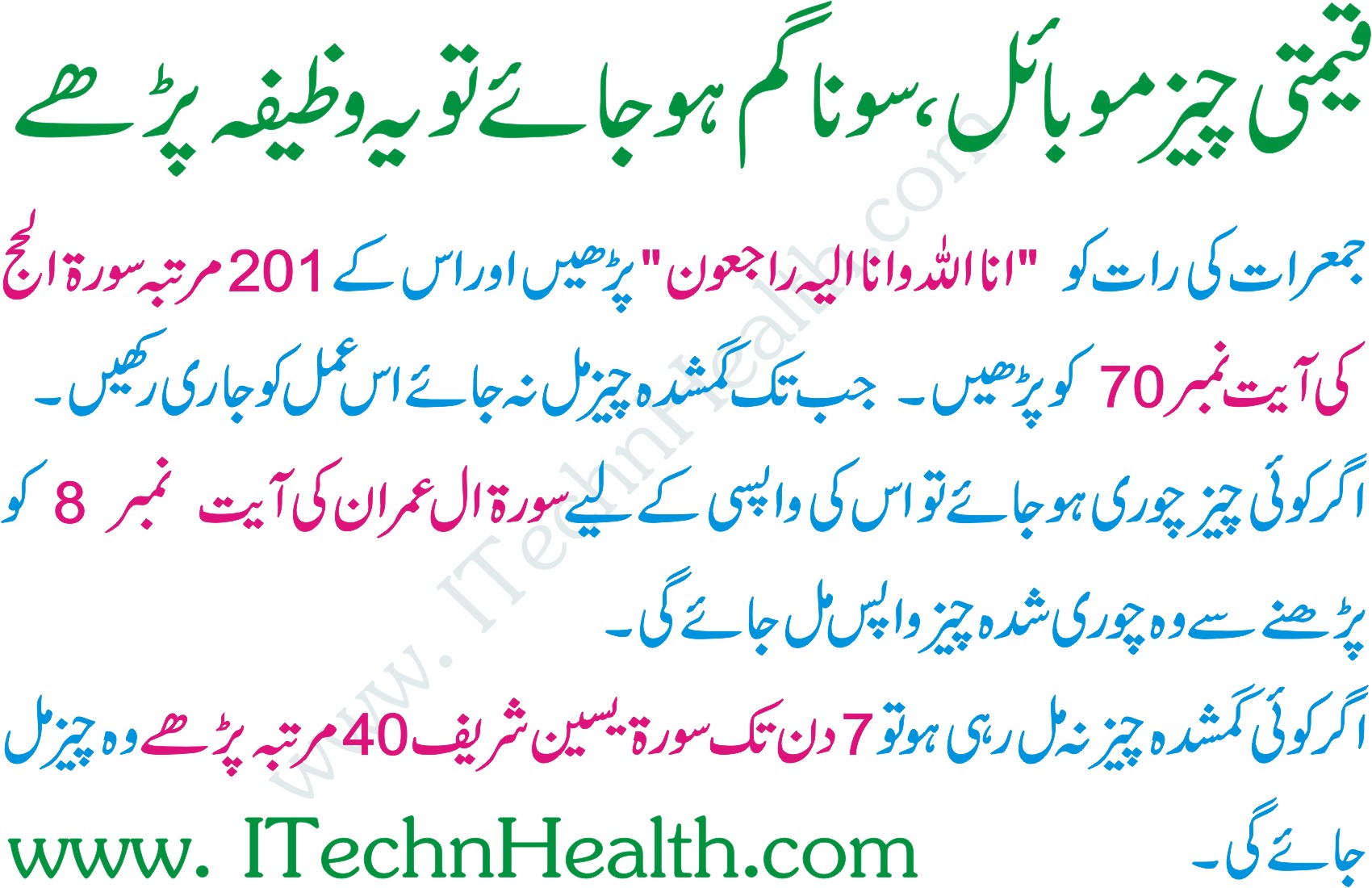 Agar koi cheez chori ho gae ho to is k lie Surah e Aal e Imran Surah ki Ayat # 8 ko parhnay sai wo wapas mil jae gi.
Gumshuda ki Talash ki Dua | Lapata bache ku wapis lane ki Dua| Gumshuda ki wapsi ki dua | prayer for lost things | gumshuda cheez milne ka islami wazifa | gumshuda ki wapsi ki dua | prayer for lost things | Chori Kia Huwa Samaan wapas hone k lehe wazifa | Ghumshuda Gold Ya Mobile K liye Wazifa | Ghumshuda Shaks K Liay Wazifa |Ghumshuda Cheez Milnay ka Wazifa | Gaib gold ya mobile ko Dhond Ne Ke Liye Dua
https://itechnhealth.com/download-online-ubqari-magazine-september-2017/