Sakht Garmi Ke Mahine Mein Roze main Piyas Aur Thakawat Ke Ehsas Ko Khatam K lehe betreen tarikay is article main share kar raha houn jin k istimal karney se roze k doran piyas b nail age ge aur jim main taqat b peda ho ge Insh Allah. 
Ramzan Main Khajoor Ka Istemal bout fida maind ha. Khajoor Ko Pani Mein Bhigo Kar Us Ka Sharbat Banaya Jaye To Is Se Zyada Sukoon Dene Wala Shayad hI Koi Sharbat Ho Ramazan Mein Isse Bharpoor Lutf Uthaye. Sehri Ke Baad Gulqand Khane Wala Aur Khajoor Ke Sharbat Ka Gilas Pine Wala Sara Din Aise Tar Wa Taaza Rahega Ke ehsas tak nahi rehta ke Iska Roza Hai Ke Nahi. Sehri Khane Ke Baad 2 Teaspoon Gulab Ke Phoolo Ka Gulqand Kha Kar Ek Gilas Paani Pee Lein Upar Se Khajoor Ka Sharbat Pee Lein Isi Tarah Iftar Ke Waqt khajoor Se Iftar Karain aur pir Khajoor ka sharbat peain. Pyas, Garmi, Jalan Wagerah Jism Ki Thakawat Pal Bhar Mein Khatam Ho Jayegi.
250 Gram Khajooren Lein aur Sham Ko Paani Mein Bhigo Dein. Agar Khajoor 250 gm Ho to Is Mein Paani Taqreeban 2 kg dal dain. Subah Uth Kar Khajoor Ko Haatho Se Masal Lein, Masal Kar Guthliya Nikal Dein Aur Piye. Khajoor K Sharbat Mein Doodh bhi Mila Sakte Hain, Is Tarah Us Ka fayda Badh Jay ga. Sharbat Bana Kar Thandi Jagah Ya Fridge mein Rakhe, lekin ehtiyatan 12 Ghante se zyada na rakhein.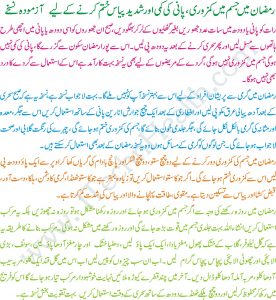 [AdSense-B]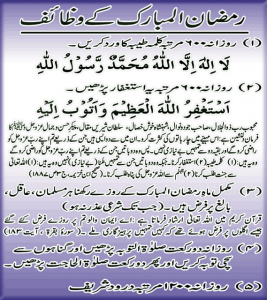 Ye totka Ramzan ul mubark main roza rakney ki waji se kamzori kay liy lajwab hay. 7-10 Khajooron ko achi tara dho kar es kay andar say ghutlian nikal lain. Ab Es kay andar thori si balai aur shahaid mila kar tori dair fright main rak lain. Es say jiam main takat rahy gi, bhook ka ehsas ni rhy ga. Maza bhe aur sehat bhe.
Sehri main aap Anjeer ka istimal b kar saktain hain. Anjeer ka zikar quran main mojood ha. Anjeer sehat k lehe bout mofid ha. Anjeer blood pressure ko control karti ha aur digiestive system tek rakti ha. Garmi main Anjeer ka istimal jism ko tandak ponchata ha aur piyas ki shidat ko katam karta ha.
Sehri k waqat agar aik glass milk main tora sa Nimak yani Salt mila lain pir is main 2 Teaspoon Sato mila kar pee lain. Is tariqa se garmi ki shaiddat main payas ki shaddat nai mehsoos ho ge aur pora din acha gozar jae ga jism main tawani bahal rahe ge.
Ramzan Main Piyas Ki Shiddat Kam Karny Ka Asan Tarika-Ramzan Main Pyas Se Bachne Ka Tarika-Ramzan Main Piyas Ki Shiddat Kam Karny Ka Asan Tarika-Ramzan Main Piyas Ki Shiddat Kam Karny Ka Asan Tarika- Garmi Mein Roza Rakhne Ka Asan Tarika-Piyas Ki Shidat Main Kami ka tarika-Shadeed Garmi Ky Roze main Pyas se bachnay ka tarika-Pyas Ki Shiddat Khatam Karne Wala Nuskha-Ramzan mein Pyaas Se Bachne Ka trika-Garmi Mein Roza Rakhne Ka Asan Tarika-Ramzan Aur Roza Dar-Garmi ki Shiddat Mein Pyas Ki Shiddat Se Bachne Ka Aasan Nabavi Nuskha-Rooze Main Pyaas Na Lagne Ka Tarika-Jism Mein Khoon Ki Kami ka elaj-How To Lose Weight In Ramadan Diet Plan- Ramzan main Jism ki kamzori ka elaj- Garmi Ke RoZe AasanI Se Rakhiye Ye BehtareeN Nabavi Nuskha 
رمضان المبارک اللہ تعالیٰ کی خاص رحمت اور نعمت کا مہینہ ہے۔ رمضان المبارک میں نیند، بھوک اور پیاس کو بہتر انداز میں کنڑول کرنا بہت ضروری ہے تاکہ رمضان المبارک کے بابرکت لمحات میں زیادہ سے زیادہ عبادت کی جا سکے ۔ صحت کے ماہرین رمضان میں دیر سے ہفم ہونے والی غذاوں کے استعمال سے منع کرتے ہیں کیونکہ یہ غذائیں کھانے سے شدید پیاس لگتی ہے اور دیر سے ہضم ہونے کی وجہ سے نیند بھی درست طریقے سے پوری نہیں ہوتی لہذا رمضان میں حلیم، بھنا ہوا گوشت  وغیرہ کھانے سے اجتناب کریں اور ان کی جگہ شوربہ والا سالن ، دودھ کی کھیر،فروٹ چاٹ، سبزیوں کا سوپ، انگور کا شربت، تربوز کا شربت، آڑو کا شربت اور دیگر نرم غذائیں استعمال کرنی چاہیں۔
رمضان میں بہت زیادہ سٹرانگ چائے، کافی، کوک، پیسی، سیون اپ جیسے مشروبات سے دور رہنا چاہیے اس کے علاوہ تیز مصالحہ جات ، تیز مرچ اور بھونے ہوئے کھانے بھی پیاس کی شدت کو تیزکردیتے ہیں اور ان کے استعمال سے پیاس لگنے کا امکان زیادہ ہوتا ہے اس لیے رمضان میں پیاس کی شدت کو کم کرنے کے لیے ان چیزوں سے پرہیز بہت ضروری ہے۔
سحری میں اگر انگور ، تربوز، الائچی یا صندل کا شربت استعمال کیا جائے تو دن میں پیاس کم لگتی ہے۔رمضان میں پانی کی کمی کو پورا کرنے کے لیے تربوز کا استعمال بہت فائدہ مند ہے۔ تربوز میں 92فی صد پانی ہوتا ہے۔ تربوز میں میگنیشیم، کیلیشم ، سوڈیم اور پوٹاشیم وافر مقدار میں موجود ہوتے ہیں۔ جو جسم کو طاقت فراہم کرنے کے ساتھ ساتھ پانی کی کمی اور پیاس کی شدت کو بھی دور کرنے میں مددگار ہیں۔
سحری میں آپ انجیر بھی استعمال کر سکتے ہیں۔ انجیر کا ذکر قرآن پاک میں بھی موجود ہے۔انجیر صحت کے لیے بہت مفید پھل ہے۔ انجیر بلڈ پریشر کو کنٹرول رکھتی ہے اور ہاضمہ بھی درست کرتی ہے۔ گرم موسم میں انجیرکا استعمال جسم کو ٹھنڈک پہنچاتا ہے اور پیاس کی شدت کو کم کرتا ہے۔
چکوترا کا استعمال بھی پانی کی کمی کو دور کرتا ہے۔ چکوترا میں 90فی صد پانی ہوتا ہے۔ رمضان میں چکوترا کا استعمال پانی کی کمی سے بچاتا ہے۔ گرمیوں میں آم کا ملک شیک  پینے سے بھی گرمی دور ہوتی ہے اس کے علاوہ آپ آم کو لسی کے ساتھ بھی استعمال کر سکتے ہیں۔
سحری کے وقت اگر ایک گلاس دودھ میں پانی ملا کر اس میں تھوڑا سا نمک اور ستو کی دو چمچ ملا کر پی لیا جائے تو شدید پیاس نہ لگے گی۔ اسی طرح اگر افطاری کے وقت نمک کچی لسی میں ملا کر اور ساتھ پانچ ، چھ دانے کھجور کھا لیے جائے تو توانائی فوراََ بحال ہو جاتی ہے۔
سحری میں کھجور کا شربت کھانے سے پہلے اور کھانے کے بعد ایک گلاس پینے سے پیاس کی شدت میں بہت کمی آتی ہے۔ اگر پیاس کی شدت میں کمی نہ آئے تو سحری کھانے کے کچھ دیر بعد تھوڑی سی سبز چائے میں سبز الائچی کا قہوہ ایک پیالی پینے سے سارا دن پیاس بالکل بھی محسوس نہیں ہوتی۔
ٹفلہ کسی بھی پنسار سٹور سے آسانی سے مل جاتا ہے۔ ٹفلہ لر کر مٹی کے برتن میں آدھا چمچ رات کو پانی میں بھگو دیں اور سحری کھانے بعد اس کو پی لیں انشااللہ گرمی اور پیاس ختم ہو جائے گی اور سارا دن سکون سے گزرے گا۔
چارعدد بادام ، ایک چمچ خشخاش، ایک عدد چھوٹی الائچی، پانچ عدد کالی مرچ کے دانے پیس کر رکھ لیں اور سحری یا افطاری کے بعد ایک گلاس دودھ یا پانی کے ساتھ استعمال کریں انشا اللہ پیاس سے نجات مل جائے گی۔
رمضان میں اکثر لوگ افطاری کے بعد اکثر لوگ ٹھنڈا پانی پیتے ہیں جس سے معدے میں گیس، جلن اور ڈکار آنا شروع ہو جاتے ہیں اس کا علاج یہ ہے کہ براون شکر یا دیسی شکر کے پانچ چمچ، اور تخم بالنگو کا شربت ایک لٹر پانی میں صبح کو بھگو کر افطار کے وقت استعمال کریں انشا اللہ طبیعت بالکل فریش رہے گی، تراویح میں طبیعت بوجھل نہیں رہے گی ، افطاری کے بعد نیند نہیں آئے گی بلکہ جسم بالکل چست رہے گا۔
Ramzan Ka Wazifa In Urdu- Ramzan Main Aulad Pane Ka Wazifa-Ramzan Main Dolat Mand Banne Ka Wazifa
Ramadan Calendar 2018 with Times for Pakistan, USA, UK, & UAE
Islamic Duas Every Muslim Must Memorize and Recite Daily-A Gift For Every One
ARSHI WAZAEF KE AAZMOODA ZAMEENI NATAYEJ BY HAKEEM TARIQ MEHMOOD CHUGHTAI