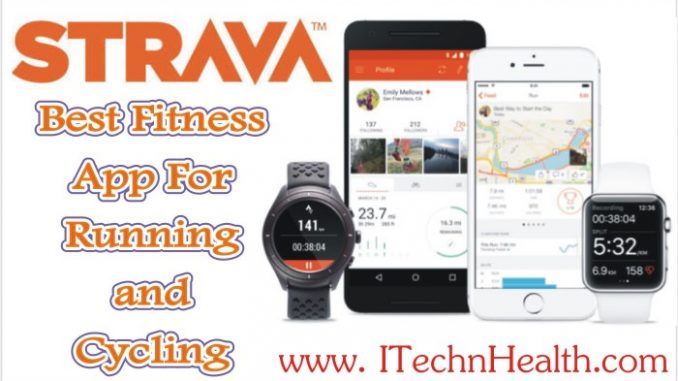 Strava is a Best Fitness Mobile App used to track athletic activity using GPS. This application lets you track your running and riding join Challenges, share photos from your activities and follow friends. It can be used for a number of sporting activities however the most popular activities tracked using the software are cycling and running. This application is free to use however it also reserves some premium features for fee paying users. You can use the app for free with some limitations. In March 2015 there were an estimated 1 million active users and around 200,000 premium users.
Strava is a great fitness app for users who usually go out running or biking, as it not only lets you keep a complete record of your activities, but also lets you share it with all the other users.
Strava is one of the most popular fitness apps. The app not only records your runs and bicycle rides, but also creates a competition between you and people who travel the same routes. Strava is for people who are competitive and enjoy the social aspects of fitness tracking apps.                                    
Strava's main objective is to keep a detailed record of all of your fitness activities. It saves all the data such as distance covered, time elapsed, average pace, and calories burned. All this data is saved in your personal history, which you can then share with other app users.
The most attractive feature is the Suffer Score. You need to wear a compatible heart rate monitor to get it. The Suffer Score is Strava's own calculation of the difficulty of your workout, taking into account not only time and distance, but also how much effort you exert.
Strava turns every iPhone and Android into a stylish running and cycling computer. Like any other app for tracking runs and bicycle rides, Strava clocks your time, distance, speed, and other relevant factors about your activities. You can record activities with the app and your phone directly or by syncing your Strava account with a supported activity tracker, whether it's a or a bicycle computer. If you use the Strava app and your phone to record runs and rides, you can see in real time your stats, such as time and distance. At the end of an activity, the data uploads to your Strava account, where analyze it in greater detail.
From link given below you can see complete video training about how to use Strava Cycling App. 
Google Play Store Link
Download Lnik Strava Cycling App

Best Fitness App For Running And Cycling-Strava-Fitness App for running and cycling Best Fitness Mobile App- Strava- Fitness Mobile App- Best Fitness Mobile App- popular fitness apps- fitness tracking apps-what Does Strava Do- complete video training about how to use Strava Cycling App- Download Lnik Strava Cycling App- cycling and running mobile app
Download Ism e Azam Calculator And Find Names Adad Ism e Azam
Ubqari Magazine April 2018 Read Online on Ubqari Magazine Android Apps on Google Play
Simple Method to Share large Files through Internet, File Sharing on Computer Networks
Whatsapp Rolling Delete Everyone Feature-وٹس ایپ پر آپ دیلیٹ شدہ میسج کو دوبارہ پڑھ سکتے ہیں
Math Tables And Math Quiz Games For Kids -Tables from 1 to 20 for Kids
Ilm Ul Adad Se Apny Naam K Adad Nikalne Ka Tariqa-Numerology-Adad-e-Qamri
Download MP3 Quran With Urdu Translation-Al-Quran-Pro-Android-Application
Download Multi National New Year Calendar 2018-Italian-Norweqian-Prtuguese-Swedish-Dutch-German-Spainish-Danish-French Calendar 2018
Download Calendar 2018 with Public Holidays-Esawi Calendar 2018
Computer And Smartphone Repairing Video Game- Computer Repair Simulator
BEST FREE APPS AND GAMES EVERY SMARTPHONE OWNER SHOULD DOWNLOAD