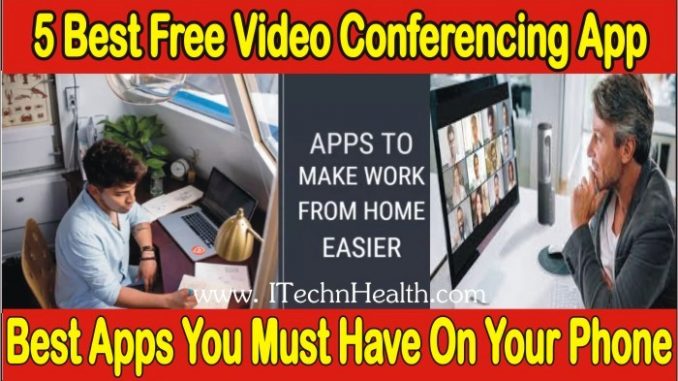 Here you can find the list of best apps to make work from home easier and more productive during lockdown or any other reason. Due to lockdown in almost all countries, many companies are closed and employees are unable to work also students are badly effected with current scenario.
Due to e COVID-19, Millions of people have lost their job across the globe. People are looking for alternatives to work from home and make money while they are unable to go to regular work.
Many technologies firms, schools, colleges, and universities across the world have adopted the work from home method. If you are a businessman or student and you want to work or study at home so you are at right place.  Here are Best Work From Home Mobile App that you can use during the quarantine days while working from home that can make your job easier.
The chrome remote desktop is a popular app, it is user friendly, reliable and helps you get remote access to your computer through your laptop, mobile phones, tablet, or any other PCs.
This app is very easy to use, easy to set-up, and connect. Absolutely Free, No limit to the number of managed devices also available on all kinds of mobiles, computers and laptops. This app also offer screen sharing or remote support, etc. You can download this app from link given below.
This app is one of the most popular and widely used video conferencing app these days. It helps you to conduct video conferencing, meetings, voice calls, and many more. The best part, you can add as many as people you want to connect.
It has both free and paid versions, you can choose as per your need. For basic meetings, you can use it for free, but if you want to unlock more features you have to choose a paid plan. The main feature of this app are HD Video and audio call facilities, Chat options for individual and group, built in screen sharing tools.  You can download this app from link given below.

FocusBooster is simplified and easier app. It is very useful for contract based workers, mainly the freelancers, who need to track time. This app uses the Pomodoro technique to ensure that you function effectively. It also automatically eliminates obstacles and assembles timesheets based on sessions.
This app is a great time tracking tool for freelancers. It can create invoices also track work time. Easy to install and use. This app is free to use. You can download this app from link given below.
Zapier is an excellent app to keep track of your time while working from home. This app can  also automate repetitive tasks for you and help you avoid keep switching between apps to apps.
The best part is it exchanges data between useful apps like Google Drive and Gmail. You no longer have to keep uploading attachments for remote access, Zapier will do it automatically for you.
With Zapier, you can create zaps, build custom automation, automate tasks, and even integrate apps. You can download this app from link given below.
Slack is currently the best and highly popular messaging app designed specifically for team work. It is an ideal app to communicate and collaborate with remote staff. The best thing is, for each form of content, there is a different channel means, no one gets any unwanted notifications. This helps people stay in touch without hampering others' productivity. The team members can also chat outside the work or project related thread on different topics. By using this app you can Track and manage documents, use shared channels across the workspaces, Set reminders. You can download this app from link given below.
best free video conferencing app-fastest video conferencing app-video conferencing app for pc-video conferencing companies-zoom video conferencing-best video conferencing for small business-free video conferencing software-google hangouts video conferencing-work from home mobile app- Best work from home mobile app- work from home software-work from home application-work from home jobs-work from home tools-work from home apps 2020-apps for working out from home-free remote working apps- video conferencing app
How To Get Free Internet Free Internet Tips 100% Working Trick 2019
Easiest Way To Transfer Files Between Computer And Phone In Urdu