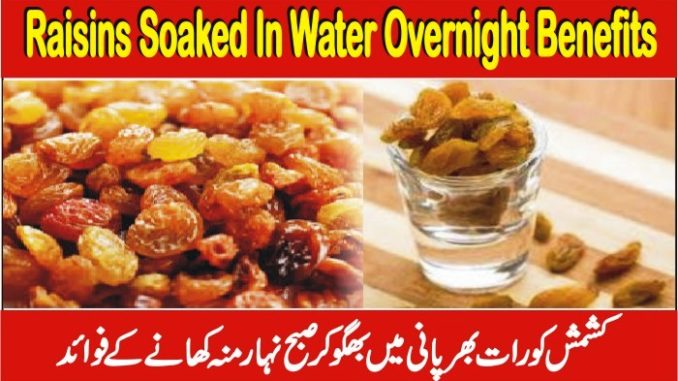 Raisins also known as Kishmish are used to make Kheer, Halwa and Laddoos, etc. Also, many people eat raisins on an empty stomach directly after waking up in the morning. But it is often advised that raisins should always be eaten soaked. You can soak raisins in the morning and eat them in the evening. But it is said that if raisins are soaked in water at night and consumed in the morning, then many health benefits can be obtained.
Raisins are rich in fiber that is great for our digestive system. Drinking raisins soaked in water overnight helps in improving digestion, keeps digestive issues such as constipation and indigestion at bay. Drinking raisins soaked in water regularly helps in improving bowel movement.
A healthy intake of soaked raisins helps to eliminates waste products and toxins from the body. It is also known to bring instant relief in bloating, acid reflux and flatulence.
Only eat raisins soaked overnight, not dry because the unwanted minerals and vitamins get dissolved in the water and left only the required nutrients for quick absorption by the body.
For this, first soak the raisins in a glass of water overnight. Leave it like this overnight. Now wake up in the morning and strain the raisins from the water eat raisins first, then you can drink its water. Raisin water is also rich in vitamins and minerals. Drink it on an empty stomach to reap the maximum benefits.
You can add up to 150 grams of raisins in 1 or 2 glasses, the best time for drinking raisin water is early morning on an empty stomach. You can eat both raisins and drink their water in the morning. It is very beneficial for the overall health especially for skin beauty. So let's know in detail the benefits of soaking raisins in water overnight.
1. The effect of raisins is very hot therefore, when you eat raisins directly, you may feel a burning sensation in the chest or stomach. But if you soak raisins in water overnight, it can relieve acidity. Because by keeping raisins soaked in water, its effect becomes normal and can relieve from stomach acidity.
2. Raisins soaked in water make bones strong because raisins are a good source of calcium if you eat soaked raisins daily, it will strengthen your bones. Along with this, bone growth will also be faster.
3. Raisins are rich in antioxidant properties. In such a situation, eating raisins daily can protect the body from damage caused by free radicals, improves heart health. Cancer can also be avoided with it. Free radicals can also damage the skin.
4. Soaked raisin water is an excellent detoxification drink, an energy booster drink and can boost nitric oxide levels in the body which increases nutrition absorption.
5. Intake of soaked raisin water are helpful in maintaining skin hydration, effective in protecting skin cells and reduces the issues related to skin damage and make glowing skin.
6. Soaked raisin water can help increase the hemoglobin levels in bloodand prevent anemia because they are a good source of iron.
7. Soaked raisin water has antimicrobial and antibacterial properties. Therefore, drinking it can reduce the risk of skin infection.
8. Soaked raisin water is rich in vitamin C which repairs the skin tissues.
9. Soaked raisin water is good for kidneys and keeps kkidneys healthy.
10. Soaked raisin water is extremely beneficial for hair as well. They help improve blood circulation in your scalp that boost hair growth and reduce hair loss in early age.
11. Raisins are great for iron, if your body is deficient in iron, you can soak raisins in water and eat them in the morning. Eating soaked raisins daily will give you plenty of iron. This will cure anemia. Also, if you have anemia, the symptoms will decrease.
12. Drinking soaked raisins and its water detoxifies the liver. Its effect can be seen all over your body.
13. Raisins are rich in nutrients, vitamins and minerals, if you eat raisins soaked in water daily, it will increase your immunity and also avoid also types of infections such as bacterial infections.
In rare cases, raisin water may cause an allergic reaction. It may also be relatively high in calories, carbs, and natural sugars. Eating too many raisins can be bad for digestive health. Over consumption of raisins can cause weight gain and can increase blood sugar level.




raisins soaked in water overnight benefits- Benefits of Kishmish In Urdu-raisins soaked in water overnight for weight loss-benefits of drinking raisin water for skin-raisin water for skin whitening-how to make raisin water-black raisins soaked in water overnight benefits-how to make raisin water for glowing skin- how to make raisin water for weight loss
Health Benefits Of Dried Ginger With Jaggery For Weight Loss
Turmeric Milk Benefits In Urdu, 5 Amazing Turmeric Milk (Haldi-Doodh) Benefits