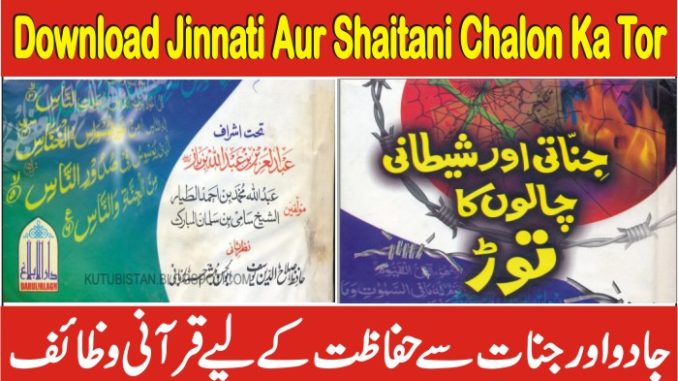 The author of book Jinnati Aur Shaitani Chalon Ka Tor is written by Arabian Islamic scholars Mr. Abdullah Mohammad Bin Ahmed and Al-Shykh Saami Bin Salman and the book is translated by Hafiz Mohammad Abbas Gondalvi. This book is available here for free download and it has 403 pages.
Jinnat, or jinns, are mentioned in the Quran and are believed to be supernatural creatures that coexist with humans in the world. According to Islamic belief, jinns are created from smokeless fire and have free will, just like humans. They are considered to be able to interact with humans and can cause harm if they choose to do so. However, in Islam, jinns are not worshipped and are not considered to be deities. "Jinnati" and "Shaitani" are both words from the Arabic language that refer to supernatural entities.
"Jinnati" refers to beings known as "Jinn" or "Genies." In Islamic mythology, Jinn are believed to be created from smokeless flames and are capable of both good and evil actions. They are thought to live in a parallel world and can sometimes interact with humans.
"Shaitani" refers to beings known as "Shayateen" or "Devils." In Islamic mythology, Shayateen are evil spirits created from smokeless flames who are constantly trying to tempt humans to do evil deeds. They are believed to be followers of Iblis (Satan), who refused to bow down to Adam and was cast out of heaven.
In this book you can find information about the magic, Shaitins and Jinns. In Islam the magic is actually done by the Jinns and Shaitins. In this book you can find many secrets about the black magic of Jinn and Satans against the Human. Such a harmful activities are actually the magic, or Jadu in Urdu. The book is compiled in the light of Holy Qur'an and Hadith. This is a detailed Urdu book about protection from Jinns and Satans in Urdu language.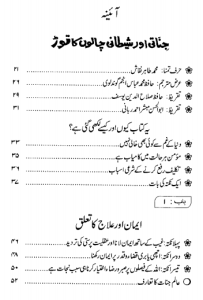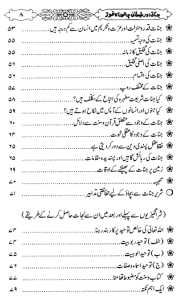 I am just helping the readers with information and article of authors. I am not hosting any books or literary material at all. I am providing only quality links to bestseller Urdu books, magazines and other literary material in PDF Format for the education purpose. All rights of publications are reserved to publisher of magazine or books. If any author has any issue to sharing their books for education purpose please connects me to remove provided link of magazine or book. The suggestion of authors is highly appreciated and I will immediately remove the provided link in my website. 
You can download Jinnati Aur Shaitani Chalon Ka Tor In Urdu PDF format by clicking the below download button.
Jinnati Aur Shaitani Chalon Ka Tor Book In Urdu PDF
File Format: PDF | PDF Size: 6.37 MB| Pages: 403
Itechnhealth.com is a educational website. All the books and magazines posted on this website are just for reference and educational purposes only. It is highly recommended to buy the books and magazine from the original owner/publisher of these products.
For users who wants to read waziaf, spiritual treatment and health care through Islamic ways of treatment can also read following book  where they can find the solution of their problem through qurani wazaif.
Jinnati Aur Shaitani Chalon Ka Tor- qurani wazaif-jado ka tor-black magic- Jinns and Shaitins-jado in islam-jado se hifazat-jinat se hifazat-Jinnati-Shaitani- Shayateen-Devils
Jadu ka ilaj Quran o Sunnat ki Roshni Mein PDF Book Free Download
Kala Jadu Ka Book, Bangal Younan Misar Ka Kala Jadu Book Free Download
Kala Jado Ka Tord, Black Magic Books in Urdu, Sifli Jadu Ki Kaat
Benefits of Ya Qahhar Reciting 1100 Times, Ya Qahhar Miracles, Ya Qahhar Ka Wazifa In Urdu
Powerful Dua For Evil Eye Protection, Evil Eye Necklace & Evil Eye Bracelet, Nazar E Bad Ka Ilaj
Jadoo Karne Wale Ka Naam Malum Karna, Find Out Who is Behind Black Magic
Har Bimari Ka Quran Pak Se Ilaj In Urdu- Quran Se Shifa- Islamic Waziaf In Urdu