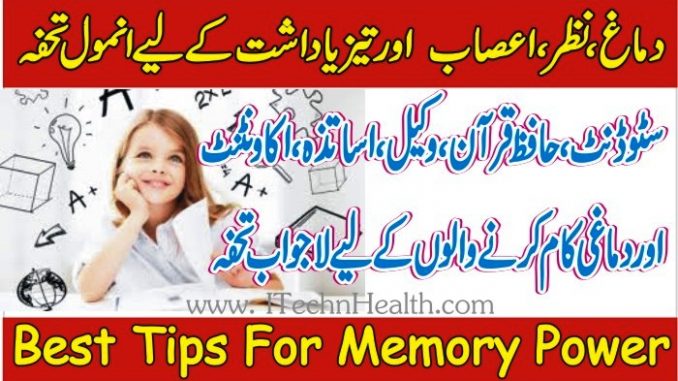 The human brain is the most complex entity in the known universe. So treat your brain like the powerful machine it is and give it the highest quality fuel. Having a poor memory can be frustrating; Genetics plays a role in memory loss, especially in serious neurological conditions. Research has shown that diet and lifestyle have a major impact on memory. Here are some tips to improve your memory naturally.  Improve your memory with these simple but powerful tips based on the latest science.
White sugar is one of the worst food for your brain and memory. Many research has shown that a sugar-laden diet can lead to poor memory and reduced brain volume. Poor memory formation, learning disorders, and depression are linked to eating refined sugar. Eating too much sugar is one of the main reasons to forgotten memory if you want to increase your memory cut back on sugar it will help to increase your memory also improves your overall health.
Fish oil is rich in omega-3 fatty acids. These fats are important to lower the risk of heart disease, relieve stress and slow mental decline. Many research has shown that taking fish and fish oil supplements can improve memory especially for students & in older age.
Eating the right foods and avoiding the wrong ones should be a long-term strategy for keeping your memory sound for life. Best foods to Boost Your Brain and memory are Fish, berries of all kinds, coconut oil, eggs, green leafy vegetables, olive oil, walnuts, turmeric, pumpkin seeds, dry fruits especially Nuts. These food strengthen your memory by improving blood flow to the brain and also protect brain cells from aging and damage.
Water might just be the best brain tonic. Your brain is 73% water and it takes only 2% dehydration to diminish your memory, attention, and other cognitive skills. The effects of dehydration on the brain are so pronounced that they mimic the symptoms of dementia. For a better memory drink eight glasses of water per day.
دماغ اللہ تعالیٰ کی بہترین تخلیق ہےاور یہ ایک انمول تحفہ خداوندی ہے۔ جس کو انسان استعمال کر کے نئی نئی ایجادات اور بڑے سائنسی کارنامے انجام دے رہا ہے۔ ہر انسان کو باقی اعضا جسمانی کی طرح اپنے دماغ کا بھی خاص خیال رکھنا چاہے کیونکہ یہی دماغ ہمارے سارے نظام کو چلا رہا ہے اگر دماغ صحت مند ہے تو انسان اس سے بھر پور فائدہ لے سکتا ہے۔
انسان کی عمر جوں جوں بڑھتی ہے اس کی یاداشت بھی کمزور ہوتی چلی جاتی ہے۔ اور ہم اکثر اپنی رکھی ہوئی چیزیں بھولنا شروع ہو جاتے ہیں۔ ہر انسان چاہتا ہے کہ اس کی یاداشت اسکا زیادہ عرصہ تک ساتھ دے۔ لیکن ہم عمر کے ڈھلنے کو تو روک نہیں سکتے لیکن چند تدابیر کر کے اپنی یاداشت بہتر بنا سکتے ہیں۔
ہمارا دماغ ایک پیچیدہ لیکن انمول مشین ہے ۔ اس لیے اس کی بہتری کے لیے ہمیں کچھ ضروری اقدامات کرنے ہوں گے۔ اس کے آپ کو یہ جاننا بہت ضروری ہے کہ دماغ کی کارگردگی ، اعصابی کمزوری اور یاداشت کو کیسے بہتر کیا جا سکتا ہے۔ اکثر لوگ یاداشت کو تیز کرنے کے لیے کچھ اشتہارات دیکھ کر ان سے متاثر ہوتے ہیں اور اپنی دماغی صلاحیتوں کو بہتر بنانے کے لیے ان ادوایات کا سہار ا لیتے ہیں جو اکثر زیادہ فائدہ مند نہیں ہوتی ۔
ہم سے اکثر لوگ نہیں جانتے کہ دماغ کی صحت کو کیسے بہتر بنائیں؟ بڑوں کے ساتھ ساتھ طلبا کی یاداشت بھی کمزور ہو رہی ہے۔ آج ہم آپ کو ایسے طریقے بتائیں گے کہ آپ تھوڑی سی کوشش کر کے اپنی دماغی اور اعصابی کمزوری کو دور کر سکتے ہیں۔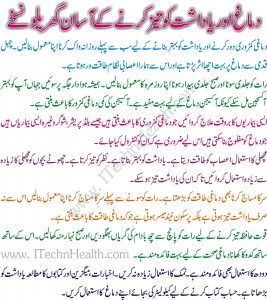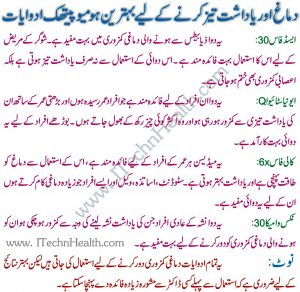 Tips To Increase Memory Power -how to increase memory power naturally-how to increase memory power in students-how to improve memory and concentration-foods that improve memory-food to improve memory-how to improve memory retention-how to improve memory recall-how to increase memory power by food-Increase Memory Power To Keep Your Brain Hydrated- Increase Memory Power By Food- Use Fish Oil Supplement To Increase Memory Power- Eat Less Added Sugar To Increase Memory Power
How to Improve Your Memory 10 Tips To Improve Memory Power In Urdu
Wazifa For Brain Power-Wazifa For Sharp Memory-Wazifa For Success In Exam
How To Increases IQ and Brain Power Through Modern IQ Test, Score Range of IQ Test
Kamzor Bachon Ko Mota Karne Ka Tariqa- Gain Weight Fast Tips In Urdu
Mun K Chalon ka ilaj-Munh kay Alsar ka ilaj- Maday K Ulcer Ka Ilaj
Galay Ki Kharash Ka Ilaj-Galay Ka Dard K Ilaj- Sore Throat Remedies