Sometimes we memorize a lot of thing but in short we forget it and stuck suddenly which is the biggest problem and we face a lot of difficulties and some times we ashamed forget some important points so everybody want to have strong memory.  This wazifa is specially for students, teachers, scholars, aged people, child who are not intelligent in studies.  If you want to have a strong memory then recite this wazifa daily and also offer namaz, because who offered namaz daily their memory is always strong.
Before you start reading a wazifa please follow these instruction to get better result. 5 times Namaz is compulsory for any wazifa to work. You must be in wudu while you read a wazifa The reason for which you are doing a wazifa is correct and according to shariah. Your income must be halal
Recite Darood Sharif 11 times.
Read Surah –E-Nisa (Ayat No. 113), 131 times
then blow on water and drink this water.
Do it for 21 days.
Inshallah with the help of god you memory will improve and you would not forget anything.
Recite Surah Taha Verse 25-28 after every Namaz.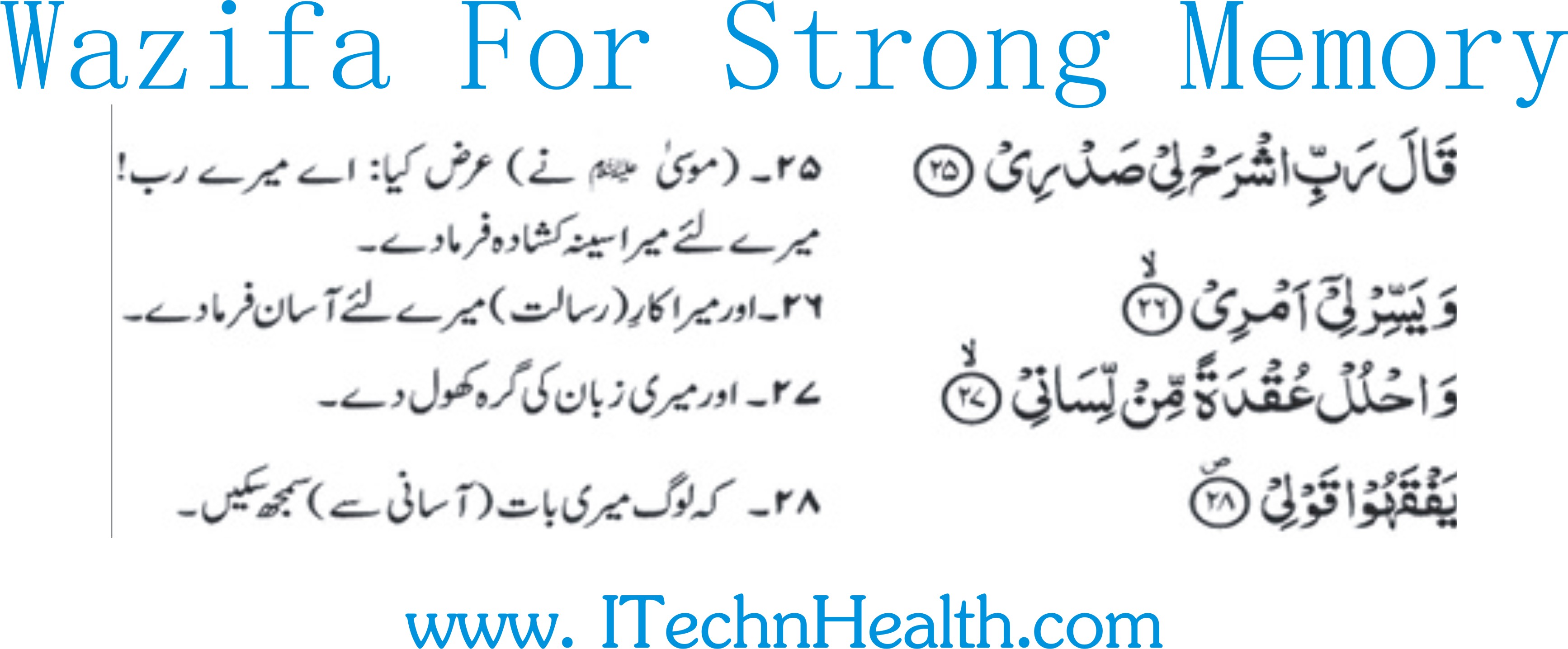 It you are suffering from weak memory power then here is an wazifa for you.
Recite Darood Sharif after and before reciting any wazifa.
Read following Ayat 101 times daily at least 21 days. and then blow on water and drink it. After this pray to Allay to grant you strong memory power.

Recite "Bismillah Shareef" 786 times.
Recite Ya Fataah. Ya Fataah. Ya Fataah" 3 times.
Then blow on water and drink this water.
For sharpening memory you can recite this wazifa daily. 
If you have weak understanding power and you seem difficulty in understanding whatever teachers teach or written in books, then here is an excellent and easy wazifa for this problem. You just have to read following names of ALLAH AZZA WA JAL 21 times after every prayer with 3 times Darood Sharif in start and end of wazifa. Then do DUA to ALLAH to grant you full power of understanding every difficult thing.

[AdSense-B]
Read 11 times Darood sharif in start and end of Wazifa and 450 times following phrase any time daily. And pray for success and good result in exam. If you feel depression about result keep reciting following all the day unlimitedly.

Anyone who has bad memory due to old age or a child who is not intelligent in studies do the following:
Darood/Salavat 11 times
Surah Nisa..Ayet no 113. Read it 131 times
Darood/Salavat 11 times
Every day and do dam (blow) on water and drink it. Do it for at least 21 days. Memory will improve considerably and you won't forget anything you study or read.
Recite the following dua'a
7 times after every namaz to increase knowledge
RABBI ZIDNEE I'LMAA
Pic       Wazifa_For_Increase_Knowledge
Bachchon Ke Naam Rakhne Ka Islami Tariqa – Islamic Muslim Baby Names Girls Boys Meaningful Names For Children Baby
What is Cholesterol Level in Blood In Urdu. LDL Cholesterol in Urdu – Tips for Cholesterol Level In Urdu
Ism e Azam-How You Know Your Ism E Azam-Formula to Know Ism e Azam
Download Ism e Azam Calculator And Find Names Adad Ism e Azam