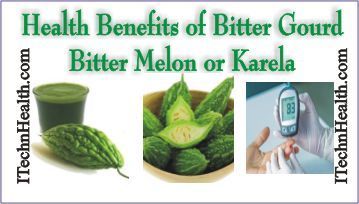 Health Benefits of Bitter Gourd
In this post I will try to explain Health Benefits of Bitter Gourd and some remedies, how it help for diabetes patient and how is useful for hair treatment. Bitter melon, also known as bitter gourd or karela is a unique vegetable-fruit that can be used both as a  food or medicine. Bitter melon is a popular edible vegetable in many Asian countries. It is extensively grown in China, Japan, Asia, Africa and South America. Bitter melon is rich source of vitamin and minerals contain 0.61 mg Iron, 20 mg Calcium, 70 mg phosphorus and 88 mg vitamin C. It is grown widely as a field crop as well as backyard vegetable. Although its bitter taste might turn some people away from it, in-fact, it really can sweeten your health through virtue of its disease preventing and health promoting chemical compounds.
Health Benefits of Bitter Gourd/Bitter Melon/Karela
Bitter melon is used in traditional medicine for,Colic,Fever,Burns, Chronic cough, Painful menstruation, it is also prevent or treat malaria and viral diseases such as measles and chicken pox.
In addition, researchers from Saint Louis University in the US say they have shown that an extract from bitter melon can kill breast cancer cells and prevent them from growing and spreading.
Better melon is also has used for treatment of liver infection, Take a fresh bitter melon and wash it. Take out the seeds from the bitter melon. Chop the bitter melon and add it to the grinder. Add few drops of water and grind it completely to get a liquid form. Strain it off and drink the juice.
Bitter melon is low in calories, but is filling in nature. It will satisfy your appetite without adding to your weight. It also has antioxidants that helps in digestion process. If you have a strong digestion, all the toxins will be out of the body, leading to weight loss. Bitter melon is also watery in nature that controls your appetite. A glass of juice can do wonders to your body.
Fresh pods are an excellent source of folates. Vitamin folate when taken by mothers during their early pregnancy time, would help reduce the incidence of neural tube defects in the newborn babies.
Bitter melon stimulates easy digestion and peristalsis of food through the bowel until it is excreted from the body. Thus, it helps in relieving indigestion and constipation problems
Top 5 Health Benefits of Bitter Melon or Karela
Diabetes     Cancer    Skin        Liver Damage              Measles       
Bitter Melon and Diabetes
Bitter melon has also been used as a herbal remedy for Type 2 Diabetes. Bitter melon is said to cure Type 2 diabetes. When the cells loses the ability to absorb the sugar, it affects the blood. The deficiency of insulin arises in the body leading to Type 2 diabetes. When the body has sufficient number of kinase proteins, sugar can be easily absorbed by the cells. Bitter melon activates AMP which in turn increases the kinase proteins. Thus, the sugar level is increased in the body and Type 2 diabetes can be handled. Bitter melon also contains a lectin that reduces blood glucose concentrations by acting on peripheral tissues and suppressing appetite – similar to the effects of insulin in the brain.
This lectin is thought to be a major factor behind the hypoglycemic effect that develops after eating bitter melon. now, it is commercially available in the form of tea, juice, extracts and pills. Though there is lack of proven data regarding its ability in the treatment of diabetes and research is still underway in this respect, consuming bitter gourd or its juice may help in diabetes due to the following reasons:
1. Lowers Blood Glucose Levels
2. Facilitates Carbohydrate Digestion
3. Increases Insulin Secretion
4. Reverses Insulin Resistance
5. Antioxidant Properties
How To Make Bitter Gourd Juice For Diabetes
Is bitter gourd juice good for diabetes? The bitter gourd, more commonly known as karela. It is an effective medicine for diabetic and anemic people. It's an amazing blood purifier. As it has hypoglycemic substance, it helps in bring down the blood sugar and urine sugar levels.Here is a simple and quick way to make bitter gourd juice for diabetes at home:Take fresh bitter gourd and get a few lemons as well. To make the juice more effective, add a little bit of turmeric.
Wash the bitter gourd and peel its top skin. If it does not bother, you can simply let it be.Many people do not skin or peel the top skin away.

Cut the karela into fine pieces and apply salt properly by rubbing it with Keep it for some time, and then extract the bitter juice out of it.

Once you see the water strained out of the bitter gourd, you can then crush the pieces in the mixer properly.

Sieve it if you want. Just have the full juice with the fiber after adding a little bit of fresh lemon juice for taste and tangy flavor.
Hair Benefits of Bitter Melon:
Bitter melon is a great remedy to treat your hair related problems.
1.         Take a bitter melon and wash it with water.
2.         Chop it into pieces such that it can be grinded properly.
3.         Add few cumin seeds in it.
4.         Make a paste out of it such that it can be absorbed by the hair.
5.         Apply evenly on the scalp and hair roots.
6.         Cover it up for few minutes with a shower cap.
7.         Rinse it off with water after 2 hours.
8.         Use a mild shampoo and conditioner.
Health Benefits of Bitter Gourd