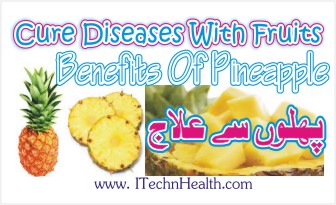 Benefits of Pineapple 
If you are a staunch believer of can apple a day keeps the doctor away, maxim, try following the latest saying, a pineapple a day keeps the beauty and health woes at bay. The yellow burst of flavor and colour is the new savior fruit in the beauty world. Did you know that his wonder fruit has the power to bless any woman with loads of beauty enhancing benefits? Here are a few reasons why your basket should hold ample supply of pineapples the next time you visit the market.
Acne Treatment 
Pineapple can do wonders for your skin if it is affected by acne, as the fruit is rich in vitamin C. The latter enzyme is widely believed to have softening effects on the skin and also aids in reducing inflammation. Your body can easily produce more collagen if it is adequately fed by pineapple juice, something that can help the skin in staying firm and flexible. Similarly, vitamin C and amino acids help in repairing cells and tissues, and can be found abundantly in pineapples.
Treatment of Weak Nails
The next time you feel like your nails are growing weak and you have started chipping them easily, don't ignore that because these are signs that your body probably has a deficiency of vitamins A and B. Since coming in contract with pineapple extracts can guarantee accumulation of both of these vitamins, you might want to consider drinking fresh pineapple juice for healthier, shiny nails. Extremely good taste and amazing beauty benefits, who wouldn't love this fruit?
Homemade Remedy for Weak Nails and Softener Skin
If you have cuticles, apply a mixture of two tablespoons of pineapple juice and an egg yolk on the infected area and allow it to settle for about five minutes. It works as a natural softener due to the presence of enzyme bromelain in the fruit. Push your softened cuticles back to their nail beds using a cotton swab. Finally, rinse your fingers off with warm water and apply some good quality hand lotion.
Homemade Remedy for Glowing Skin
It is understandable for a woman to desire baby soft skin, but our work and busy routine can make it difficult for everyone to be able to follow beauty rituals and invest in branded products. Pineapple makes smooth, supple and glowing skin attainable now, its properties include the ability to make skin flexible and firm by adding to collagen synthesis. The fruit houses skin friendly nutrients like vitamin C and amino acids, all of which are skin friendly nutrients. The best way to get the most out of its nutrients is by applying fresh pineapple directly to your face.
Treatment of Wrinkles 
This tropical fruit is full of natural antioxidants that help in lightening the skin tone and preventing bacterial infections. Vitamins A and C in pineapple aid in the fight against signs of aging, like wrinkles and fine lines. Furthermore, it even helps in restoring health and glow to tamed and damaged skin, and can even correct uneven skin.
Cut a pineapple horizontally to slice it in the shape of ring. Next, toss one slice of pineapple and two tablespoons of coconut milk into a mixer. Then apply the mask on your face and neck, and leave it on for about three minutes before rinsing thoroughly with warm water. Just make sure you test a patch behind your ears with pineapple pulp before applying it to the entire face in case it might irritate your skin.
You can also see my posts