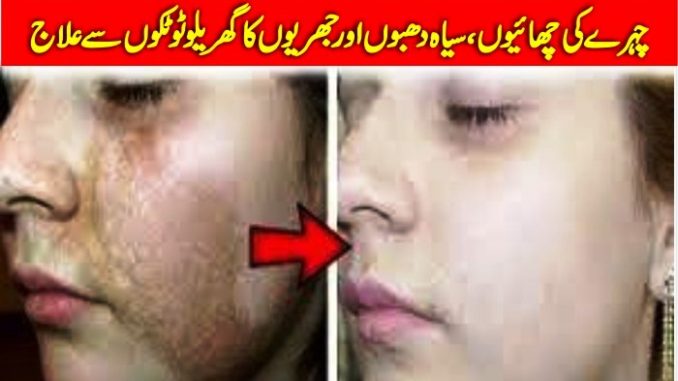 Brown spots look very bad and also put a bad impact on our personality. Especially in summer brown spot appear on the face due to sun rays. It is necessary to control the psychological factors of these spots. Here we are sharing some home remedies to remove brown spot on face.
Reasons of Brown Spot
Sun rays are harmful for our skin. Direct exposure of skin to sun is very harmful and can cause several skin problems.

Stress is another reason of brown spots.

Aging is also the reason of freckles.

Due to liver diseases brown spots appear on the skin.

During pregnancy the skin also becomes pigmented.

Use of low quality products can cause this problem. 
Here we are giving you some homemade remedies to reduce brown spots on face.
To remove dark spots mix rose water, honey and lemon juice and apply this mixture on your skin.

Add some drops of glycerin in fresh milk and apply it daily on your skin. It also makes your skin fresh.

Grind lemon peels and use it with milk daily before going to sleep. It reduces dark spots.

Mix lemon juice in fresh cream and apply it on your skin daily. 
Mask of honey and almond is a best tip to remove these spots. Take one spoon of honey, one spoon of lemon juice and half spoon of almond oil and mix all these ingredients. Apply this mixture for 10 – 20 minutes on your skin and then wash off. It also good for fair complexion. 
Take 2 spoon of lemon juice, small piece of peeled off potato, one spoon of yogurt, blender or food processor, 2 towels and moisturizer. Blend these ingredients in blender to make a paste. Apply this paste on your skin and then cover up your face with wet towel. After 20 minutes wash off your face with cold water. At the end, apply moisturizer to make your skin soft. You can use this paste 2-3 times in a week. It's a magical tip to remove freckles.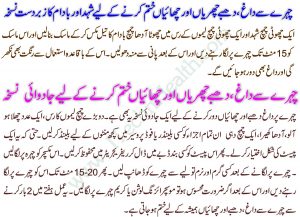 چہرہ جسم کا سب سے نمایاں حصہ ہوتا ہے اور چہرے پر کسی بھی قسم کے داغ دھبےہوں تو بہت بدنما  نظر آتے ہیں۔ چہرے پر موجود بھورے رنگ کے داغوں کو چھائیاں کہتے ہیں۔ آج کل مارکیٹ میں دستیاب کریمز اور لوشن میں موجود کیمکل ان داغ ،دھبوں اور چھائیوں کا سبب بنتے ہیں۔ اس کے علاوہ بھی چہرے پر چھائیوں کی بے شمار وجوہات ہیں جن میں سے کچھ کا ذکر یہاں کیا جارہا ہے۔
سورج کی شعاعیں جب براہ راست چہرے پر پڑتی ہیں تو یہ جلد کے لیے نقصان دہ ثابت ہوتی ہیں ۔ جن سے ہماری جلد پر چھائیاں اور داغ دھبے نمودار ہوتے ہیں۔ بہت زیادہ ذہنی دباو بھی جلد پر منفی اثرات مرتب کرتا ہے اور اس وجہ سے بھی چہرے پر داغ دھبے نظر آنا شروع ہو جاتے ہیں۔ عمر کے بڑھنے کے اثرات بھی داغ ، دھبوں اور چھائیوں کا باعث بنتے ہیں۔
بعض اوقات جگر میں بیماریاں بھی جلد پر داغ دھبوں اور چھائیوں کا باعث بنتی ہے۔ اکثر اوقات دوران حمل بھی خواتین کے چہرے پر داغ اور چھائیاں ظاہر ہونا شروع ہو جاتی ہیں۔
چہرے کے داغ دھبے دور کرنے کے لیے گلاب کے عرق میں لیموں اور شہد ملا کر استعمال کریں ۔ اس سے چہرہ شاداب ہو گا اور داغ ،دھبے ، جھریاں اور چھائیاں چہرے سے ختم ہو جائیں گی۔
تازہ دودھ میں چند قطرے گلیسرین ڈال کر چہرے پر لگائیں اس سے نہ صرف چہرے کے داغ دھبے دور ہونگے بلکہ چہرہ ترو تازہ رہے گا۔
لیموں کے چھلکے پیس کر دودھ میں ملا کر رات کو لگانے سے بھی چہرے سے داغ دھبوں کا خاتمہ ہو جاتا ہے۔دودھ کی بالائی لیموں کے رس میں ملا کر بھی رات کو سونے سے پہلے چہرے پر لگا سکتے ہیں۔
چہرے کے داغ ، دھبوں سے نجات حاصل کرنے کے لیے بہترین گھریلو ٹوٹکا یہ بھی ہے کہ دہی میں ٹماٹر کا رس اور دلیا مکس کر کے 20 منٹ تک چہرے پر لگا رہنے دیں اور اس کے بعد پانی سے دھو لیں۔
چہرے پر چھائیوں کو ختم کرنے کے لیے ابلے ہوئے چقندر کھانا نہایت مفید ہے۔ اس کے ساتھ چہرے پر عرق گلاب لگائیں اس عمل کو ہفتے میں دو سے تین بار دہرائیں چہرے صاف ہو جائے گا۔
چہرے پر چھائیوں کو ختم کرنے کے لیے لیموں کا رس آدھا چمچ، ہلدی آدھا چمچ اور بیسن دو چمچ ملا کر پیسٹ بنا لیں اور اس کا ماسک چہرے پر لگانے سے دو تین بار یہ ماسک کرنے سے چہرے کی چھائیاں دور ہو جاتی ہیں۔
Chehre ki Chaiyan Khatam karne ka Tarika-Chehre Ki Chaiyan Khatam Karne Ka Wazifa- Chehre Ki Chaiyan Ka Ilaj In Urdu-Chehre ki chaiyan khatam karne ka tarika in Urdu-chehre ki chaiyan ki wajah-chehre ki chaiyan ka ilaj-chehre ki chaiyan khatam karne ka tarika in hindi-chehre ki chaiyan in English-chaiyan khatam karne ki cream-skin ki chaiyan-face ki chaiyan-naak ki chaiyan-Chehre Ki Chaiyan Khatam Karna In Urdu-Chehre Ki Chaiyan Khatam Karne Ka Tarika-Chehre ki Chaiyan In Urdu-Tips to Get Rid of Freckles-How to Remove Freckles From Face-Remedies to Remove Brown Spots on Face
Chary Se Til , Masse Aur Mokay Khatam Karne Ka Ilaj In Urdu Warts Remover Remedies
Bemarion K Ilaj K Lehe Best Garilo Desi Totaky In Urdu Language | Ubari Nuskay | Ubari Desi Totkay
Bachon Ko Bhook Na Lagna Bhook Ki Kami Ka Ilaj In Urdu | Bhook Barhane Ka Desi Nuskha
Bawaseer Ka Garailo Ilaj Ubqari Nuska | Bawaseer Ka Rohani Ilaj | Koni Bawaseer Se Nijat K Lehe Wazifa