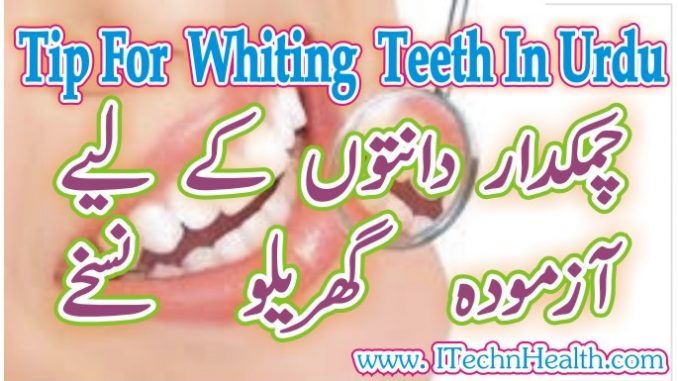 Teeth Whitening Tips In Urdu
Smiling with shining with pure white teethes is everyone's desire for this many of us consult different dentists However today I tell you some great natural teeth whitening tips in Urdu. One of the good things about these remedies these are less expensive but more effective.
Home Remedies For Whitening Teeth
Use Strawberry Pulp
Just rub it on your teeth for a few minutes, then washed with water and floss to remove seeds that have been made between your teeth.
Sodium Bicarbonate
You can use it in combination with your toothpaste, or add a little baking soda powder on your toothbrush and brush your teeth; You can also add a pinch of salt to brush and brush as usual.
Lemon Juice
Make a paste with lemon juice and a teaspoon of salt, then brush your teeth with it and rinse with cold water. If you want to replace the sodium bicarbonate salt.
Apple Cider Vinegar
Make a thick paste with vinegar and a teaspoon of baking soda, brush your teeth and rinse.
Orange Peel And Bay Leaves
It is a little known but effective solution. Crushed orange peel and bay leaves, then place a little of the mixture on your toothbrush and brush your teeth with it, rinse with water.