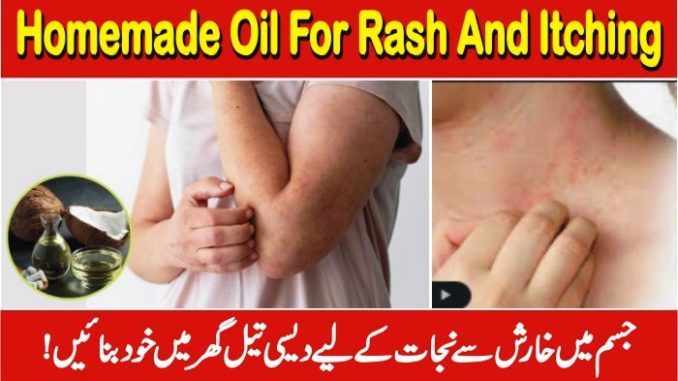 Any kind of rash can leave a lot of damage on the skin. One of the quickest and easiest ways to stop the rash pain and itch is to apply cold compress, take cool shower, cold water can bring immediate relief and can also help to stop swelling and slow the progression of a Itch rash.
Olive oil is a great choice to get rid from Itching. Its anti-inflammatory and antimicrobial properties are great for irritant dermatitis diaper rashes and allergic contact dermatitis rashes.
Peppermint oil is also best if you have itching problem. Due to its cooling properties can help to reduce itching caused by diabetes, liver disease, kidney disease, bug bites, poison and hives.
Coconut oil is a natural treatment that is used to treat many skin problems and maintain good skin health. It may also treat or prevent diaper rash, relieve inflamed diaper rash and any accompanying redness, irritation or itching. It's used effectively in home remedy for ringworm and infections with other fungi. It has both microbial and antifungal properties that can help treat ringworm.  
Coconut oil is a natural skin moisturizer. It has the natural ability to penetrate the skin quickly and efficiently, which can boost hydration, improve skin elasticity, fight itch and reduce the chances of infection. However, only virgin coconut oil should be applied to rashes the antimicrobial properties of this oil can soothe the skin and comfort itching.
1. Apply a cold, wet cloth or ice pack to the skin that itches.
2. Do this for about five to 10-15 minutes
3. Take an oatmeal bath.
4. Moisturize your skin.
5. Apply Coconut Oil.
6. Apply cooling agents, such as menthol or calamine.
To get rid of itching in the body, apply this indigenous oil before going to bed. This oil made from coconut oil, camphor and cloves can reduce itching in the body. Itching often bother people. There can be many reasons for this. Such as due to insect bites and allergies.
Therefore, many times due to cirrhosis, ringworm and eczema. So sometimes the rash comes out due to a reaction or due to excessive heat inside the body. People often use medicines and creams for all these problems.
But some home remedies can help reduce these problems. Such as Neem Leaf Paste, Mint Oil and Turmeric Sandal Wood. There is a oil which reduces itching, you can make this oil in the traditional way.
Make this special oil from Ariel oil, camphor and cloves. You can make this special oil by mixing all three coconut oils, camphor and cloves. The first to make it
1. Take 20 tablespoons of coconut oil.
2. Now add 10 cloves in it.
3. Now take camphor and make about 3 tablespoons of powder.
4. Now put it in the pan and put it on the gas.
5. Soon this oil will start to cook and you will feel its strong smell.
6. Now turn off the gas and use the oil when it is hot.
You may have noticed that red rashes appear on the body many times. Sometimes they are small and sometimes they are big. So sometimes these grains grow because of a certain type of bacteria. In this case, the oil works very well. Its antibacterial properties kill the bacteria in the pimples and make them dry. Then with constant use it starts to decrease. All you have to do is make this oil and apply it on your body before going to bed at night. When you wake up in the morning, you will see that your grains are slowly disappearing with this oil.
This special oil made from coconut oil, camphor and cloves is also effective in reducing itching. Its antibacterial and rash-relieving properties help reduce itching. Its anti-microbial properties help reduce active fibers and relieve itching. In this way it soothes the itch as well as the skin.
Both camphor and clove have anti-inflammatory properties that help reduce inflammation. If someone has swelling or severe pain due to inflammation, then massaging with this lukewarm oil reduces the swelling and pain. In fact, it improves blood circulation in the body and helps in relieving muscle pain. A special feature of camphor is that this oil also helps in reducing the chronic pain of muscles and joints for a long time and thus it reduces the inflammation.
This oil, which contains both camphor and cloves, helps to relieve lower back pain. Camphor oil numbs and cools the nervous system, then warms the painful part of the back. Thus, it increases circulation in tight joints and muscles and reduces back pain.
In addition to this, this oil also helps in reducing joint pain. All you have to do is make it at home and apply it at night before going to bed. Although you can apply it many times, there are other benefits to using it at night.




How To Stop Skin Itching, Oil For Rash And Itching In Urdu- Coconut oil, Camphor and Cloves Oil- Benefits Of Coconut oil, Camphor and Cloves Oil- Use of Coconut Oil To Stop Skin Itching- Is Coconut Oil Good For Rashes- Home Remedies To Stops Itching Fast-anus itching cream-best cream for anal itching-coconut oil benefits for skin-coconut oil for skin lightening-coconut oil bad for skin-how to use coconut oil for skin-best coconut oil for skin-coconut essential oil-kharish ka ilaj in urdu-how to stop skin itching-Coconut Oil for Skin-Uses and Benefits of coconut oil-home remedies for scabies-Benefits of this coconut oil-home remedies for Reduces scabies-home remedies for Relieves itching-home remedies for Reduces Inflammation-home remedies for Relieves Lower Back Pain
How To Stop Eye Twitching, Treatment of Twinkling Eye, Ankh Ke Pharkne ka Ilaj
Calcium Deficiency Causes, Symptoms, How To Increase Calcium In Body
How To Change Your Eyes To Blue, Aankhon Ka Colour Kaise Change Karen
How To Get Rid Of Heat Rash Quickly, Baby Rash, Diaper Rash On Baby
Dandruff Treatment, Khushki Ka Ilaj Ubqari, Dandruff Ka Ilaj