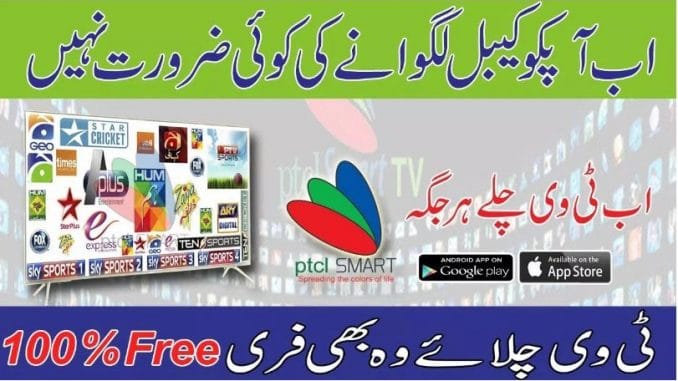 PTCL Smart TV is an app that lets you watch Live TV channels on your computer, on your laptop, mobile phone, You can record a live or past program in your laptop hard disk and watch it when you have more time. This app can also record various channels such as games, news, movies, or music programs, and you can watch  your favorite programs on your  laptop or PC when you get time.
The appellation price is a monthly Rs. 99 /- with amazing features. In addition, Smart TV App is free for users using 4MB Internet packages or CharJi. Here are the main features of Smart TV App . Plus 100 approximately 125 channels, personal video recording, is also provided to you by watching any video on demand.
For Rs 99 per month  you can enjoy hundreds of live channels, movies and TV on-demand on your mobile, tablets and PCs using browsers like Internet Explorer, Google Chrome etc. Customers can subscribe to Smart TV app viewing by calling 0800-80800. If not you can do so by calling 1236 PTCL Helpline.
This app can download from the Google Store or downloaded from the link given below. You can also download this application from the PTCL website.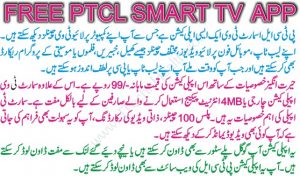 Download Free PTCL SMART TV APP For PC
To download, go to the Android Play Store or the Apple App store. If you want to watch on the Web, just sign in to www.smarttv.com.pk and enjoy.
With this application now Broadband subscribers can watch 125 TV channels on their PC without getting the IPTV service and there is no need for any Set-top-box. Smart TV with App for broadband customers is free of charge for first two months. Monthly service charges of Rs. 250 per month will apply. If you are a PTCL landline customer with DSL activated. PTCL Smart TV app is only for DSL users. You have activated PTCL Smart TV for PC by calling on PTCL 1236 PTCL Helpline. You have successfully setup IPTV over Ethernet and you can view smart TV using Smart TV app on
Download Free PTCL SMART TV APP PC and Android Phone-ptcl smart tv app 2.1 0 free download-ptcl smart tv app for pc settings-smart tv pc app.exe free download-ptcl smart tv app for dsl-ptcl smart tv app apk-smart tv channels software download free-ptcl smart tv username and password-how to activate ptcl smart tv app
The Best Online Bachelor's in Information Technology Degree Programs
How to connect Desktop & Laptop PC and Transfer Files Between a Desktop & Laptop PC
Simple Method to Share large Files through Internet, File Sharing on Computer Networks
StarSat SR-2000HD GxRom Receiver latest PowerVU Auto Roll Key Software Download
Download Next MINIX BLACK II PLUS Receiver Latest Software 2018
Echolink Tornado V4 Max Hd Receiver Latest Software Download
Download Neosat 560D HD Receiver New PowerVU Key Software 2018
Tips For Cleaning The Computer,Laptop,LCD, LED, Optical Mouse and Keyboards