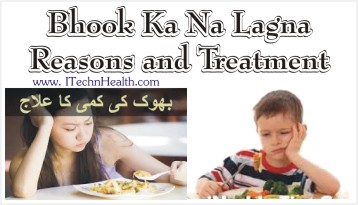 Bhook na lagny ki bout sari reasons hain, for example maiday ki suzish, mayday main zakam, Zahfea maiday mein bhi bhok nahie lagte aur cencer maiday mein bhok ka na lagna ek bhre almat hai. Is k elawa bhook na lagne k aur b reason hain jin main kuch ye hain b hain.
Badhazmie yani zaida kahlana

Asabhie kamzore ki bana par ya marz ban jaya karta hai.

Kasrat sharab khore tambakoo noshie charab aghiza ka istamal.

Shadeed ya mazmun suzish maiday.
In reasons ki waja se Bhok ya to kam lagte hai ya bikul nahie lagte.ghiza ki balkul khohish nahie hote.balkie baz aqwat to ghiza sa nafrat ho jate hai.aur marez ko jabran kuch khaliya peliya jasakta hai. Agar apko Bhook Kam lagti hai ya bilkul bhook nahi lagti to ye hakeemi nuska istamail karny se bout fida ho sakta ha.
Black Harir 200 gram lay kar is ko karhai main dal lain. Two spoon pure desi ghee be is main shamil kar lain aur halki aag per bhoon lain. Jab harir ghee jazab kar lain too cholay sy utar kar pees lain. Aik chutki neem, garm dood main shamal kar k raat ko is dood ko pe lain. Bhook ka na lagna aur stomch ki har kisam ki bemari main bout mofid ha. Is nakse ka aik aur fida ye ha k is k istamal karne se qabz nai hoti aur stomach sai tarike se kam kare ga.
Hazma ko qwat datea hai bhok barhte hai.sharab pena ki adadt ko churate hai.thkan nahe hona date aur mahnate wa musakat bardasht karne ki sahliyat ko bahrate hai.
Ya dawa bhok na lagne mein therbahadaf hai hazma ke fal ko taqwate date hai.bhok barjate hai.asbhie kamzore ko dur karti hai. Jismanie aur zahne qwat barhate hai wazan ko bahrane mein moiana sabate hota hai.
Peyaz nahe lagte.bhok to lagte hai magar chand lukma sa pait bhar howa mahsos hota hai. Maiday mein sardie ka ashas jo kahrak ki nali tak pouncha.
Bhok bilkul kahtam ho jate hai.tarisha maiday.
Bhok nahie lagte.maiday aur antoo mein gas hote hai.maiday mein ahtan jo raat ko shedat akteyar karte he.maiday bhre mahsos ho jase bhra howa hai. Naf ke nicha maror ho.pakahna ba qidea dard ke sath zor lagna parea.