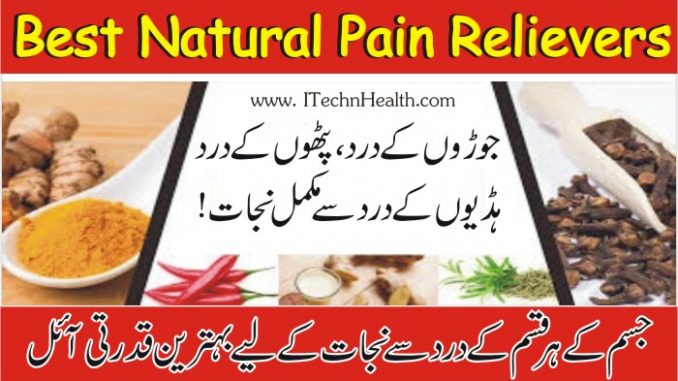 Pain killer medicines such as ibuprofen and acetaminophen are effective pain relievers but on other hand their long term use can cause some side effects as well. So what are the best natural ways to relive pain?
People have used essential oils and herbs, as natural pain relievers for hundreds of years. Some Research has shown that certain natural pain relievers can help and many people find them useful.
In this article, we discuss best effective natural pain relievers and the science behind them. Natural pain relievers are a great way to help supplement medical treatments for chronic pain. The following natural pain relievers are generally easy to try, inexpensive, and have the potential for reducing your pain that have no adverse effect or side effect on your health.
Lavender essential oil may help relieve pain naturally. People use it to help sleep and ease anxiety. Lavender oil have pain relieving anti inflammatory and antioxidant effects.
Peppermint Essential Oil comes from the Mentha piperita. Some research shows that the Peppermint plant has anti inflammatory, antimicrobial and pain relieving effects. The active compounds in Peppermint Essential Oil include carvacrol, menthol and limonene. People diluted Peppermint Essential Oil and rub diluted oil into the area that feels painful. Peppermint Essential Oil have properties to relieve the arthritis and headache pain.
Cloves are used to relieve pain from toothache. Cloves are as effective as benzocaine gel,  which dentists often use to reduce needle pain. Cloves can have antioxidant, anti inflammatory, anti fungal and anti viral activity.
Capsaicin is the ingredient found in different types of hot peppers. It present in Chili Peppers and have a natural pain killer. Many pain relieving products contain Capsaicin. You can eat it in raw or cooked peppers as a dried powder. 
Ginger is a root that is used as natural pain reliever. Daily use of ginger reduced muscle pain from resistance exercise and running. Ginger also accelerate recovery and reduce inflammation related to exercise. You can use ginger in the diet by adding raw ginger to smoothies of teas. You can also use ginger supplements. However, the natural fresh ginger may be more effective and healthful.
Turmeric have curcuma which has pain relieving properties. Turmeric is very effective in the treatment of knee osteoarthritis when use it for some weeks. It is also a natural herbal remedy for reducing inflammation.





Best Effective Natural Pain Relievers That Have No Side Effect-strongest natural pain reliever-natural numbing oil-herbal pain relief-natural remedies for back pain and inflammation-natural pain killer tablet-natural pain relief plants-chronic pain relief new treatments-natural alternative to paracetamol for fever-herbs for nerve pain relief-what is the most effective natural pain killer-how to block pain receptors naturally-natural pain relief cream-how to relieve pain without medicine-natural remedies for muscle pain and inflammation-herbs for back pain and inflammation-herbs for relief from body aches and pains-Joron k dard ka ubqari nuskhe
Best Oils For Body Massage Therapy, Pain Relief & Blood Circulation
Sarson Ka Tail Ke Fayde in Urdu, Mustard Oil Benefits For Skin, Hair, Teeth and Heart
Remedy To Get Rid Stomach Acidity, Heartburn, Gastric Problem Quickly