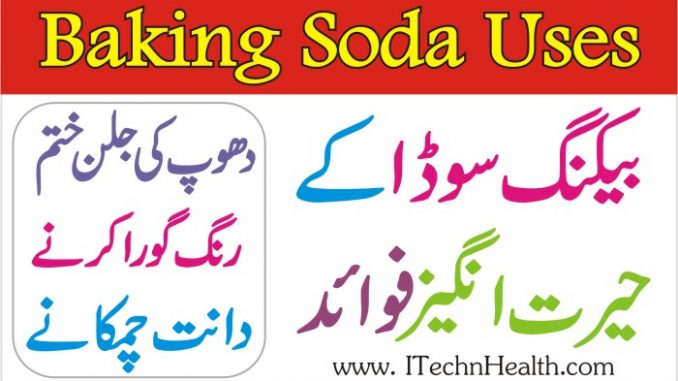 Baking soda, also known as Sodium Bicarbonate is a leavening agent used in baked goods such as cakes, cookies and muffins. It is a white crystalline powder.  It becomes activated when it's combined with both an acidic ingredient and a liquid.
Drinking small amounts of baking soda is not dangerous for health. Some studies show that in adults, it can provide short term relief from indigestion. However, drinking large amounts of baking soda is dangerous for health and also it is not suitable for long term use for both children and adults.
Baking soda is an inexpensive way to whiten and clean your laundry. It is often used a household cleaner. However, it is ineffective against most bacteria such as salmonella, E. coli. and staphylococcus. It is very effective in cleaning numerous spots in kitchen, counter tops, refrigerators and stove tops. It is great for removing dirt and grime from the inside door of your dishwasher or the drum of your washing machine.
Baking soda is a good treatment for immediate relief from occasional acid reflex. The recommended dosage for adults is 1/2 teaspoon dissolved in a glass of water. Always tries to sip this drink slowly to avoid side effects of it such as gastric problem and diarrhea.
Baking Soda can help soothe inflammation and mild pain. It can be used as current acne treatments to boost effects quickly.
Baking soda can be treated as heartburn by neutralizing stomach acid. Dissolve one teaspoon of baking soda in a glass of cold water and drink the mixture slowly to avoid its side effects.
Baking Soda also has antibacterial and antimicrobial properties that can help fight against harmful bacteria.
Baking Soda, is a popular supplement among athletes. It can help you perform at your peak for longer, especially during anaerobic exercises or high intensity training.
Baking Soda can help chemotherapy medicines work more effectively. It can make the environment for tumors less acidic, which benefits chemotherapy treatments which works by slowing or stopping the growth of cancer cells.
A baking soda bath is often recommended to soothe itchy skin. To make a baking soda bath, add 1–2 cups of baking soda to a lukewarm bath. These baths are a commonly used remedy for itching from bug bites and bee stings.
Baking Soda is useful for good skin health. Healthy skin is slightly acidic. This acid mantle helps form a protective barrier. Washing skin with baking soda can remove the skin's protective oil barrier, alter its pH, and disrupt the natural bacteria on the surface that help to prevent from skin infection and acne on face or skin.
You can use baking soda as a replacement for mouthwash. It can help freshen your breath and even provide antibacterial and antimicrobial properties. Add 1/2 teaspoon of baking soda to half a glass of warm water, and then swish as usual.
Baking soda is a popular home remedy for whitening teeth. Toothpaste that containing baking soda is better for whitening teeth and removing plaque than toothpaste without baking soda.  
Normally baking soda is good for health but if it is used for long term and overuse of it can increase your health risk problem such as:-
Potassium Blood Deficiency.

Chloride Blood Deficiency.

Rise Sodium Levels.

Worsening Kidney Disease.

Worsening Heart Failure.

Muscle Weakness And Cramps.

Raised Blood Pressure and Swelling.

Avoid adding baking soda when boiling any type of vegetable. It can softening the vegetable, change the vegetable's flavor, destroying thiamine content, and hastening the loss of vitamin C.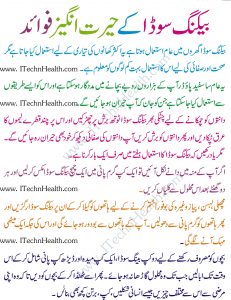 baking soda-what is baking soda used for-baking soda beauty uses-baking soda uses-baking soda uses-baking soda and vinegar-baking soda vs baking powder-baking soda benefits-baking soda for cooking-baking soda for baking-baking soda substitute
Maday Ki Jalan Aur Maday Ki Tezabiat Ka Ilaj: Stomach Acidity
Benefits Of Dates With Milk For Skin, Date And Milk Benefits
Paralysis Symptoms, Paralysis Treatment, Causes Of Paralysis Attack
How To Cure Mouth Ulcers Fast Naturally, Mouth Ulcers Treatment