Asiasat 7 HD Channel List with Frequency Symbol Rates @ 105.5°E. Here you will find the details of all HD channels on Asiasat 7 @ 105.5E. We have listed the channels TP wise. 
Most of the channels are not FTA and scrambled. You can unlock these channels with CCCAM cline which can be purchased from the CCCAM Server holders.
These are the latest frequencies of HD channels. Below is the list of all HD channels available on Asiasat 7. The channels are listed with TPs, Frequency and symbol rate.  We will update the list when the new channels introduced.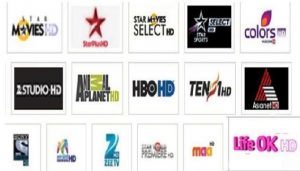 Frequency Rate
SR
Channel Name
3734 H
6500
Channel NewsAsia HD
3745 V
5800
Public News HD
3800 H
28100
Star TV
Star Vijay TV HD
Asianet HD
Star World Premiere HD
Star Pravah HD
Star Jalsha HD
Star Jalsha Movies HD
3820 V
27500
Zee Network
&Prive HD
3840 H
29720
Fox Networks Group
Fox Sports 2 Thailand HD
Fox News Channel HD
Star Chinese Movies HD South East Asia
Channel V International HD
Fox Sports Plus HD
Nat Geo People Asia HD
Fox Sports 3 Asia HD
Fox Crime HD
3890 V
11838
Reliance Broadcast Network
Big Magic HD
3920 H
29720
Sony Picture Network
Fox Sports Indonesia HD
Fox Sports Philippines HD
Star Sports 1 HD
Fox Sports Southeast Asia HD
Fox Sports Asia HD
Fox Sports 2 Asia HD
4000 H
29720
Star TV
Star World HD India
Fox Movies HD
Fox Family Movies HD
National Geographic Asia HD
FX Asia HD
Nat Geo Wild Asia HD
Fox Asia HD
4020 V
28100
Star TV
Star Maa HD
Maa Movies HD
Star Suvarna HD
4094 H
5800
Public News HD
4100 V
29720
AsiaSat
Kidzone+ HD
DW HD
Bloomberg TV Asia HD
Al Jazeera English HD
NHK World Japan HD
TRT World HD
4120 H
27500
Phoenix InfoNews Channel HD
Phoenix Chinese Channel HD
Phoenix Hong Kong HD
4180 V
30000
Sony Picture Network
Sony Le Plex HD
Sony SAB TV HD
Sony BBC Earth HD
Sony ROX HD
Sony Ten 1 HD
Sony Ten Golf HD
Asiasat 7 HD Channel List with Frequency -Asiasat 7 HD Channels List- Latest Frequencies Of Hd Channels- Asiasat 7 HD Channel List with Frequency Symbol Rates @ 105.5°E
Asiasat 5 HD Channel List with Frequency Symbol Rates @ 100.5°E