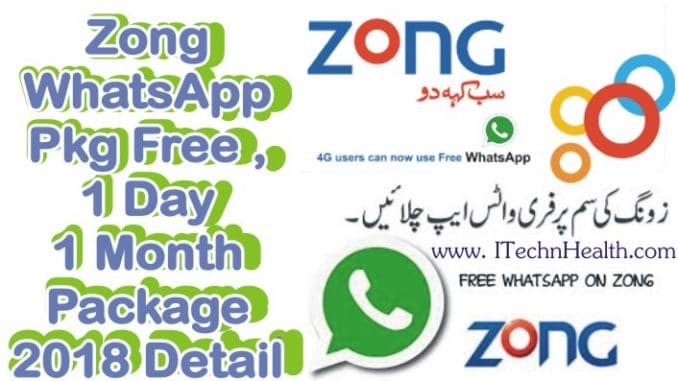 Whatsapp is the best application for sharing audio, video, text and pictures with one and others. The subscriber of WhatsApp will get  WhatsApp data to enjoy all the features. You can subscribe these packages through the following method which is written in the below.
Dial *247# to subscribe and enjoy all the features of Whatsapp totally free in cost till the continuation of the offer.
      Dial *247# To Subscribe
With Zong WhatsApp 4gb Internet Package 2018, Zong customers can enjoy 4GB mobile data for WhatsApp usage for the 1 month. This offer is available for all Zong subscribers including Prepaid, Postpaid, MBB & Internet SIM. With this offer you can make use WhatsApp video & voice calls as well as share pictures all month long. Zong Whatsapp 4gb Internet For A Month Package 2018  Detail is as under.

With this package you can use Whatsapp all day long. You will be given 150MBs of Mobile internet for Whatsapp usage only. With this package you can make unlimited voice calls or video calls. The detail of Zong WhatsApp 1 Day Package 2018 is as under.
Price                                      Rs. 15/-
Subscribe Code             Dial *4#
Check Usage                  *102#
Internet Data                150MB
Vailidity                          1 Day
Withholding tax of 14% applies on recharge/bill

19.5% Sales Tax is applicable on usage in Punjab, KPK & Baluchistan. 19% Sales Tax is applicable in Sindh.

18.5% FED is applicable in rest of Pakistan and AJK.

Data services are exempt in Punjab, Federal, AJK and Sindh up to 4 mbps. Data services are taxable in Sindh with speed greater than 4 mbps as well as in KPK and Baluchistan as per applicable rates.

If you use internet without subscribing to any data bundle, default rate of Rs.18/MB will be charged.

The minimum Charging pulse of default usage is 64 KB, which will be charged at Rs. 1.13
[AdSense-B]
To unsubscribe Zong WhatsApp offer, write UNSUB SM and send it to 6464.
Zong WhatsApp Free -How to unsubscribe Zong WhatsApp offer Zong WhatsApp Free, 1 Day and 1 Monthly Package 2018- Zong Free Whatsapp Offer Detail- How to Subscribe Zong Free Whatsapp Offer- Zong Whatsapp 4gb Internet For A Month Package 2018  Detail- How to unsubscribe Zong WhatsApp offer- Zong WhatsApp 1 Day Package 2018 150 MB of Free Internet Data- Zong WhatsApp 1 Day Package 2018
Whatsapp Rolling Delete Everyone Feature-وٹس ایپ پر آپ دیلیٹ شدہ میسج کو دوبارہ پڑھ سکتے ہیں
Use all Messengers in one App WhatsApp, Facebook, Messengers, Skype & Other Messengers
Zong Internet Packages Daily, Weekly, Monthly Prices and Unsubscribe Code
All Pakistani Network Code To Check Balance, Internet, Minutes, SMS Bundle Activation Code & Calls Packages Activation Code
Zong Full Gup Package –Zong Pora Din Free Baat Package Detail