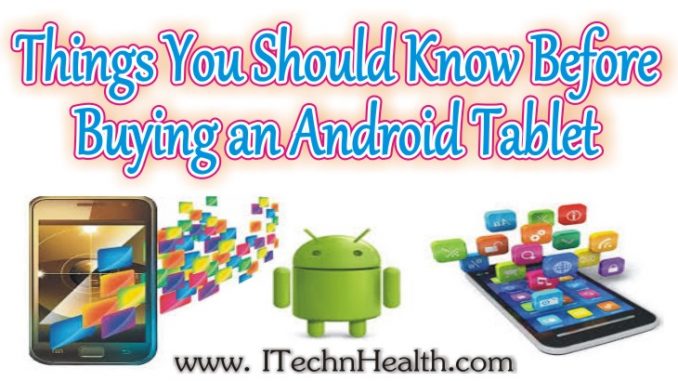 What Is an Android Tablet? What You Should Know Before Buying an Android Tablet- Tablet Buying Guide- Tips to Buying an Android Tablet
Before you buy a Android Tablet here are a few things to keep in mind.
Operating System
There are three operating systems on a tablet such as iOS, Windows 8 RT or Windows 10 and Android 4.1 Jelly Bean. Detail about operating system used in Android tablet is as under:
iOS
The latest and greatest version of Apple's mobile operating system is iOS 9.
Android
Android is Google's mobile operating system, there is no unified Android. Android is an open source operating system. Anyone can download it for free. Android Version 3.0, Honeycomb, was the first version officially approved for tablets. Android versions below 3.0 were not intended for use on bigger tablet screens, and many apps will not work properly on it. When you see a tablet running Android 2.3 or below don't buy this tablet. If you want to run the most Android apps, get a tablet that runs the most recent version of Android.
Windows 10
Windows 10, the newest version of Windows, builds upon the foundation Microsoft laid in Windows 8 and 8.1. The new OS is easier to use on traditional PCs than Windows 8 was, and it makes using Windows on a tablet much more seamless than before. Windows 10 offers several concessions to tablet users, such as large, touch-friendly window controls and buttons.
Convertible And Stand Alone Tablet
Stand Alone Tablets
Stand alone tablets take the form of oversize smartphones. They consist of one large touch screen, a charging connector and a handful of buttons on the case. Stand Alone Tablets usually weigh between 1 and 2 pounds. You control them using the touch screen, but you can usually pair them with a Bluetooth keyboard.
Convertible Tablets
Convertible devices try to combine the flexibility of the PC with the convenience of a tablet. These 2-in-1 devices either come with a detachable keyboard or they are really just a full size laptop that features a touch screen. They look and work like stand alone tablets, but snap on to a specially designed keyboard attachment, and you can use them as laptop replacements.
Tablet For Home Use
For home use like Web browsing, email, listening to music the you probably don't need to go with a super tablet. You need a tablet that cost less than $300. The $179.99 Lenovo Tab 2 A10 is one of best affordable tablet available in market.
Tablet For Office Use
If you want to use tablet as a business purpose then you can buy at least a 9 inch screen Tablet. The iPad Air and iPad Air 2, Google Nexus 9 and larger Samsung Galaxy models are all good choices that cost between $500 to $800.
Tablet For Kids
If you want to buy tablet for children then you should consider size, price, durability and parental control features. A 7 inch tablet will be more suitable for small hands, and given the risk of a broken tablet. The $99 Fire Kids Edition is a good choice, with its rubber bumpers, compact size, parental controls and kid-friendly interface. Plus, it comes with a two year guarantee that says the company will replace it if your child does serious damage.

Specification of Tablet
Processors
The processor is the most important feature to consider when buying an Android tablet. For consumers who intend to use their tablets primarily for gaming, a slow processor can ruin their gaming experience. Apple uses its custom A-series chips inside its iPads. Current models use either the A7, A8, A8X or A9X processors. Android tablets pack processors from a variety of manufacturers. Samsung's Exynos chips and Qualcomm's Snapdragon processors are the most common. Intel processors including the Core m3, i5 and i7 processors. Tablets based on Intel Core processors tend to be higher end devices and will generally cost you more. Lower-cost Windows tablets and convertibles often use Intel Atom processors. As a general guideline, consumers should aim for a tablet with at least a 1.2 GHz Dual Core processor.
RAM
In a tablet you can expect RAM between 1GB to 4GB. Laptop, tablet hybrids and other Windows-based convertible tablets, like the Surface Pro 4, typically offer more memory, sometimes up to 16GB of RAM.
Data Storage Capacity
Stand alone tablets typically come with 8 to 16GB of storage on the low end, and up to 128GB on the high end. Convertible Windows tablets often have storage capacities more in line with typical notebooks, so it is not unusual to find one with 256GB of storage or more.
Battery Life
Many tablets will get you all day battery life, Lenovo's Android based Yoga Tab 3 lasted more than 15 hours on a single charge but on average tablet ran for 8 hours before their batteries ran dry. We recommend you look for a tablet that runs for no less than 7 hours on a single charge.
Tablet Size
The most important feature to consider when buying an Android tablet is the display. Tablet screen sizes range from 6 inches to 18.4 inches.
Android tablets are divided into three categories: small, medium, and large. Small tablets range in size from 7.0 inches to 8.1 inches. These tablets are a good choice for consumers who mainly wish to use it as an e-reader, as a small tablet is lightweight and compact enough to easily carry in a medium-sized purse. For those who primarily intend to stream videos or play games, the medium-sized Android tablet is a good option. Medium tablets range in size between 8.9 inches and 10.1 inches. The larger size allows for a better viewing experience than a smaller tablet.
Most tablets fall into the 7 to 10 inch range. Tablets in the 10 inch range like the iPad Air 2, provide a good balance between portability and productivity. Larger tablets such as the Galaxy View or the 12.9 inch iPad Pro are less portable but they can make for suitable laptop replacements.
Connectivity
Another important feature to consider when choosing which Android tablet to buy is the connectivity of the device. Connection options include 3G, 4G, and Wi-Fi. The term 3G refers to the third generation of technology for mobile communications, and many cell phones are on the 3G network. Furthermore, 4G is the fourth generation of technology for mobile communications Unlike 3G and 4G, a tablet that utilizes Wi-Fi does not require a data plan, which saves the consumer money. Data transfer is not as fast with Wi-Fi as with 3G or 4G, but provided the user has a strong signal, game playing and music or video streaming are not a problem. Some Android tablets offer multiple options for connectivity, such as 3G or 4G paired with Wi-Fi or a Bluetooth connection. Beware that Tablets can use more bandwidth than phones.
Camera
A rear-facing camera allows users to take pictures or film video, while a front facing camera allows for Skype chatting and other types of video conferencing. Cameras with more pixels produce images that are more clear and detailed. Most rear facing cameras have more megapixels than the front camera, with the rear camera on some tablets offering as many as 8 MP. Front cameras typically have fewer megapixels, with the maximum amounts averaging between 1 MP and 2 MP.