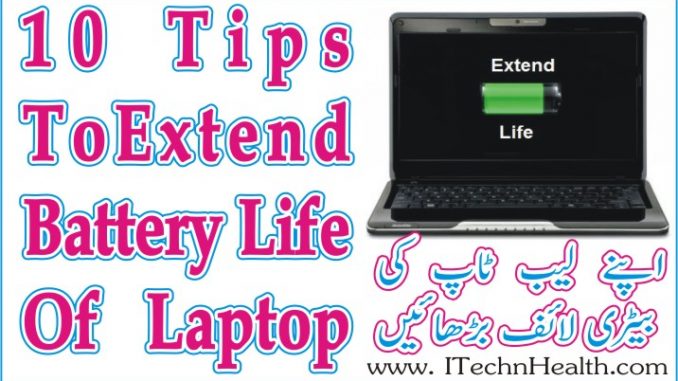 Useful Battery Saving Tips and Tricks
How to Extend Battery Life of your Laptop-10 steps to extend battery life of laptop-Tips to Extend Battery Life of Laptop 
Laptops enable you to connect, play and work wherever and whenever you want. But if you lose battery power and can't plug in on the go, your laptop is no better than an over sized coaster. Day by day every laptop user have to face problem about battery life of laptop. When you purchase any laptop the first question you ask to vendor is about battery timing of a laptop. Laptop's performance depends upon its battery timing.  If you want that your laptop battery life remains perfect or want to extend its life then you should follow these steps.
Today I am sharing 10 steps to extend battery life of your laptop. Main problem is that user is not much familiar about how to use a laptop. There are built in command in your laptop which helps to increase battery life of laptop. Laptop having window 7 have built in command "powercfg" which shows important information about your laptop's energy usage and consumption. If you want to extend battery life of your laptop, follow the steps given below.
10 Tips to Extend Battery Life of Laptop
1. Switch off WI–Fi connection of your laptop when you are not using internet. It will save power consumption of your laptop.
2. Mute your laptop if you are not listening any audio, music, or video Or make volume level minimum.
3. Keep your laptop on Power Saver mode and minimize the brightness of laptop. Only turn on Bluetooth that time when you want to transfer file. Otherwise, turn off it. You can safely disable it to avoid draining your laptop battery. Turn your wireless local area network (WLAN) switch off if you don't need a wireless connection.
5. As your laptops OS is multitasking but prefer to do single task in single time. Stop any other program which you are not using.  Heavy applications like games or movie watching are especially hard on the battery.
6. Batteries die if are not use properly. Too high or too low temperature is not best, so use the battery at room temperatures.
7. Unplug mousse, USB device etc when not using. Even if they're not in use, accessories drain power from the battery. Do not use CD or DVD; if you want any data from it just copy it to your laptop.
8.  If you do not want to use laptop for short time then Hibernate it. Stand by mode is risky as at stand by mode your laptop's battery life effects.
9.  To improve the energy efficiency, clean the battery contact properly using a damp cloth with alcohol, ideally every two months, to ensure that the power transfer between the laptop and its battery is as efficient as possible.
10. To provide proper temperature, use cooling fans. Do not put laptop on the pillow, blanket it will heat up and may cause fire.
Useful Battery Saving Tips and Tricks
Turning off power draining facilities like backlights can preserve quite a bit of battery life. Use the power management settings on your computer that come built in. On Windows XP, click "Power Options" in your control panel. On a Mac, look for "Energy Saver" in System Preferences. For Mac laptops, there is a button for powering on and off your wireless device is found on the toolbar at top.
Disabling unused ports and components, such as VGA, Ethernet, PCMCIA, USB, and yes, your wireless, too. You can do this through the Device Manager or by configuring a separate hardware profile. Configure your laptop for the various scenarios in which you use it (on a plane, at the coffee shop, at the office, and so on). You can do this through the Hardware Profiles menu by right-clicking on My Computer and selecting Preferences or by using a freeware utility such as SparkleXP.
How To Choose Best Laptops for Students-Made For Everything from School Papers to Assignment Task and Typing Reports
Best Affordable Android Smart Watches, Prices, Specification