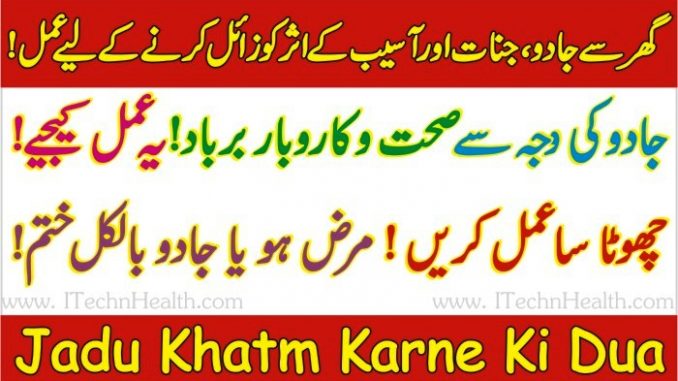 Agar apko khauf hai ke aap par koi kala jadu, sifli Ilm, tona, totka ya phir taweez gande karva sakta hai. To aisi har aik shaitani sharr ya kala jadu se hifazat ki dua se ALLAH Ta'ala apki hifazat karega.
Kala Jadu K asrat k waja se larky aur larkion ke rishte nahi ho pate hain, job nahi lag pati. aulad nahi ho pati hai, ghar main har waqat lari jagry aur kohuf reta ha. Asy main log kisi asy asi dua ya wazify ki talash main hoty hain aun par jadu ka koi asar na ho. Kisi bhi tarah ka jadu tona, ganda 'ilm, sifli 'ilm aur shaitani chizon se bachne ke liye hamen koi aasan sa wird batayen. Jise rozana ham parh len. Taa ke zindagi bhar ham mahfuz rah payen. Aur koi hamara nuqsan na kar paye.
Aaj hum aap ko aik both ashan wazifa batain ge jis ki barqat se Inshall hark ism k jadoo k tor ho jaye ga. Ye Asma ul Husna yani Allah Pak k babarqat namon ka wazifa hai ye amal har tara ke bory asraat aur jadu se mahfuz rahne ka aasan tareen wazifa.
Ye wazifa aap jis din chahe shuru kar sakte hain.

Sab se pahle wuzu bana lijiye.

Subah Fajr ki namaz ada karne ke bad ALLAH ka Ism Azam 'Ya Qabizu' 21 martaba parhiye.

Isi tarah maghrib ki namaz ada karne ke bad bhi Ismm Azam 'Ya Qabizu' 21 martaba parhiye.

Parhne ke bad aap ALLAH Ta'ala se dua kijiye ke Ya ALLAH! mujhe Apni amaan me rakhna. Har tarah ki shaitani chizon se, jinnat se aur gande jadu se meri hifazat farmana. Yahan Dushman Par Fatah Ki Dua-Dushman Ke Shar Se Hifazat Ki Duadekhiye!

Is wazifa ki koi miyad nahi hai. Jab tak chahen aap ye amal parh sakte hain. Chahen to ta-umr is Ism Shareef ka wird karte rahiye.
You may start this wazifa on any ordinary day.

Offer Fajr prayers and start reciting The Ism-e-Azam, Name of ALLAH 'Ya Qaabizu' Twenty one (21) times.

Similarly, after offering Maghrib prayers, recite Ism-e-Azam 'Ya Qaabizu' Twenty one (21) times.

After this, make a prayer to ALLAH The Gracious. Say, O ALLAH! Safeguard me. Protect me from all kinds of black magic, jinns, and devilish acts.

There is no fixed number of days for this wazifa. You may recite this till you want. You may recite this for a lifetime as well.

Kala Jadoo ka toor quran pak is karny k lehe pehle 11 martaba Darood Sharif parein pir 3 martaba Surah Fatiha, 3 martaba Ayat Korsi, 3 Martaba Suraha Kaferon, 3 Martaba Surah Falaq aur 3 Martaba Surah Naas Parehn akar main 11 martaba Darood Sharif par k mareez pe dam karain aur pani pe b dam karain. Ye pani mareez ko waqfey waqfey se pehlaty rahin aur gar waly b ye pani pehain. Insha Allah jado ka asar katam ho jaye ga. Ye amal 21 din tak karnay ha.

حدیث مبارکہ ہے کہ ماہ صفر میں کم و بیش 10لاکھ بلاوں کا نزول ہوتا ہے جب کہ پورا سال اتنی ہی تعداد میں بلیات علاوہ سے نازل ہوتی ہیں۔ اس بات کو مدنظر رکھتے ہوئے بزرگ ہمیشہ ماہ صفر میں صدقات کا اہتمام کرتے تھے۔ شیاطین اور جنات کے بچاری جادوگر اپنے مخالفین پر اسی ماہ جادو کے وار کرتے ہیں۔ جسکی بڑی مثال آپ ﷺ کی ذات اقدس ہے کہ آپ ﷺ پرماہ صفر میں ہی جادو کیا گیا تھا۔
علما اکرام کا یہ ماننا ہے کہ صفر کے مہینے میں جادو اور جناتی مریضوں کی تعداد میں بہت زیادہ اضافہ ہو جاتا ہے ۔ ماہ صفر میں پرانے کئے گئے عمل شر اور جادو زیادہ زور پکڑ جاتے ہیں۔ اس ماہ جنات و بلیات کی کسی جسم پر مسلط کرنا نہایت آسان ہو جاتا ہے۔ اس ماہ کھلے آسمان تلے سونا اور رات گئے ویران جگہ پر جانا خطرے سے خالی نہیں ۔
ماہ صفر میں جادو، جنات کے اثرات سے محفوظ رہنے کے لیے نماز مغرب کی ادائیگی کے بعد چار رکعت نفل نماز دو، دو رکعت کر کے اس طرح پڑھے کہ ہر رکعت میں سورہ فاتحہ کے بعد 11،11 مرتبہ سورہ اخلاض پڑھے اور سلام پھرنے کے بعد ایک ہزار مرتبہ نہایت توجہ اور یکسوئی سے درود ابراھہیمی پڑھیں۔اللہ تعالیٰ کے بضل اور اس عمل کی برکت سے گناہوں کی معافی عطا ہوگی، الہ تعالیٰ آپ کو اپنے حفظ و امان میں رکھے گا۔
کتاب "راحتہ القلوب " میں ہے کہ جو کوئی نماز عشائ کے وتر اور نفل نماز سے پہلے چار رکعت نفل نماز اس طرح سے پڑھے کہ پہلی رکعت میں سورہ فاتحہ کے بعد پندرہ مرتبہ سورہ کافرون پڑھے، دوسری رکعت میں سورہ فاتحہ کے بعد سورہ اخلاص پڑھے، تیسری رکعت میں سورہ فاتحہ کے بعدپندرہ مرتبہ سورہ فلق پڑھے اور چوتھی رکعت میں سورہ فاتحہ کے بعد پندرہ مرتبہ سورہ الناس پڑھے ۔ نماز ادا کرنے کے بعد ستر مرتبہ درود پاک پڑھے تو انشا اللہ ، اللہ تعالیٰ ہر بلا و مصیبت سے محفوظ رکھے گا۔
بزرگ فرماتے ہیں کہ ماہ صفر میں زیادہ سے زیادہ صدقات دے، نوافل پڑھیں، پاکیزہ رہیں، سورہ اخلاص، اور معوذتین پڑھیں ۔ اسم پاک یَا وھابُ  کا ورد کریں اور زیادہ سے زیادہ درود پاک پڑھیں۔یہ پڑھ کر پانی پر دم کریں اور یہ پانی خود بھی پئیں اور سب گھر والوں کو بھی پلائیں بضصل تعالیٰ ہر طرح کی مصیبت، پریشانی اور جادو جنات سے محفوظ رہیں گے۔ اللہ تعالیٰ یہ دم کیا ہوا پانی پینے والے کی جان و مال کی حفاظت فرمائے گا۔
jadu se hifazat ki dua-jadu se bachne ki surah-jadu se bachne ki dua in English-jadu khatam karne ki dua-jadu se hifazat ki dua in hindi-jadu se hifazat ki ayat-jadu ka tor ki dua-jadu se bachne ki dua in hindi-Kala Jadu Se Hifazat Ki Dua-Kala Jadu-Sifli Ilm-Tona Totka-Gande Asrat-Taweez Gande Asar Khatm Karne Ka Amal-Jadu Se Hifazat Ki Dua in Quran-Jadu Se Bachne Ki Dua in Arabic-Jadu Khatm Karne ka Amal-Kala Jadoo Ka Toor Quran Se
Kala Jadu Ki Nishaniyan-Black Magic Jadu Ka Tor Ki Dua Aur Nazar E Bad Ka Rohani Ilaj
Miyan aur Biwi Main Muhabbat Ka Wazifa, Wazifa For Love Between Husband And Wife
Afahasibtum Aur Azan k Karishmaat BY HAKEEM TARIQ MEHMOOD CHUGHTAI
Surah Naas se jado aur sehar ka elaj- Benefits of Surah Naas in Urdu
Benefits of Bismillah In Urdu-Bismillah ka Wazifa for Success, Increase Wealth, Increase Memory Power and Financial Crises